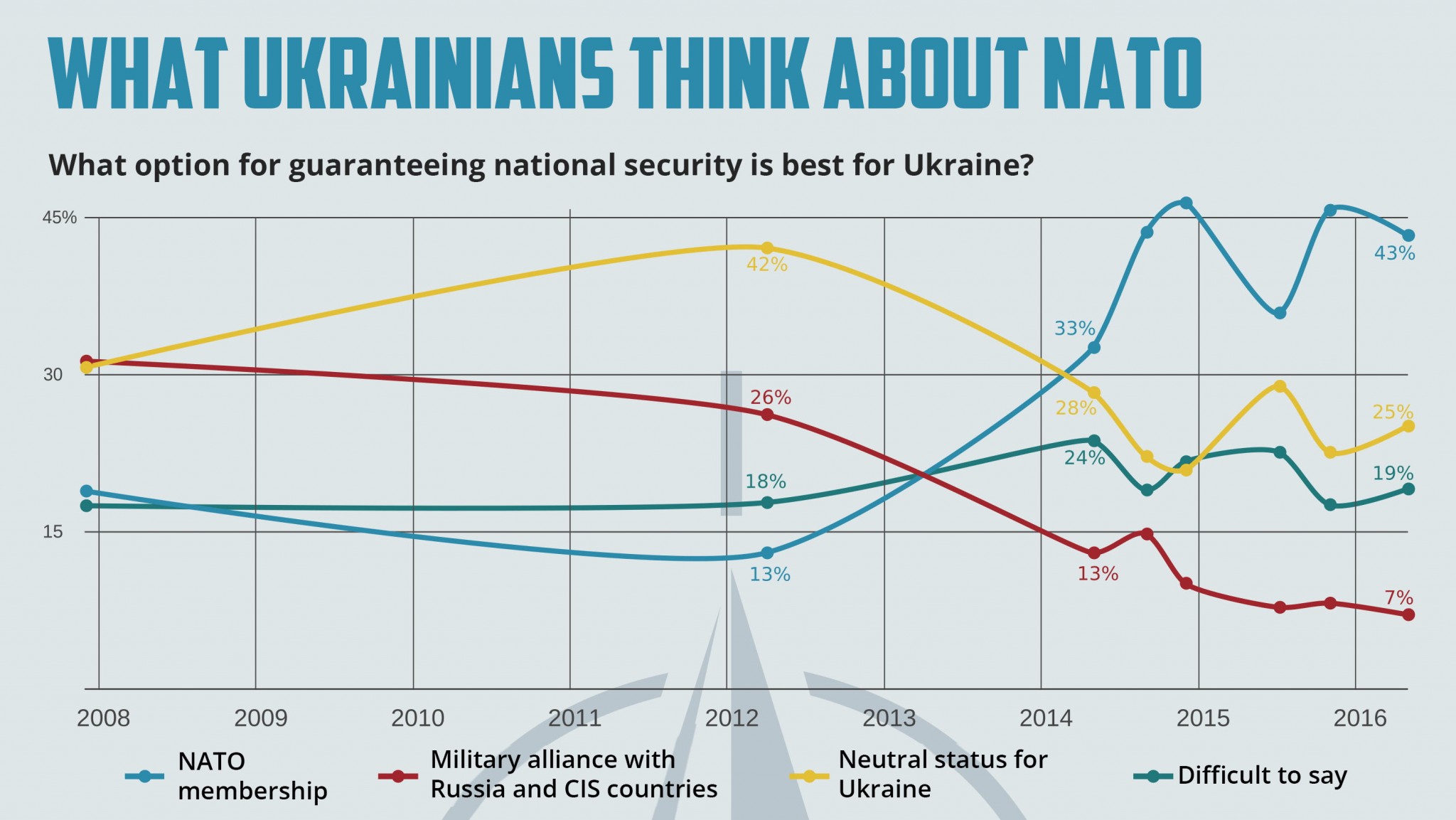 ow On 8 June 2017, three days after Montenegro became the 29th NATO member, the Ukrainian Parliament adopted a bill setting NATO membership as Ukraine's foreign policy objective. 276 MPs out of the needed 226 voted in favor, 25 were against, and 3 abstained. Less than 10 years ago, the choice for joining NATO was one of the least popular options, but now 44% of Ukrainians opt for NATO to secure the country's national security.
Read more: Ukraine restores course towards NATO membership
Public support for NATO membership
The support of Ukrainians for joining NATO soared following Russian aggression against the country which started after Euromaidan. According to polls by the Ilko Kucheriv Democratic Initiatives Fund, until February 2014, it hovered around 15% and most Ukrainians were in favor of a non-aligned status for Ukraine, after which it soared to 33% and is now at its historic maximum, and support for a military alliance with Russia is at a historic low. Ukraine's NATO membership has the most supporters in Ukraine's western regions, while the South, East, and Donbas are more in favor of a neutral status. If a referendum on joining NATO would be held, 78% of those who would vote would choose "yes."
Below is a graphic by the Ilko Kucheriv Democratic Initiatives Fund, translated by Euromaidan Press.
The most recent poll, released on 28 December 2016 (not shown on graphic), revealed that 71% would vote in favor of joining NATO at a referendum out of the 62% who would participate, and 23% would be against. 44% considered NATO the best option for guaranteeing Ukraine's national security, while 26% hoped for a neutral status and 6% supported a military alliance with Russia.
Read more:
Tags: infographic, Infographics, NATO