At the protest against Spivakov and Gerzmava on 2.06.2017 in Boston. Photo: Arts Against Aggression  
How tall is Putin?
In Boston that depends on who's wearing the costume. Since the fall of 2016, Arts Against Aggression have frequently included a participant dressed in a Putin costume in our protests. Thus, in October, while greeting pianist and Putin's emissary Denis Matsuev with an installation entitled "Putin and Matsuev's House of Horrors," our Putin was appreciably taller than the actual President of Russian Federation. His presence unnerved some of the concertgoers, who wanted us to allow Mr. Matsuev to keep his music and his politics separate.
Skeletons picket music hall in #Boston where Putin-supporting pianist Matsuev will perform tomorrowhttps://t.co/X9mOuqdpPA pic.twitter.com/6Ds5uQFqWB

— Euromaidan Press (@EuromaidanPress) October 28, 2016
Our response then, as now, is that when an artist chooses to use the reputation they built through their art to support a policy that results in a war that kills, maims, and displaces millions of people, through this political act the artist inextricably links their art to politics, and their art itself then supports war and aggression.
On Friday, June 2nd, Arts Against Aggression organized a protest to greet the performance at Emerson College's Cutler Majestic Theatre by two other supporters of Mr. Putin's war, Vladimir Spivakov and Hibla Gerzmava. The installation "Putin—Conductor of War" played a prominent part in our protest. This time, our Putin was much closer to the original's height and build, though ours displayed far superior manners and sense of humor.
Like Mr. Matsuev, Mr. Spivakov and Ms. Gerzmava signed the infamous letter in support of the policies of the President of Russian Federation related to Crimea and Ukraine (an English translation of the letter, along with the names of all the signatories can be found at http://russianartists4war.com/letter/). Like Mr. Matsuev, neither has ever expressed any regrets for allowing their names, and thus their artistic reputations, to be put to work promoting a war of aggression. In fact, in an interview with Rossiyskaya Gazeta, Mr. Spivakov explicitly stated that he does not regret signing the letter.
Friday's installation aimed to provide a rough outline of the consequences to date of the war these artists support. The installation consisted of six mannequins, representing the victims of Russia's war in Ukraine. Four mannequins held signs summarizing the statistics on the number of dead, wounded, and displaced by the war, in the context of some of the painful images of the war. Some of these images are fairly well-known, such as the images of the debris of flight MH17 that was brought out of the sky by a Russian BUK missile, killing all 298 on board. Other images are far less known though no less devastating. Remaining two mannequins held portraits of the artists who with their signatures consigned themselves to the status of war boosters—Mr. Spivakov (#404) and Ms. Gerzmava (#98).
Our protest on Friday was multigenerational— parents brought their children, and children brought their parents. The oldest participant was 89 years old. Folk musician Natasha Dukach emphasized the tremendous human tragedy of Putin's war with her performance of a number of traditional Ukrainian folk melodies arranged in the style of violin concertos. Pieces such as "Dear Mother of Mine" contrast the false pretenses under which this war was started by the Russian government and the cost of the war in lives, extinguished or irreversibly altered.
Some two dozen protest participants handed out flyers recounting the basic facts of Mr. Spivakov's and Ms. Gerzmava's support for the war and asking Emerson College and Arts Emerson—organizations that administer Cutler Majestic's venerable stage,– to acknowledge that renting space to Pr. Putin's puppet artists does not reflect their values and to pledge that it will not happen in the future. We also handed out printed our copies of the Boston Globe article previewing our protest.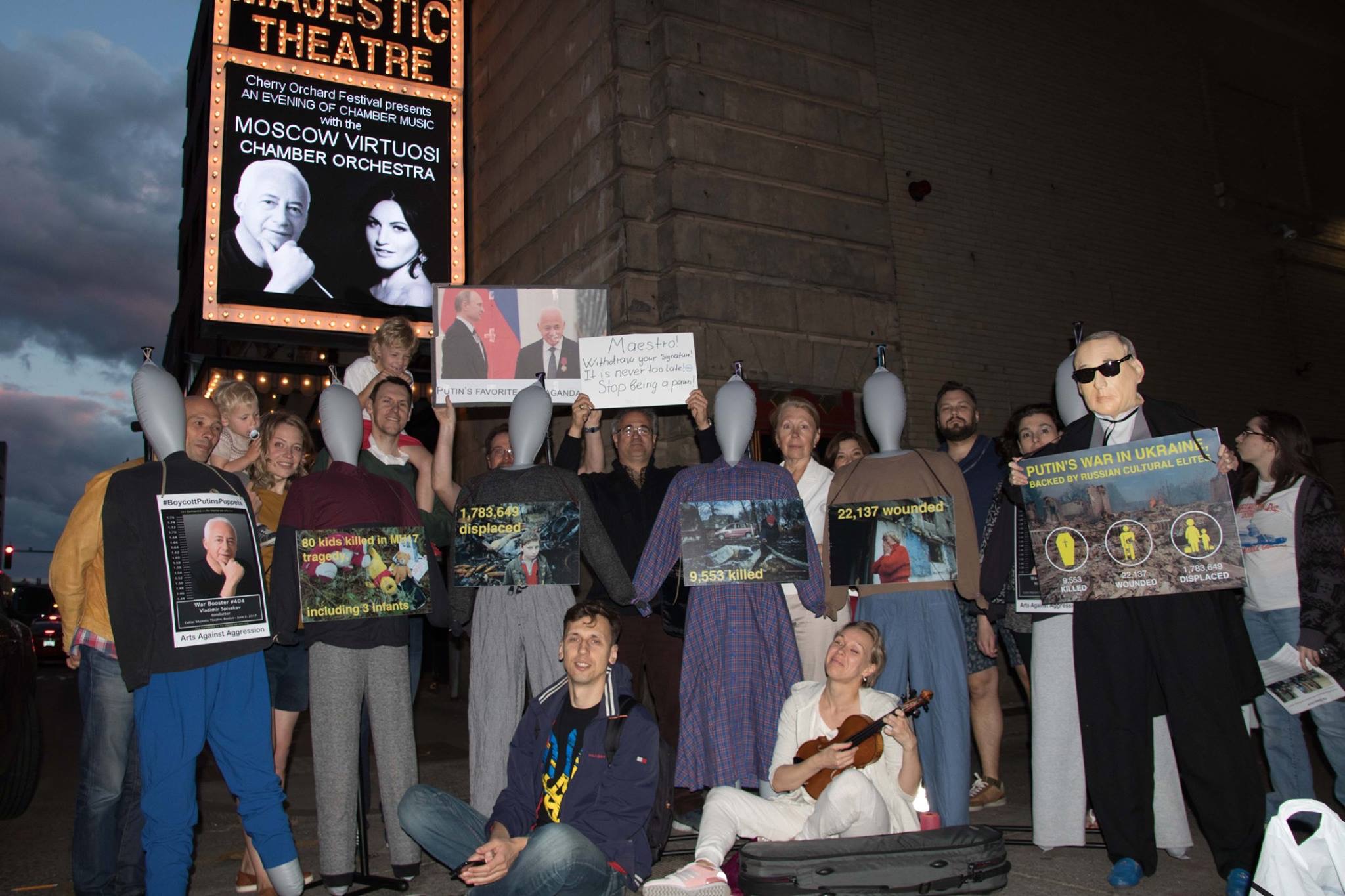 It is our hope that the protest and the article raised awareness among the Boston arts community of the way in which Mr. Putin's hybrid war against the West includes a cultural front. We also want to call attention to the fact that it is specifically artists that support the Kremlin regime who are then supported by the regime in their overseas tours. In the case of Mr. Spivakov, this tour was organized by Cherry Orchard Festival, a nonprofit organization closely related to a for-profit company called Maestro Artists Management, and counting among its sponsors NTV America, a TV channel with close ties to Kremlin and Gazprom, Russian state oil company. Interestingly, the advisory board of the nonprofit closely resembles the roster of artists it has recently brought to the US—Mr. Matsuev, Mr. Spivakov, and Ms. Gerzmava all serve on the board.
Finally, we would like to emphasize that declining to rent space to Mr. Putin's puppet artists is an act of self-preservation for any institution concerned with its reputation. As illustrated by the annotated picture of the poster for Mr. Spivakov and Ms. Gerzmava's concert, these particular artists engaged in unabashed fraud by using a fake quote from the New York Times. And because the fake quote appeared on the Arts Emerson website, as well as on flyers that ushers at the Majestic handed out to attendees at other performances at the venue and on the poster that spent at least a week on the façade of the Theatre (real estate it shared with the Cutler Majestic's logo), these artists made Arts Emerson complicit in the fraud that they committed. So it appears that quite aside from not wanting to aid and abet Mr. Putin in his assault on the West, not engaging in dealings with Mr. Putin's puppets is simply good ethics hygiene.
Read more:
Tags: Archive, Music in Ukraine, Protest, Protests, Spivakov, USA