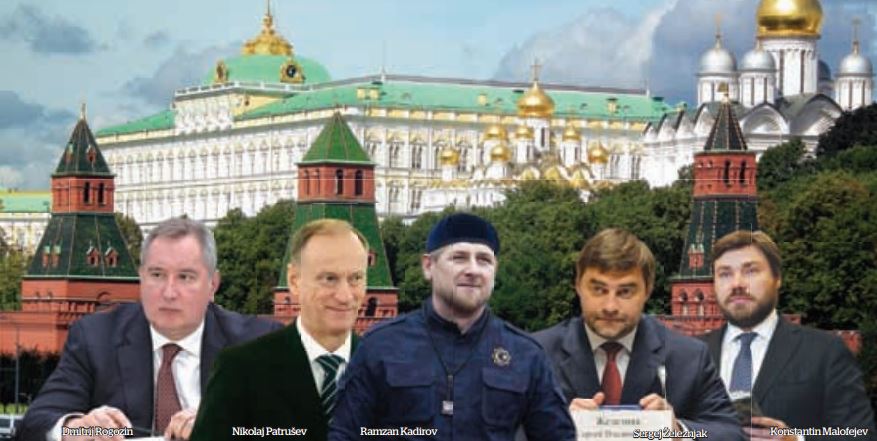 Image: pobjeda.net 
Montenegrin authorities issued a travel ban for 149 citizens of Russia and Ukraine who are connected to the annexation of Crimea and military conflict in Donbas, according to the newspaper Pobjeda, RFE/RL's Russian service reported.
The list includes Deputy Prime Minister Dmitry Rogozin, head of intelligence services Nikolai Patrushev, President of the Republic of Chechnya Ramzan Kadyrov, tycoon and owner of Tsargrad TV Konstantin Malofeev, and deputy secretary general of the ruling United Russia party Sergei Zheleznyak. Pobjeda reported that the list of was formed in accordance to the decision of the EU Council and includes Russian and Ukrainian citizens who actively participated or supported the aggression against Ukraine and illegal annexation of Crimea, and that apart from travel sanctions the limitation of "disposal of assets and resources" will be applied to the persons "responsible for actively supporting policies that undermine the territorial integrity, sovereignty, and independence of Ukraine."
Pobjeda links the five named officials not only to interference in Ukrainian affairs, but also notes their attemts to meddle in the affairs of Montenegro, where a Kremlin-staged coup failed in 2016. The coup was seen as intended to thwart Montenegro's plans for entering NATO, a goal which the country achieved in April 2017.
Read more: Plans for a "Great Serbia" and the Kremlin's hybrid war in the Balkans
As well, Pobjeda reports that ban extends to the former Head of the Russian Duma Sergei Naryshkin, Chief of the Russian Armed Forces Valery Gerasimov, GRU officer and "founding father" of the "Donetsk People's Republic" Igor Girkin, member of Russia's Security Council Boris Gryzlov, as well as officials, prosecutors, and leaders of the self-proclaimed pro-Russian Donetsk and Luhansk People's Republics.
However, press-secretary of Russian President Dmitry Peskov said on Friday that the Kremlin was not aware of the measures allegedly taken by Montenegro, Interfax reported.
Earlier, a lawmaker from Montenegro's ruling Democratic Party of Socialists, Miodrag Vukovic, was on Sunday denied entry to Russia. Moscow explained the incident by Montenegro joining the EU sanctions imposed over Russia's interference in Ukraine in 2014.
Montenegro sent a protest note to Moscow because of this, while Podgorica media reported earlier, citing diplomatic sources, that Russia had blacklisted about 50 Montenegrin officials, including Prime Minister Dusko Markovic, President of the Assembly Ivan Brajovic, and leader of the ruling DPS Milo Djukanovic, Inserbia reported.
Markovic announced on Wednesday that Moscow confirmed that the list exists, but that it would "remain a secret" – namely, the Russians would not reveal ahead of time who is on it.
Moscow's relations with Podgoritsa deteriorated after Montenegro joined EU sanctions against Russia and started a course on NATO integration. Moscow didn't establish diplomatic contact with the new Montenegrin government formed after the 2016 elections, during which the authorities announced about the thwarted coup carried out with the participation of pro-Russian politicians.

Read also: