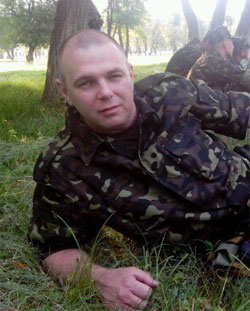 Oleksandr Tyshchenko  
Oleksandr's parents recently faced the agony of burying their son a second time after forensic experts revealed other body parts had been found and identified.
Oleksandr Tyshchenko was killed on April 13, 2015 near Avdiyivka. Only some body parts were found on the spot after massive shelling by the enemy troops. Oleksandr's remains were brought home to the village of Myhalke, Kyiv Obl. and laid to rest in the village cemetery.
Recently, forensic experts found other remains of Oleksandr's body, examined and identified them, and brought another coffin to the home of his parents. Oleksandr was laid to rest a second time at the beginning of May, 2017.
Oleksandr was born in Myhalke on June 12, 1977. He was mobilized at the age of 38. After serving nearly a year in the war zone, he and four other soldiers were killed when enemy mortars hit their dugout. It was impossible to save them as smoke and explosions filled the area for over 24 hours.
Experts maintain that there's no error possible and both coffins contain the remains of the fallen hero.
"Sasha was the first case we worked on. We did loads of research, DNA analyses and paper work, something we weren't able to do just a few months ago. This will help us move forward in identifying other soldiers… there are over 30 such terrifying stories to be investigated. We must identify these heroes, take them home and give them a decent burial." says expert Pavlo Netyosov.
"I took Oleksandr out of the trenches. His remains lay under a mound of rubble… about 5 metres high. It was hard, both physically and morally, but I'm glad he's come home. It's so terribly difficult to look at the parents and tell them that their son should be buried again…" adds Vadym Masshtabey, volunteer working with Evacuation-200 of the Armed Forces of Ukraine.
Last year, about 200 soldiers of the Armed Forces of Ukraine were reported missing in action. Today, this number has decreased by half – there are officially 93 MIA and, according to volunteers, half of these have been found and experts are working hard to identify the bodies.
Вічна Пам'ять!  Eternal Memory!
Герої не вмирають!  Heroes Never Die!
Tags: Avdiyivka, Donbas war (2014-present), MIA, second funeral, Stories from the Front, Ukraine