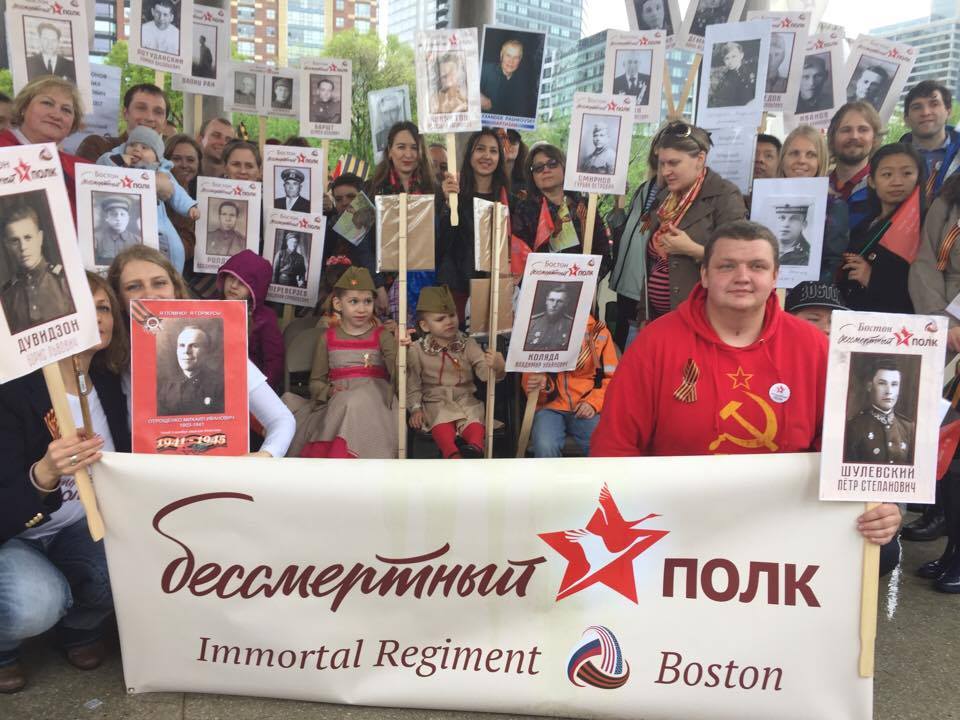 Participants of the "Immortal Regiment" event in Boston. Photo: Arts Against Aggression 
As the Russian-organized
"Immortal Regiment" marches
took place around the globe on 9 May, provoking accusations of being Kremlin propaganda playing its part in Russia's hybrid war against Ukraine, some fell prey to puns. Here we offer an account of the march in Boston, USA, by the activist group Arts Against Aggression, who boycott performances of Russian musicians supporting the Kremlin's policy in Ukraine.
With Russian mercenaries killed in Ukraine set to be honored at the Moscow "Immortal Regiment" event, Putin and Stalin fit right in at the same event in Boston.
In just over a month organizers of the "Immortal Regiment" project in Boston managed to raise about $800 on GoFundMe. Most of that amount was furnished by several anonymous donors who chose not to disclose their names.
Related: Russia's exported "Immortal Regiment" marches accused of being part of hybrid war against Ukraine
Informational support was promised by the Russian Ministry of Defense-run TV network "Zvezda". Identical and coordinated clone events happened all across North America.
Organizers of the Boston event say that the money went to printing banners and posters, and to purchase flags, snacks, etc. Event's Facebook page offered assistance in providing all participants with photographs and posters.
Invitation to participate in this event generated a highly ambivalent reaction among Russian-speaking Boston residents. Lively discussion in various Facebook groups touched upon the question of why the event suddenly requires fundraising, given that in its original incarnation it involved participants bringing photographs of their loved ones and did not necessitate any centralized printing.
It was suggested that the funds would be better spent on sponsoring a party for the veterans who currently reside in assisted living facilities in the greater Boston area, and that would-be participants should consider visiting these veterans instead of taking part in the march.
However, organizers decided not to heed these suggestions, and on a rainy morning more than 100 participants in the "Immortal Regiment" gathered in the heart of Boston.
Members of the group "Arts Against Aggression" also took part in the march. An "Arts Against Aggression" activist dressed as Putin, and holding a photograph of Stalin emblazoned with the slogan "Thanks to Grandpa for the Victory," did not raise any eyebrows among the event participants.
Members of Arts Against Aggression proceeded directly from the march to Cutler Majestic Theater, where, as part of the ArtWeek Boston 2017 festival they conducted a temporary installation titled "The cost of Putin's hybrid war."
Related: "Immortal regiment" march in Toronto – shameful display of Russian propaganda
The installation represents millions of victims of Putin's hybrid war, and it is a preview of what is likely to greet Putin's accomplices in front of their Boston venue when they arrive for their scheduled concert in June. Emerson College Cutler Majestic Theater is set to host two big name signatories to the infamous letter of Russian cultural figures in support of Putin's policies in Ukraine and Crimea – Vladimir Spivakov and Hibla Gerzmava.
Tags: Archive, Boston, Immortal Regiment, Protests