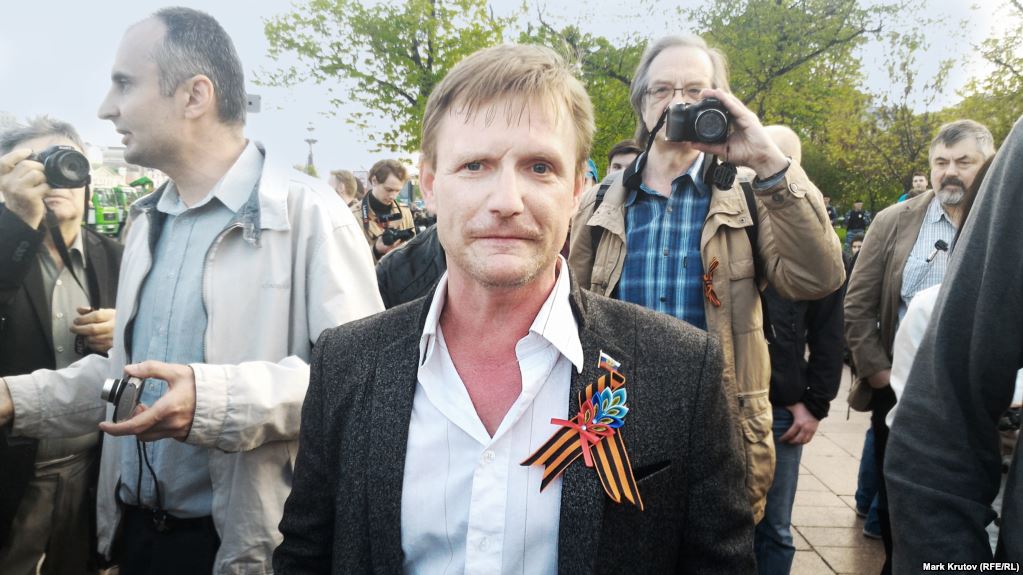 Alexander Petrunko at an opposition demonstration to mark the anniversary of the Bolotnaya Square demonstrations – 6 May 2016 
Since Russian opposition leader Alexei Navalny was
attacked
on 27 April in Moscow, his supporters have carried out their own investigations. They have
come to the conclusion
that the crime was carried out by members of the pro-Kremlin SERB movement. On video recordings of the attack, social media users identified a member of the SERB movement, Alexei Kulakov. And according to bloggers, the person who threw dye in Navalny's face is another SERB activist, Aleksandr Petrunko.
А сам нападавший, действительно похож на Александра Петрунько (https://t.co/mMZ2xdUcgs). Похожая одежда и телосложение. pic.twitter.com/51cXlbfVt9

— Alexander V. Litreev (@alexlitreev) May 1, 2017
Indirect evidence of their involvement is also to be found in their own words in one of the interviews they gave to a Russian propaganda website.  In February this year, the above-mentioned Petrunko said that in Moscow he had found true fascists, who "hate the Russian world and whose main aim is to destroy the state which they don't consider their home." In the same interview, he admitted another attack on Navalny, throwing a cake in his face.
"Navalny received a cake in his face after his post on social media where he mocked the Russian SU-24 pilot who was downed by the Turks," Petrunko said. "And we thought: is he a Russian or not? We could not leave it at that."
Petrunko also said that he was involved in the events on the Crimean peninsula in March 2014, in particular, that he "supported the referendum in Crimea." Prior to that, he had taken part in attempts to storm the state administration building in Kharkiv, taking information about Euromaidan supporters to Crimea. He subsequently left for Russia from the annexed peninsula.
More information on the current Moscow radicals' Ukrainian period of activity was provided in an interview by Euromaidan member Mykhailo Lebed with Radio Svoboda's Crimea service, who was monitoring the activities of pro-Russian separatists in Eastern Ukraine.
"During the Russian spring in 2014, Petrunko was one of its leaders, if not a little on the sidelines. I would even say that he could be respected for his behavior during the bloody fighting in the Kharkiv state administration building. He really prevented Maidan supporters from being lynched – some of them had their heads and limbs broken that day. They had their heads brutally beaten against walls, even girls. One of my good friends was operated on, as a fragment of a grenade was lodged in him, and a girlfriend was dragged along the pavement by her hair. Thus, despite all my disagreement with Petrunko's views, I was nonetheless grateful to him for trying to reduce this bloody lawlessness. However, as time passed his rhetoric followed that of the Antimaidan leaders and became more aggressive. In the end, Petrunko fled to Moscow, where his degradation continued", Lebed explains.
According to Mykhailo Lebed, after arriving in Moscow the fugitive separatist created a union of "Kharkiv People's Republic" deputies in exile with members of the Communist Borotba organization, [attempting to break away the Kharkiv Oblast from Ukraine as part of the Kremlin's initial "Novorossiya" project – Ed]. However, this project was unable to attract Moscow sponsors. For a while, Petrunko was involved in deliveries of humanitarian aid to the "Luhansk and Donetsk People's Republics" ("LDNR"), and then joined the SERB movement.
Related: REFT & LIGHT Borotba: Ukrainian "communists" working for Surkov
"The organization's backbone is made up of the runaway separatists along with the few Muscovites who joined them," says Lebed. "Its leader, Igor Beketov – Gosha Tarasevich – is an actor originally from Dnipro. These people formed the bulk of the Antimaidan people in Ukraine. They both took part in the expulsion of Euromaidan supporters from the Kharkiv state administration building. I have no information that Petrunko beat anyone that day, but Beketov could well have."
According to Kharkiv Euromaidan activists, members of Borotba and the OPLOT fighting club were most heavily involved in attacking people. The leader of the latter organization, Yevgeny Zhilin, was shot dead in the Moscow region in September 2016. According to Lebed, when the attempt to seize Kharkiv failed, almost the entire backbone of Borotba fled to Crimea. Afterward, part of the organization went to fight in the Donbas, while another part remained on the peninsula. A further part began planning separatist projects in Kharkiv and Odesa.
The Borotba members tried to proclaim an "Odesa Autonomous Republic" and "Kharkiv People's Republic." Borotba also attempted to create a "Ukrainian Red Army" terrorist organization but its activists were arrested by the Ukrainian Security Service (SBU) and activities went no further. Some Borotba members went to fight under the command of Mozgovoy, one went to work for Gubarev in Donetsk.
In Russia, the paths of Petrunko and Borotba would cross again.
Lebed says that Petrunko was involved in the founding of Committee 27, the so-called organization of Kharkiv People's Republic deputies in exile. Included were other members of Borotba, Russian East and so on who had fled, but they were not given any money for the project. Then, while based in Moscow they tried to carry out some kinds of subversive activities in Kharkiv. The most they achieved was graffiti on walls and arson. Committee 27 tried to make contact with other more serious groups, for example, the Kharkiv Partisans and Kharkiv Resistance Movement. Some organized acts of terrorism and sabotage in the city – presumably they were managed from Belgorod – others were a group fighting for the "LDNR" at the front. However, none of them were interested in the Committee, and it died a political death.
Read also: Whatever happened to the Kharkiv Partisans?
The only structures that the political fugitives managed to create in Russia are the Committee for the Salvation of Ukraine by Ukraine's ex-Prime Minister Nikolai Azarov and Vladimir Oleynik, and the Union of Ukraine Political Emigrés and Political Prisoners.
According to the Euromaidan activist, the Committee and Union receive "some kind of money for their activities, I think from various sources. Their conferences, for example, are financed by a branch of the German pro-Putin party, Die Linke. To the best of my knowledge, some SERB members are in the Union, but not the Committee. However, neither of these organizations has any influence on Russian or Ukrainian politics: rather, they are only needed for propaganda or television."
The Kharkiv Partisans, said Lebed, form loose sabotage groups which were never united into a centralized organization.
"The Kharkiv Resistance Movement, as far as I understand, does not exist as an organization as such either. I think that they simply could not build an organization, fighting and serving as they were in different militant units. Thus, Petrenko and his comrades have only one job left – beating up Russian oppositionists," Lebed concludes.
Kseniya Kirillova
Tags: Borotba, Kharkiv, Russia, separatism, SERB