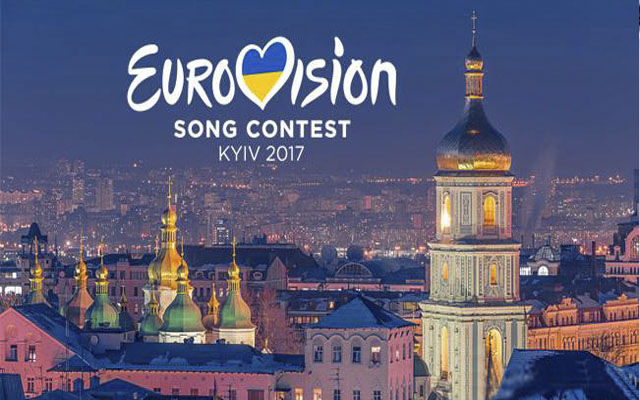 Photo: eurovision.stb.ua 
Kyiv has already opened its doors for tourists coming to see the 2017 Eurovision Song Contest. We at Euromaidan Press want to take you beyond the city as it looks on TV or in a banal tour guide, to pull open the curtain on how it really lives. Let's start from the things which you probably don't expect.
What will surprise you
Fountains in Kyiv started singing before Eurovision
What about the war? "Aren't you afraid to go to Ukraine?", "Don't go, it's dangerous", "Are you crazy, there is a war in this country?!". These are phrases which foreigners traveling to Ukraine often hear from their friends and families, even if the trip is to Kyiv, hundreds of kilometers away from the frontline in Donbas. Sometimes western media contribute to spreading this prejudice. However, if you had any doubts about the situation in the capital before the trip, they will be immediately dispelled the moment you come to the city center, start talking to the locals, see the green trees, blue sky and a lot of cafes. The war does affect life in Ukraine, but more the inner feelings of people than the situation around.
The prices. Sometimes what is bad for a local can be good for a foreigner. During the last three years the Ukrainian currency has significantly fallen in value ($1 buys UAH 26.5), unlike the prices. However, a foreigner wouldn't notice the price hike.
"What makes foreigners surprised by Kyiv is the city's beauty, openness, friendliness and accessibility. For example, a price bill of EUR 10 for a dinner in a restaurant is something hard to imagine in Europe," says Arseniy Finberg, the coordinator of Interesniy Kiev, the agency which won a competition for conducting walking tours for official Eurovision delegations.
The people. Probably you won't see many smiling and happy faces on your way. People in the transport or on the streets look apathetic or even sad. It seems that they are deep inside themselves. But don't give up after the first try. Dig deeper and you will be surprised how friendly and hospitable they are.
Marshrutka. This local transport looks like a mini bus. Traveling via it can be somewhat extreme – during peak hours there might be three times more people inside than there are seats. Usually the price for a marshrutka trip costs 4-7 UAH ($0.15- 0.26). If you dare to ride it, you're in for a cute surprise: you can pass your fare to other passengers and it will reach the driver for sure. Moreover, if you need change, the same chain of passengers will return it to you. No matter what amount of money you gave and how big the crowd in the marshrutka is. But! You should still keep your pockets away from pickpockets.
What changed
In 2012, Kyiv hosted many tourists during the Euro 2012 Football Championship, which Ukraine organized together with Poland. Then, many international tourists found new attractive destinations which were overlooked before. However, due to historical events the city has changed in many areas.
"The city changed in a positive way. Many things has been put in order. A lot of advertisement was taken down. A new police force appeared. Among the negative things, the Andriivskiy Uzviz [historical street in central Kyiv] is not fully pedestrian, the graffiti is not cleaned on the old buildings, there is no proper care for historical monuments. The city does not care about them. In the best case they are covered by some banner, in the worst they are left as they are," says Finberg.
Euromaidan. The Revolution of Dignity during the winter of 2013-2014 changed not only Kyiv, but Ukraine as a whole. For over 3 months, people stood in subzero temperatures in the main street of the capital to defend their right to a better future. After more than a hundred peaceful activists were killed by the regime, the dictator Viktor Yanukovych fled to Russia. Just after it, Russia occupied Crimea and started the de facto war in Eastern Ukraine.
Previously, the Maidan Square of Kyiv used to serve for different kinds of celebrations – New Years, Independence Day, concerts etc. Now, celebrations are misplaced under the memory of recent tragic events, but the square is full of strolling pedestrians once again. However, just a few steps away there is a reminder of events what happened here 3 years ago. A street full of portraits reminds us of those who died during the revolution, as does the House of Labor Unions which was on fire during the worst days of the revolution, which is now covered by the banned "Freedom is our religion." For those who has participated in the revolution, every corner of Maidan is a reminder of that time. Ask the people around you more about it to find out about the place which changed Ukrainian history.
The police. After the Euromaidan, Ukraine underwent a law enforcement reform. Despite all its difficulties, the police did change. People started to trust it more. If case something happens the police would come and speak to you in a friendly manner, something hard to imagine a few years ago.
Corruption exposed. Corruption is still the main problem of Ukraine. However, during the last 3 years the country has done a lot of steps to reveal it as many data now became open. During the last year the country improved its position in the Global Open Data Index by 30 points!But the eyes of many Ukrainians (especially in Eastern Ukraine) has been opened at the scale of corruption only after the Euromaidan, when the palaces of the managers of the country had been open to the public. One of them – Mezhyhirya – the ex-residence of Yanukovych and now the Museum of Corruption. The residence is located a half of hour from Kyiv. Go there if you want to see how far humans greed can go. The nice bonus of the place are famous ostriches, beautiful nature and opportunity to ride a bicycle.
Don't look for Lenin. After the Euromaidan revolution, activists launched the process of decommunization by toppling Lenin's monuments across Ukraine. Later, the process was supported on the governmental level – the package of laws on decommunization came into force in 2015. They removed all names of localities that invoke totalitarianism. Also, the Communist party with its symbols was also banned. On May 9, the day of the first semi-final of Eurovision, Ukraine will also mark Victory Day. A few years ago, it would be marked with large-scale celebrations, sometimes even with a parade of hardware. However, in light of recent events, Victory Day lost its Soviet pathos. The red poppy became its official symbol like elsewhere in Europe. The previous symbol – the ribbon of Saint George – is perceived as a symbol of Russia-supported separatism.
Murals. About a year and half ago, Ukraine, and particularly Kyiv, became to be inundated in murals. They can be small or big, funny or serious, located in the center or in any district of the city. You can look for them by yourself or order a guide. The tour across the central murals is one of the options which Interesniy Kiev suggests to the Eurovision delegations.
Read also: 10 must-see Kyiv murals
Vitaliy Klitschko
You may know Vitaliy Klitschko as a famous boxer, but now he is the mayor of Kyiv. His new role hasn't gathered him as many fans as one of being one of the best boxers in the world, however. Kyiv residents often complain about him, citing bad roads, traffic jams, strange decisions etc. The most inoffensive comments towards him are caused by his awkward choice of words and strange manner to express his thoughts:
"We can give hot water. In order for cold water to turn hot it should be heated up. Is this clear? Gas is needed for it."

"I have two deputies, four of them are lying in the Cabinet of Ministers for a month already and can't be appointed. I don't know why."
And the most famous quote:
"Today not everybody can look into tomorrow's day. Rather, not only everyone can see it, not many people are capable of this."
He is accused for what he did and didn't do, of what he was and wasn't responsible. However, Klitschko is no saint. As every previous mayor of Kyiv he is involved in real estate and the construction business, and does nothing to stop the ruthless construction in Kyiv's historical places. There is also evidence of his interests in the casino business in Kyiv.
Still, according to the poll Sociological Group «Rating» conducted in Autumn 2016, if the mayoral elections would take place, Klitschko would still win gaining 35% of votes.
The special somethings
Every visitor of Kyiv notices how green the city is. So if you like to find unusual places to go, 127 parks, 500 squares and 78 boulevards are at your disposal. Some of Kyiv's largest green areas are located in the center – the hills of Kyiv and Trukhaniv Island lying at the other shore.
We also recommend you visit two Kyiv's two botanical gardens (the Hryshko one boasts Europe's largest collection of lilacs which are now in full bloom), the Pyrohiv Scansen museum, or take a tram to the forest.
Another special feature of Kyiv is the abundance of water. The Dnipro, Europe's third longest river, gives the city a special charm. It has several beautiful embankments. There are 8 big bridges across Dnipro. Also there are dozens of lakes in Kyiv.
A short drive to the north, near the town of Vyshhorod, one can find a water reservoir which Kyivans call the "Kyiv Sea."
Where to go to if you still haven't decided
There are places which every tourist must visit in Kyiv. You will find them in every tour guide. They are: Maidan Nezalezhnosti, Khreschatyk, Andriivskyi Uzviz, Sofiivska Ploscha, Mykhailivska Ploscha, Kyiv-Pecherska Lavra, Mariinskiy Park and Podil, Zoloti Vorota.
If you have already seen all of that and want to find something less banal, several guide operators will suggest you to walk in old Kyiv passages, to learn the Jewish history of the city, to ride the subway and even to go to Chornobyl which is located about 2 hours from Kyiv.
To create your own routes, download eway.in.ua to your phone. This convenient phone app will not only find the best route but will calculate the time of your bus' arrival at the stop.
The guides Kyiv in Your Pocket, Kyiv by locals, and Awesome Kyiv will help you to find a lot of non banal things in Ukraine's capital.
Tags: Eurovision Song Contest, Kyiv, Ukraine