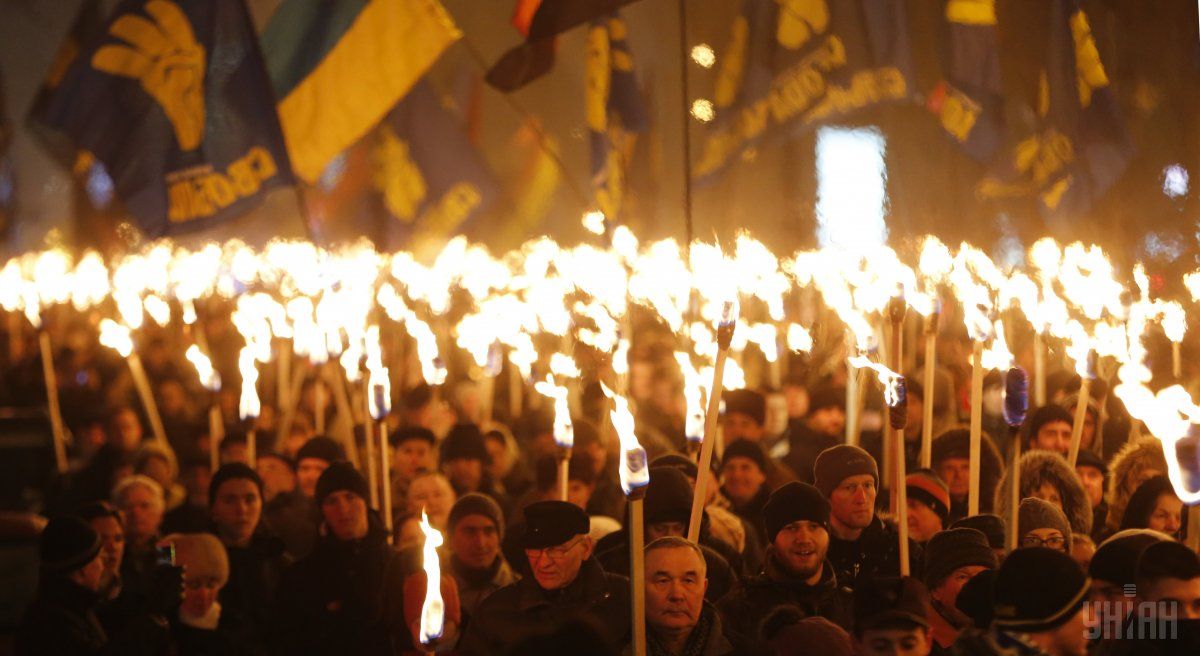 A torch-lit procession held in memory of Ukrainian nationalist leader Stepan Bandera gathered over a thousand in central Kyiv on 1 January 2017. Photo: UNIAN 
In difficult times, it is extremely destructive to offer simple answers to complex questions and simple reactions to such simple answers.
There is no simple answer to feelings of national passion. They have always been a source of energy, both historically and socially, but such powerful emotions have often brought countries to a standstill if public intellectuals and opinion leaders offer simple recipes based on national egoism and self-interest.
The Ukrainian Language
In Ukraine, as soon as the government begins losing public support, we immediately see radical discussions about the Ukrainian language. Both the government and the oligarchs play their cards right, but these discussions never get to the heart of the problem.
The mechanisms for this linguistic manipulation have been worked out so well that everyone plunges into these discussions without giving it a second thought. However, the most important fact to remember is the humiliation of the Ukrainian language in colonial Ukraine, which it remained until 2014.
It was not necessary to know Ukrainian until recently because many Ukrainians believed it was more civilized to speak Russian, and Ukrainian politics were oriented towards Russia. The situation changed somewhat with the Revolution of Dignity and continues to move slowly along this path. However, excluding and isolating Russian-speakers, many of whom are now gradually moving from Russian to Ukrainian, means humiliating them for their linguistic and ethnic characteristics, intimidating and pressuring them, and reproducing the imperialistic policy that Russia adopted towards Ukrainian throughout the centuries.
How to make the Ukrainian language competitive in a globally connected digital world?
We really do need a modern Ukrainian language, but not by banning Russian, but by competing with it both on the cultural and economic plane. The Ukrainian language became more popular after the Revolution of Dignity (2013-2015) as it offered an innovative discourse that the Russian language did not.
Only by continuing and strengthening such innovations will Ukraine stay on course, mainly by promoting the following:
providing translations of the best and most popular modern literature into Ukrainian;
creating TV programs and series with interesting and intellectually stimulating intrigues to counter broadcasts of militarized Russian productions;
ensuring digital quality – Android devices and iPhones powered by artificial intelligence should "speak" Ukrainian, just as they "speak" Russian and many other languages, etc.
Nationalist language policy is based on very simple measures – prohibit, disconnect, alienate, isolate, etc. In other words, such a policy is itself an obstacle to the free and competitive development of language and culture.
In this sense, a nationalist policy is subject to criticism. But, is it at all possible to criticize Ukrainian nationalists in our country?
Ukrainian nationalists are very similar to Jews in their reactions to criticism. Just try making a critical allusion, and you'll be labeled an anti-Semite by the Jewish community or a Ukrainophobe and traitor by Ukrainian nationalists.
A deeply traumatized collective national consciousness always reacts very radically and promptly to any allusions, even if they are symbolic.
However, this was just a comparison and I don't want to speak about the Jewish question, but rather about Ukrainians and their inferiority complex.
Hate speech, collective suspicion and revenge, and revanchism are all signs of a deep-seated inferiority complex.
Only a healthy psyche can generate honesty and fairness. Only a healthy collective consciousness can generate dignity and lead to self-respect and greatness personified in a newly created elite.
Nationalists vs Oligarchs
Before criticizing, we should try to understand Ukrainian nationalists in the current situation. Today, Ukrainian nationalists suffer from the many years of humiliation imposed by Russia on the Ukrainian language and culture.
First of all, they are offended by the fact that until recently they were the only ones who spoke out against Russia, underlining that Russia was Ukraine's enemy, that nothing good would come from Russia, and finally that Russia must be challenged and countered in every way possible. When the war started, Ukrainian society didn't remember their warning and pretended that Russian aggression and hostility appeared only in 2014.
The second slap in the face for Ukrainian nationalists is linked to the Euromaidan revolution. They were the most passionate and dedicated fighters against the Yanukovych regime; they stood at the forefront of the bloody confrontations on the Maidan. Instead, Ukrainian society kicked the Svoboda Party out of Parliament, and didn't give any political preferences to Pravy Sektor, which they basically deserved.
The third unpardonable injustice for Ukrainian nationalists is linked to their participation in the war in Eastern Ukraine. They were among the first volunteers to defend Ukraine. And what happened next? The government canalized their passion and emotions, forcing Ukraine to accept the Minsk Agreements.
Therefore, Ukrainian nationalists got nothing from the Revolution or the war because Ukrainian society obviously fears them, especially their categorical directives promoting violence and prohibition.
And yet, Ukrainian nationalists are using all these acts of injustice as a right to enhance their moral superiority. But, what do they offer from this position of moral superiority?
Moral superiority should generate constructive and positive development – how to develop the Ukrainian language and culture, how to modernize them, how to build a future and create universal contexts so that our language and culture are focused on a civilizing process and are able to meet global expectations.
Instead, Ukrainian nationalists stir up negative emotional processes – envy, contempt, suspicion, hatred, retaliation and revenge.
Instead of strategic policy and worked-out plans, we get prohibition, isolation, and persecution. Instead of positive civic unity in the context of a political nation, we get discord in the context of an ethnic nation. Instead of solidarity, we get tribalism. Instead of professional competition, we get nepotism and parochialism.
In social terms, this can lead to tragic consequences because such an emotional and prescriptive position results in a nationalist dictatorship.
Let's look at the role of Ukrainian nationalists in the present and the near future.
Despite Euromaidan, civil self-organization and brief attempts at reform, the Ukrainian government has embraced an oligarchic process and continues to enrich its followers. Moreover, the Minsk Agreements were initiated in order to preserve an oligarchic economy at the expense of fragmenting the country at the mercy of cowardly Europeans.
After the Revolution of Dignity, the oligarchs continued their extortion policies, accumulated more money, and stole blatantly from their own citizens. Within the Minsk Agreements, Ukrainian authorities tried to violate the Constitution, while the oligarchs began smuggling operations on the occupied territories.
Civil society stood up again and protested, organized a commercial blockade of the occupied territories and blocked Russian banks. But in this case, civil resistance forced the Ukrainian government to move towards an oligarchic dictatorship.
Again, some of the biggest supporters of the Donbas trade blockade were Ukrainian nationalists. Their position is clear: they refuse to participate in Parliament, thus allowing themselves to be even more critical and radical than the parliamentary opposition parties.
The nationalists are responding to the threat of oligarchic dictatorship by stirring up feelings of nationalist revanchism and mobilizing civil groups under the banner of nationalism. In this case, a nationalist dictatorship is just as likely as an oligarchic one because the first is seen as an alternative and a lesser evil.
Why have Ukrainian nationalists remained so passionate about their cause and why have they developed such great revolutionary potential?
This has happened because many Euromaidan activists have lost their revolutionary passion. There are three reasons:
The EU and Ukraine signed the Association Agreement on March 21, 2014 (political provisions) and on June 27, 2014 (economic provisions), so Euromaidan's first demand was fully carried out;
Visa-free travel in the EU will soon be introduced, so Euromaidan's second demand looks to be fulfilled;
Many activists participated in reform processes, which resulted in only partial changes, leading to general disappointment, internal arguments, discord, etc. Pro-EU integration activists are not as passionate as they were on the barricades of the Maidan.
Nationalists have not taken part in these weak reform processes instigated by the current government, so their passion and determination with regard to social issues remain strong and convincing. So, we are now faced with a dramatic choice: oligarchic dictatorship or nationalist authoritarianism.
If our society has managed to react strongly and negatively towards the dictatorial aspirations of the current Ukrainian oligarchic government because it has gained a certain measure of social competence and resistance to oligarchic dictates since the independence of Ukraine in 1991, it does not know how to react to the dictatorial orientation of the Ukrainian nationalist movement.
What the language debate really translates into is recognizing or not recognizing the negative emotional and directive objectives outlined by nationalists, namely revenge on, and suspicion and hatred of Russians and Russian speakers.
For many Ukrainians, the easiest way out of this turmoil and the best way to solve the Russian-Ukrainian conflict is to persecute Russian speakers in Ukraine.
This allegedly easy way out may lead to an authoritarian nationalist state that will be just as devastating as an oligarchic dictatorship.
Nationalism and civil society
Civil society is based on mutual trust and solidarity. Nationalists encourage suspicion and revenge, thus destroying trust. Through extortion and a policy of social discrimination, oligarchs destroy solidarity. Nationalists and oligarchs are both sectarian and enemies of civil society.
By putting aside negative nationalist policies of retaliation and revenge and promoting honesty, solidarity and trust, we will be able to create a new civic elite.
We, Ukrainians, need to look deep into our souls and ask ourselves whether we can do it. If we don't stand together to overcome nationalist policies of suspicion, hatred and revanchism, if we don't have enough faith and honesty to dethrone the oligarchs and their rackets, then we need to prepare for a dictatorship – the first, the second or both together.
A nationalist dictatorship is no better than an oligarchic dictatorship. Although their origins are different, they equally inhibit and restrict freedom and human rights. But, the worst scenario is when these two dictatorships blend into one powerful entity.
We need a radically different policy, based on completely different mechanisms.
From the very beginning, our pro-European passion was dubious and consumer-oriented, so it's not worth considering it any further. Nationalist passion is very dangerous and should be under public scrutiny and control. The dominant emotion guiding Ukrainian society should be civil passion that focuses on civilizing and global aspirations.
The dominant emotion guiding Ukrainian society should be a civil passion that focuses on civilizing and global aspirations.
By putting aside negative nationalist policies of retaliation and revenge and promoting honesty, solidarity and trust, we will be able to create a new civic elite. Civic rather than nationalist identity will generate a meaningful and promising movement of different communities. Instigating civilizing processes instead of submitting to European dictates will energize our society and strengthen our community. We, the people, should demolish the oligarchic system and initiate a new competitive economy without extreme nationalist slogans.
By launching a cultural policy of "promoting otherness" and not "clinging to our own", we will find a place for others as true friends of Ukraine. And, by focusing on innovation rather than copying foreign reform models, we will be able to work out our own principles and objectives, develop and grow independently.
Confronting difficult questions, complicated answers, and complex reactions instead of raising simple questions, answers and reactions – these are the only way to overcome an oligarchic dictatorship and nationalist revanchism.
Tags: EuroMaidan, Featured, Nationalism