In the wake of the mass rallies in Belarus, Russia and Kyrgyzstan at the end of March, we asked our readers what country would face the next Maidan. The poll was conducted on Twitter and Euromaidanpress.com website.
Among the 528 total votes collected in the poll, almost 40% of participants (38,62%) think that Belarus may face the next Maidan revolution, "the next Maidan won't happen," according to one-fifth of the votes (20,45%), 19,14% of the votes were cast for Russia. The USA. took the fourth place with 10,26%.
Custom options
We changed our voting mechanism and now you can add your votable options. In this poll our readers added Romania (15 votes, 2,84%), France (14 votes, 2,65%), Poland (9 votes, 1,7%), Catalonia (1 vote, 0,19%).
Readers' comments
Most of the comments on our Facebook page mention Belarus and Russia as possible candidates for the next Maidan.
Martin Zondler wrote:
My tip would be Belarus. Though I admit little insight there, just some gut feeling. Will it be Maidan like? Could turn out that way, but I think less likely. In my personal view, Belarusians and Russians are different to Ukrainians.
Some of the comments posted on Facebook concerning the poll: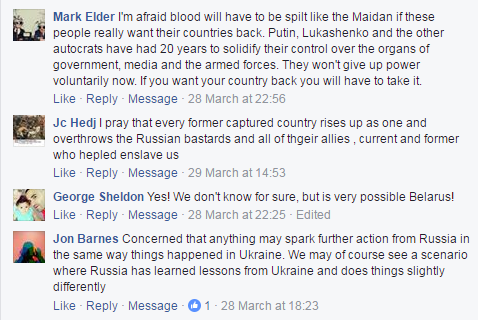 Belarus is also most imperiled by Russia – previous poll
Our readers think that Belarus may not only face the next Maidan. Belarus is a country most imperiled by Russia according to our previous poll.
Read more: