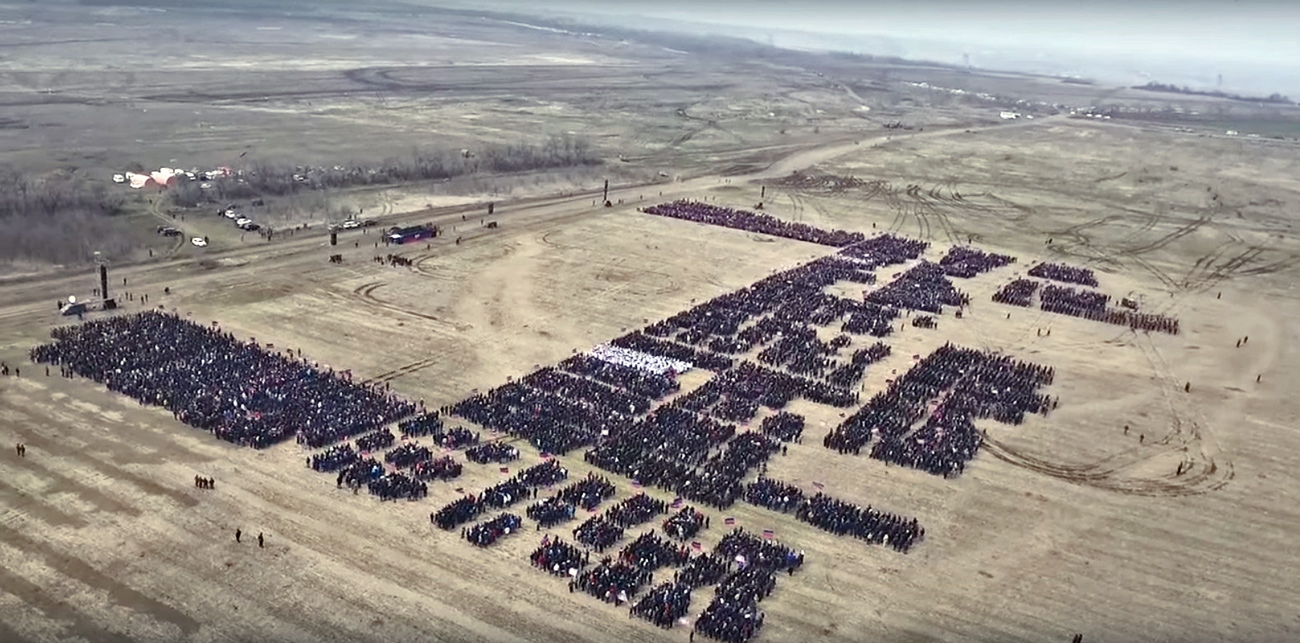 6 April 2017, "one-day mobilization assembly" near occupied Ternove village east of Donetsk. Credit: Youtube 
On April 6 the occupation authorities of the "Donetsk people's republic" forced 27,000 to attend a strange rally at an artillery range in the middle of nowhere calling it "a mobilization assembly" to check combat readiness of reservists and train them.
The last pro-Ukrainian rally in Donetsk was violently broken up by so-called "pro-Russia militants" wielding baseball bats, iron bars and knives on 28 April 2014. After combined Russian-separatist troops wrestled a part of Donbas out of Ukrainian control, the only democratic mass rally took place a year later, on 15 June 2015, as about 500 residents of the Oktyabrskyi Market micro-district blocked the main street of Donetsk demanding "DNR head" Aleksandr Zakharchenko stop the war and withdraw military equipment from the neighborhood. The equipment was a particular source of concern, since it is used to shell Ukrainian strongholds, drawing return fire upon residential areas, and even shelling the houses on occupied territory for a "proper" TV picture. Zakharchenko promised to lodge the residents in a sanatorium but said there was no chance "to stop the war" or withdraw military hardware from the neighborhood.
Since summer 2014, all other Donetsk mass "protests", "rallies", "marches" were staged by the occupation authorities. To stage a "spontaneous protest" or "all-national rally" they send out attendance quotas to state-financed organizations and enterprises demanding a specific turnout for an event.
April 4: High-ranking official arrived from Russia?
On April 4, rumors that a high-ranking Russian curator was visiting the proxy "Donetsk people's republic" were swirling. The building of the Donetsk Oblast Administration, where occupation authorities are lodged, was under enhanced security, and one of the central streets was blocked by the military:
09:03 #Donetsk: [forum] #Shevchenka Blvd blocked betw/non-ferrous metals institute and #Ulyanovoi Ave, the St blocked for cars & passers-by https://t.co/3fJtTNdoeH

— English Lugansk (@loogunda) April 4, 2017
09:35 #Donetsk: [Lots of RU] in green in the whole city. Assault riflemen every 20m secure perimeter of RegAdm. #Shevchenka blocked near MGB https://t.co/QH4qeBD8L9

— English Lugansk (@loogunda) April 4, 2017
This usually happens when a high-ranking official arrives from Russia. The same security measures were taken in Luhansk a week before, on March 28, later Luhansk residents spotted a cortege heading to Russia with a police escort. Ukrainian media suggested that a Russian official who visited occupied Luhansk and Donetsk could be a puppet master of Russian-run "republics", Russian presidential aide Vladislav Surkov.
April 5: Attendance quotas for a guaranteed turnout
A day before the "mobilization assembly" Donetsk "authorities" sent out an order for combat-fit men from 18 to 55 years old to "state"-funded organizations in Donetsk, Makiivka, Horlivka and other occupied cities.
One of Donetsk residents tells, "State employees and students were forced to attend by the administrations of the organizations. On the 5th of April, heads ordered to attend a meeting at 15:00 and announced the assembly there."
Healthcare staff was also informed at their job location. Some individuals received personal draft notices.
A teacher of one of Donetsk colleges on condition of anonymity provided additional details, "They announced it a day before having said [the plans are] to clean up Savur-Mohyla [a hill with a Soviet memorial complex – YZ], all men from 18 to 55. But 17-year-olds went there too. All but the first-year students."
It is worth noting that on the next day Russian news agency Ruptly also mentioned Savur-Mohyla hill, "Up to 30,000 people, all over the age of 18, took part in a parade near Savur-Mohyla." Actualy, the rally was held about 15 km away from the hill.
April 6: "Mobilization assembly"
On April 6, occupation authorities of Donetsk shuttled thousands of "reservists" to an artillery range south of Chystyakove (formerly Khartsyzk, east of Donetsk) for a staged rally called "a mobilization assembly of DNR reservists," head of DNR terrorist organization Aleksandr Zakharchenko stated that "27,000 of combat-fit men" have been mobilized, according to him the total "DNR army" end strength is 2 million, "all residents of the republic will defend it." Russian TV Channel Lifenews reported that "everyone who underwent general and special military training at a range in DNR would receive a weapon" to keep it at home. However, local residents who participated in the event denied claims about the weaponization, reportedly, only guards were armed.
#Torez area @666_mancer "A flock of sheep and a shepard from #Severodvnsk, Russia" pic.twitter.com/OdENqHbOYG

— English Lugansk (@loogunda) April 6, 2017
This so-called mobilization one-day military assembly was different from other rallies that the occupation authorities held in Donetsk Oblast. Previously, civilians were not involved in military mass events in Donetsk. They could be onlookers at parades in Donetsk or participate in civil rallies, but never participated in military events.
Apr06: Another video of pointless walks in fields near #Torez @666_mancer pic.twitter.com/A2WUdVkF67

— English Lugansk (@loogunda) April 7, 2017
Ruptly called this civilian crowd a "huge DPR ['Donetsk people's republic' – YZ] military parade":
Photographs of the "military assembly":
What for?
Here is a propagandist video published by so-called "ministry of information of DNR" following the results of the assembly:
The video draws upon one of the most widespread propaganda myths of the Russian-backed conflict in Donbas – the memory of the Great Patriotic War, as World War II is called in Russia, which plays a key role in Russia's expansionist policy. It equates "DNR reservists" to the Soviet military in World War II, contrasting both to the modern Ukrainian nationalist Azov battalion, which the video equates to the 14th Division of the SS. Nazi Germany created the military formation mostly from Ukrainian volunteers amid WWII. In the video leader of the terrorist "republic" Aleksandr Zakharchenko summarizes the reason why thousands of civilians were herded in the middle of nowhere:
"Every day the Kyiv junta says that sooner or later they will sweep away all of us, and occupy [our land]. Every day the Ukrainian mass media tell how brave Ukrainian army has to kill us all. And today on this field we have shown them all that not only our army is fighting in the Donbas, but the entire people are fighting in the Donbas," Zakharchenko said. 
Zakharchenko did not specify how the gathering of civilians in a field could show that "the entire people is fighting."
So-called DNR defense minister Vladimir Kononov said that the assembly was aimed at "checking the combat readiness of the reservists in case if Ukrainian forces would attempt to commit a perfidious attack on the Donbas."  His deputy Eduard Basurin explained that the job was to train 27,000 reservists "in the event of a large-scale aggravation of the situation in the Donbas." They both didn't specify what kind of training got the unarmed participants standing in a field all day.
Can civilian reservists without a military background be useful for military purposes? Hardly. In fact, the "DNR military assembly" could be the first human shield drills in the occupied territory of the Donbas. The "authorities" could have held this rally to show how fast they can gather obedient local residents to shield themselves from Ukrainian army.
Tags: Anti-Ukrainian propaganda, Donbas war (2014-present), Donetsk, News, rally, Russo-Ukrainian War (2014-present)