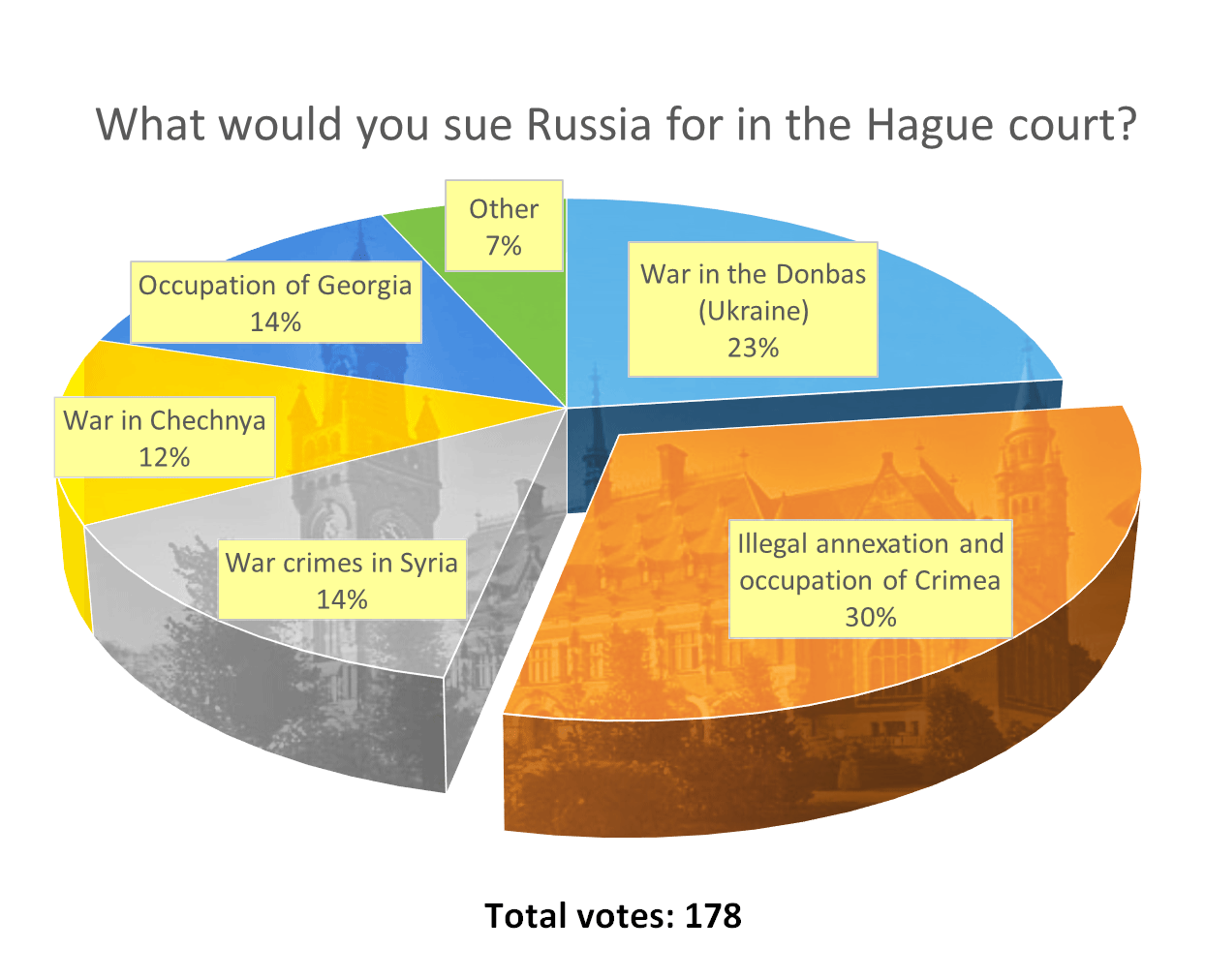 The UN International Court of Justice in The Hague held hearings on Ukraine's case against Russia; a court ruling is expected by the end of April. Ukraine accused Russia of financing terrorism and racial discrimination in Crimea. In this regard, we asked our readers what they would accuse Russia of, if they could file a lawsuit.
The majority of respondents to our online poll (30%) would sue Russia for the illegal annexation and occupation of Crimea, 23% of poll participants would file a lawsuit for the war in the Donbas. 14% support suing Russia for its crimes in Syria, 13% of respondents voted for suing the Russian Federation for the occupation of Georgia, 12% for the war in Chechnya. Seven more readers would file a lawsuit against Russia for all the above mentioned options.
Among other suggestions from survey respondents:
Russia's interference in the US election
Occupation of Transnistria region in Moldova
The downing of Malaysia Airlines Flight MH17
Illegal occupation of Finnish Karelia and Königsberg
Following are some of the comments by our readers:
Paul Pascalau: Wrong approach, Euromaidan. What would you NOT sue Russia for in the Hague Court? That list is way shorter…

Avery Scottson: I wrote "Election infringement in the USA" as concern in my country.
178 respondents participated in the poll.
---
Our next poll is about Russia's possible boycott of the Eurovision song contest in Kyiv.
[socialpoll id="2426063″]
Will Russia boycott #Eurovision in Kyiv and hold a great patriotic war song contest instead? https://t.co/yZLMynJiAq

— Euromaidan Press (@EuromaidanPress) March 10, 2017
Tags: Crimea, International, News, Poll, Russia, Syria, voxpopuli