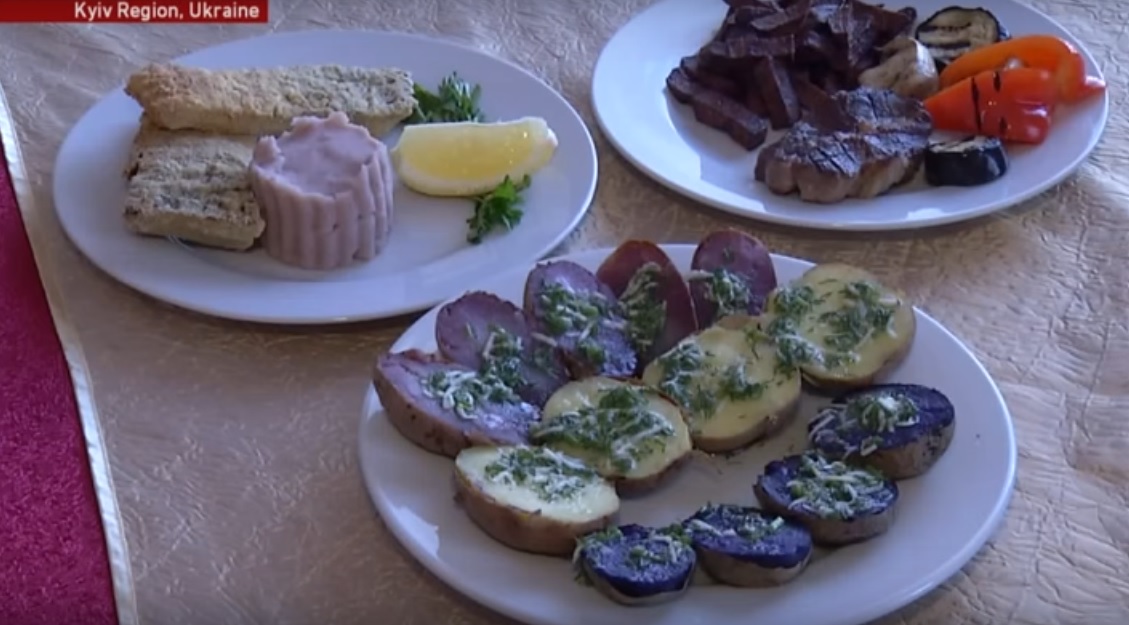 The new varieties contain 5-7 times more vitamins than their light counterparts 
Europe's breadbasket produces more than grains. Ukrainian scientists have created two new  and very colorful  breeds of potatoes.
At first glance, it looks like a beet. But according to its breeders, the deep color is where the similarities end. In fact, it's a new national Ukrainian product with Peruvian roots. There are two varieties. Breeders call the dark blue one "Solokha." The pink one is given the name "Khortytsya."
The bright colors are natural. Scientists say the color has nothing to do with additives or chemicals.
"This isn't GMO. This is typical for a species of potatoes that grows in its historic homeland, in Costa Rica or the mountains of Peru. It's based on various wild species. It's not an added color, like is the case with GMO products, from bacteria or unusual organisms. Rather the pigment is a sign of a high antioxidant content. The more intense it is, the more nutrients there are in the potato," says Mykola Fyrdyga, the Deputy Director of the Potato Breeding National Academy of Agrarian Sciences of Ukraine.
Ukrainian scientists call them dietary potatoes. The new varieties contain 5-7 times more vitamins than their light counterparts. They're rich in anthocyanin, which scientists think may have health benefits.
"This is what our people need, these varieties are very useful. The blue and purple varieties – are very good for diabetics. It doesn't increase their blood sugar level. It helps break down oxidants in the body," explains Anatoliy Bondarchuk, Director of the Potato Breeding Institute National Academy of Agrarian Sciences of Ukraine.

"If we compare broccoli, bell peppers, colorful vegetables that are healthy, saturated with nutrients, we created the potato as a counterweight that also contains a lot of nutrients," adds Fyrdyga.
According to the Potato Breeding Institute, it usually takes more than 10 years to breed a new potato variety and get it to market. "Solokha" and "Khortytsya" were no exception. Tens of thousands of planting material samples had to go through the lab.  All while trying to create something resistance to diseases, easily grown, with a unique taste and a lot of nutrients.
As told by the Head of Seed Potato Testing of the Academy Olha Vyshnevska, scientists are trying to keep track of all the materials. They establish what kinds of viruses infect the materials. And if the case of heavy infection is revealed, they remove diseased plants.
The experts of the institute say that comparing to the traditional varieties of potatoes, created in the institute potatoes with colored tubers don't germinate prematurely, don't rot and don't have problems in a storage.  
Colored potatoes are four times more expensive than their classic counterparts. But they're gaining popularity. The first to appreciate the uniqueness of the potatoes were restaurants. They helped create a surprise for customers:
"I tried the mashed potatoes, they were delicious, interesting, unusual. I liked the baked potato, but just looks very exotic, very unusual. it's a little different, it's a bit sweeter, it has a taste of its own," describes the taste a restaurant visitor Maryna.
Pavlo Ustiy, a restaurant Chief, explains that using these unusual kinds of potatoes gives him an advantage over other cafes and restaurants:
"Because it's new, it's colorful, and everyone is interested in tasting it, since it's so unusual. Children are surprised, they immediately ask, 'what is this, a beet?' They try it and like it."
Ukrainian scientists have already given themselves a new task. They want a natural way for Ukrainians to get more of the vitamins that are concentrated just under the potato skin, since we usually peel it off. They're creating potatoes with a thin and delicate skin that can be eaten and are hoping the new variety will become popular with establishments that specialize in french fries.
Tags: innovative products, Science and Innovation, Stories, Ukraine, Ukrainian food industry