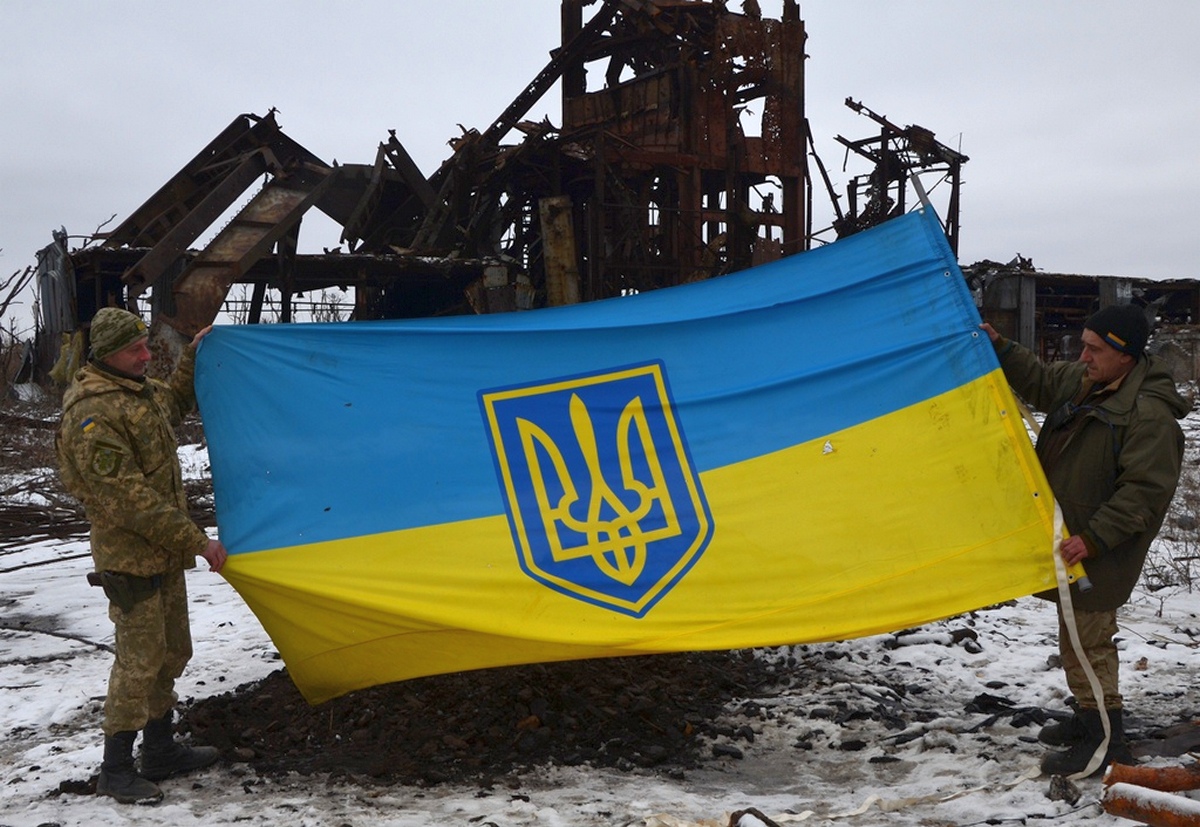 The "Shakhta Butivka" Ukrainian position west of Donetsk. Soldiers hold up the flag saved from the ruins of the poppethead destroyed by artillery fire from Donetsk on February 26. Credit: mil.gov.ua 
February 26 was not a quiet day in the Donbas, most the of reports by local residents on social networks came from Donetsk, where artillery was active early in the morning and in the evening. 
An artillery cannonade began in Donetsk at 6 a.m. (all time EET, GMT+2):
06:06 Donetsk: "Damn good morning, is it Pisky being shelled? Hits are heard from there"
06:08 Donetsk Petrovskyi district: "Good morning to all, Trudovski–Oleksandrivka direction is already rumbling"
06:17 Donetsk: Pisky have just been shelled with heavy [artillery]
06:32 Yasynuvata [pro-RU source]: "They have been fighting for already 30 min, pretty loud "
06:35 Donetsk: Since 6 am outgoing rounds from Petrovskoho, 3 series with a position change and 5-7 salvos, Gvozdikas?
06:35 Donetsk: It continues [=Pisky under shelling], "from southwest"
06:36 Donetsk: "A morning cannonade just now from northwest helps us to wake up"
06:39 Donetsk Kyivskyi district [pro-RU source]: A strong cannonade is awaking us
06:52 Donetsk: 6 a.m. and 6:30 I've heard the implementing of decisions of a [Minsk] video conference from Kuybysheva [=outgoing fire],  14 seconds after they hit Pisky
06:57 Donetsk [pro-RU source]: And it's been like a huge incoming [round] of forgiveness [=orthodox Forgiveness Sunday on Feb26]
07:03 Debaltseve: "It's pretty loud farewell to winter" [=Russian Maslenitsa holiday on Feb26]
07:09 Donetsk: "And again houses are shaking on Polihrafichna'
Sounds of separate rounds or explosions are heard in Donetsk until noon:
08:02 Donetsk: A boom has been heard from south in Budyonovka direction
08:17 Shakhtarsk: Today a column of 30-40 18-wheelers went via Shakhtarsk, no number plates, escorted by VAI [=military traffic police]
08:45 [Donetsk]: Over the last 15 minutes, there have been several loud single outgoing rounds by [Russians]
08:46 Donetsk Shakhtarska square: A strong single boom
08:46 Donetsk Kirovskyi district: The first boom from the north this morning
08:57 DonetskKirovskyi district: Again and again. The same north. It sounds very far off
08:47 Donetsk Kalininskyi district: "It has f*cking boomed strong"
09:08 Makiivka Gvardeyka: It booms pretty loud by times
10:10 Donetsk: "a double ka-boom"
10:55 Debaltseve: Some "insane stir" around Debaltseve since morning [=movements]…
11:34 Donetsk: All the morning, sporadic heavy outgoing rounds in the north of Donetsk
13:07 Donetsk: At 06:58 a strong single hit awoke me – west or northwest. 07:01 one more, then 07:04, 07:08, 07:11, 07:16, and a pause
And an everyday "harassing attack" begins in Donetsk afternoon:
15:41 Donetsk: airport–YaBP – ongoing battles, heavy [arms]
16:05 Donetsk: "Kalininskyi: Heavy launches from north-northwest" "YaBP direction rumbles" "Botanic garden can hear it"
16:06 Donetsk: A couple of very strong booms west of Mariupol Fork
16:07 Donetsk: Now tanks are pounding Promka
16:08 Donetsk Proletarskyi district: Distant dull booms, for already about 15 min
16:29 Donetsk Proletarskyi district: Salvos became heavier and more frequent
16:30 Makiivka: It rumbles for 2 hours. It is 30 min as it has intensified
16:33 Donetsk: For about 40 minutes, heavy [weapons] make noise in Yasynuvata direction
17:00 Makiivka Vostochnyi: The west direction: as it is getting darker, as orcs become more blatant. Louder single outgoing salvos
17:35 Donetsk: The rumble becomes tougher and intensifies. northwest direction
17:35 Makiivka: Heavy booms in Mineralne direction. It sounds like artillery salvos from bypass in the area of Kordon pond
Towards evening occupied Horlivka joins the pointless attacks:
17:50 Horlivka: A single salvo
18:19 Makiivka Vostochnyi: It seems to have calmed down here
18:55 Donetsk Kirovskyi district: From the northwest, roughly behind Petrovka, various shootouts are heard by times
18:57 Donetsk: From Trudovski, heavy machine-gun fire has started…
19:05 [Yasynuvata]: Vasylivka: [Battle] activated, so far just shooting
19:54 Horlivka: Sounds of the battle start can be heard
19:56 Horlivka Stroitel: Southwest: they are firing – a mortar, automatic arms, so far not too active
20:00 Horlivka: Paired salvos (mortars?) have started, small arms, fun at Shyroka_Balka begins
20:06 Donetsk Trudovski: Small arms are working
20:14 Horlivka: "Orcs have already involved artillery. A couple of salvos"
Later, occupied Debaltseve can hear outgoing artillery attacking the area of Svitlodarsk bulge:
20:18 Debaltseve: Artillery emerges, Lohvynove direction [=salvos]
Outgoing artillery fire from the area of Yasynuvata:
20:54 Yasynuvata: Artillery joins [the battle]
20:55 Donetsk Schetinina: A series of dull salvos from Yasynuvata direction
20:56 Novhorodske: "And it lands, I guess, in the area of Skotuvata. Frequently. Nothing was heard earlier today"
20:57 Yasynuvata: "I see through the window impacts in the area of the new #cemetery"
20:58 Makiivka: Yahidka came into play, outgoing fire of large calibers
21:00 Donetsk: "non-stop [battle]"
21:00 Makiivka Zakhidna: It's very loud, something powerful
21:00 [Yasynuvata]: "Artillery duel, everything falls between Kruta_Balka and Vasylivka"
A city of Kadiivka in Luhansk Oblast can hear either an artillery volley or MLRS launch:
21:00 Kadiivka: A simultaneous volley of some 6 pieces of cannon
21:00 Makiivka: Heavy salvos
21:01 Kadiivka: It has pounded with vibration through my home, then dying away rocket sound, no idea where, and then quiet
More artillery fire near Donetsk:
21:00 Makiivka: Heavy salvos
21:02 Donetsk Proletarskyi district: Somewhere It rumbled great, windows trembled a bit. North-northwest direction
21:04 Makiivka: A series of incoming rounds started from Yakovlivka to Gvardeyka
21:28 [Yasynuvata]: Between Hospodar and Kruta_Balka: incoming rounds in the area of the highway and further north
Marinka, a government-controlled town southwest of Donetsk, reports an incoming fire breaking the silence:
A short lull in Donetsk and the cannonade resumes:
21:34 Donetsk railway station: Silence
21:37 Makiivka Vostochnyi: It's loud here
21:45 Donetsk Petrovka mine no, 10: A heavy cannonade is heard with TV set on and closed windows
21:45 Donetsk: "Auchan: listening, loud" "Motodrome: have heard it loud"
21:45 Makiivka downtown: Heavy rolling booms. northwest
21:46 Makiivka: Tanks, guns pound, the center hears it powerful, Butivski_turn hears it too
21:46 Makiivka Gvardeyka: It's already falling on the edge of settlements, maybe even catching them
21:46 Donetsk downtown: One can hear strong single booms
21:51 Yasynuvata: Artillery duel for about an hour in the area of Vasylivka, both outgoing and tough incoming ones
Novyi Svit, a settlement south of Donetsk some 30 km away from the frontline, can hear artillery:
22:00 Novyi_Svit: One can hear heavy booms
22:04 Yasynuvata: Intensity [of the artillery duel] increases
22:04 Donetsk Schetinina: Uninterrupted hum of the cannonade
22:05 Makiivka: It sounds loud from [Vekhnyokalmiuske] reservoir direction
22:09 Makiivka Gvardeyka: "DNR" artillery makes more active noise
22:16 Donetsk Shkilnyi: Heavy booms are heard in series by 4-5 salvos, probably a battery. Direction: north
And it ceases towards 23:00.
Ukrainian military: 2 KIA, 2 WIA, 2 injured in 62 attacks
The ATO Headquarters recorded 62 attacks on February 26, two soldiers were killed wounded in action, two more wounded and two injured
Mariupol sector
Donetsk sector
Luhansk sector
west of Donetsk @666_mancer #Butivka_airshaft's poppethead has collapsed, it stood long time https://t.co/4WhRJcq2qD pic.twitter.com/Bi2OwrjPji

— English Lugansk (@loogunda) February 27, 2017
On February 27 HQ reported 56 attacks as of 18:00, one serviceman has been wounded. Mortars have been wodely used, a tank repeatedly attacked Avdiivka.
The casualties of the first week of the "ceasefire" annonced earlier since February 20:
The 1st week of the "#MSC2017 Ceasefire" for eastern #Ukraine ended with 41 Ukrainian casualties.
3 KIA
38 WIA
Another failure.#PutinAtWar pic.twitter.com/DKWsDfzpNX

— Julian Röpcke (@JulianRoepcke) February 27, 2017

The situation as of today's morning:
https://www.facebook.com/euromaidanpress.en/photos/a.220820914768385.1073741828.220542374796239/644569512393521/?type=3
OSCE reports fewer ceasefire violations recorded on February 26
The OSCE Special Monitoring Mission to Ukraine (SMM) recorded fewer ceasefire violations in Donetsk Oblast on both 25 and 26 February compared with 24 February:
The SMM recorded fewer ceasefire violations including over 700 explosions on 25 February and over 200 explosions on 26 February compared with more than 1,200 explosions on 24 February in Donetsk region.
Within three hours before midnight on 24 February, while in "DPR"-controlled Donetsk city centre the SMM heard 169 undetermined explosions of rounds from unknown weapon systems 3-10km north-west and north-north-west.
Russian-terrorist forces fired multiple rocket launch system BM-21 Grad from Horlivka on February 24:
On the evening of 24 February while in "DPR"-controlled Horlivka (39km north-east of Donetsk), within two hours, the SMM heard 165 explosions (27 assessed as caused by outgoing multiple launch rocket system (MLRS; BM-21 Grad, 122mm) rounds, 40 assessed as caused by outgoing artillery rounds 3-4km south-south-west and 48 such explosions 8-10km north-north-west
In Luhansk Oblast the SMM recorded more ceasefire violations on 25 February compared with 24 February and fewer on 26 February compared with both 24 and 25 February
In Luhansk region the SMM recorded more ceasefire violations on 25 February, including over 200 explosions compared with some 150 explosions recorded on 24 February. On 26 February, the SMM recorded 80 explosions. The SMM recorded a total of 115 explosions assessed as caused by artillery rounds and 64 explosions assessed as caused by mortar rounds in the western and northern parts of Luhansk region on 25 and 26 February.
As usual, Kadiivka-Popasna area was the hotspot in Luhansk Oblast:
While in "LPR"-controlled Kadiivka (formerly Stakhanov, 50km west of Luhansk) on 25 February, the SMM heard 137 undetermined explosions (75 of which assessed as caused by artillery rounds of unknown calibre) 10km north-west and west.
Canada and the United States condemn attack on OSCE monitors
On February 24, Chief Monitor of the OSCE Special Monitoring Mission to Ukraine (SMM) Ertugrul Apakan condemned the targeting of SMM monitors and the seizure of an SMM mini-unmanned aerial vehicle (UAV) by "DNR members", he insisted:
"Firing at unarmed civilian monitors is not only a direct threat to the lives of brave men and women doing their best to bring peace to Ukraine," Apakan said, "it is a direct challenge to the collective will of the 57 OSCE participating States, and to the Minsk agreements."
Later the United States urged Russia and "separatist forces" to "immediately" observe the ceasefire in Ukraine:
We condemn Friday's targeting of OSCE Special Monitoring Mission (SMM) monitors and the seizure of a SMM unmanned aerial vehicle by combined-Russian separatist forces. It is imperative that these forces halt their attacks on civilian infrastructure, including the Donetsk water filtration station. We call on Russia and the separatist forces it backs to immediately observe the cease-fire, withdraw all heavy weapons, and allow full and unfettered access to the OSCE monitors.
Canada strongly condemned the attack on the OSCE SMM monitors:
Canada strongly condemns the February 24 attack targeting unarmed @OSCE_SMM monitors in eastern #Ukraine 1/2

— Foreign Policy CAN (@CanadaFP) February 26, 2017
2/2 Canada calls on Russian-backed separatists to immediately observe the ceasefire and allow @OSCE_SMM unimpeded access #Ukraine

— Foreign Policy CAN (@CanadaFP) February 26, 2017
Tags: Canada, Donbas war (2014-present), Donetsk, Horlivka, News, Russo-Ukrainian War (2014-present), USA