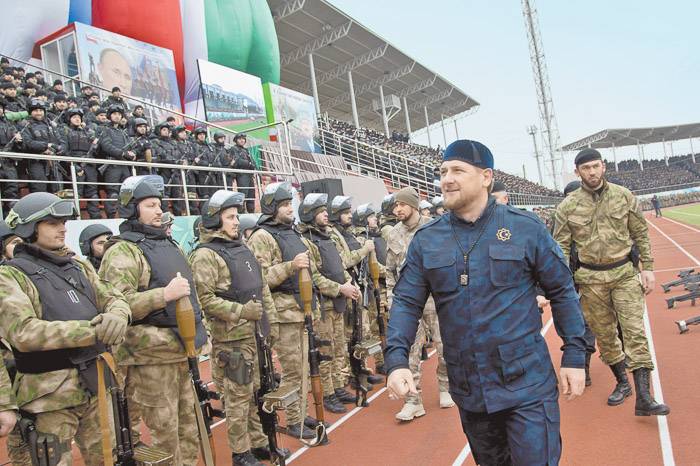 Ramzan Kadyrov, the governor of Chechnya, inspecting his 'personal army' assembled at the Grozny stadium, 2015 (Image: versia.ru) 
Ramzan Kadyrov has gained notoriety for his formation of military units that are more under his control than that of Moscow, but what is often ignored is that other governors, albeit in somewhat less flamboyant fashion, have been forming similar units loyal to themselves alone, according to Ruslan Gorevoy.
And these moves have the potential to destabilize the country given that there are "no fewer than 30" subjects which have territorial claims on other subjects and thus, in the worst case scenario, even threaten the territorial integrity of the Russian Federation as a whole, the Versiya commentator says.
For the last three years, he continues, the Russian State Duma has been trying to rein all this in believing that the interior ministry, controlled by Moscow, can provide all the security governors need. But the latter now consider it a matter of "good tone" to have their "own autonomous army subordinate directly to the governor and not to Moscow.
The simmering conflict between Chechnya and Ingushetia over the border between them is the most prominent of regional disputes, but there are many others, Gorevoy says, including challenges within federal subjects such as Kalmykia and Perm Kray where no less than four parts are competing with each other to leave its borders.
"These very structures now," Gorevoy continues, "are formed according to a single criterion: the personal taste of each regional leader. The center in turn does not have any relationship to them and this means that it cannot give them orders either to stop fighting and disperse.
But the possession of such forces gives governors something more: "the more powerful the governor's 'personal army,' the greater his chances to remain in place" even as the Kremlin's Sergey Kiriyenko carries out his "'purge' of the heads of regions. And because the governors know this, they have an additional incentive to form such structures.
Moreover, they give governors the opportunity to buy or intimidate friends and to reward the titular nationality in the case of the ethnically non-Russian republics. In Tuva, for example, the governor effectively controls the 55th Motorized Mountain Brigade, which is dominated by the 1047 Tuvins in its ranks.
The Russian State Duma is currently holding hearings on what to do about this situation and how best to rein in the governors and their personal "armies." But the Versiya commentator suggests that all past efforts to do so have failed. Because of more immediate threats, these forces remain under Moscow's radar screen.
---
Related:
Tags: Ichkeriya/Ichkeria/Chechnya, International, Ramzan Kadyrov, Russia, Russian disintegration, Tuva