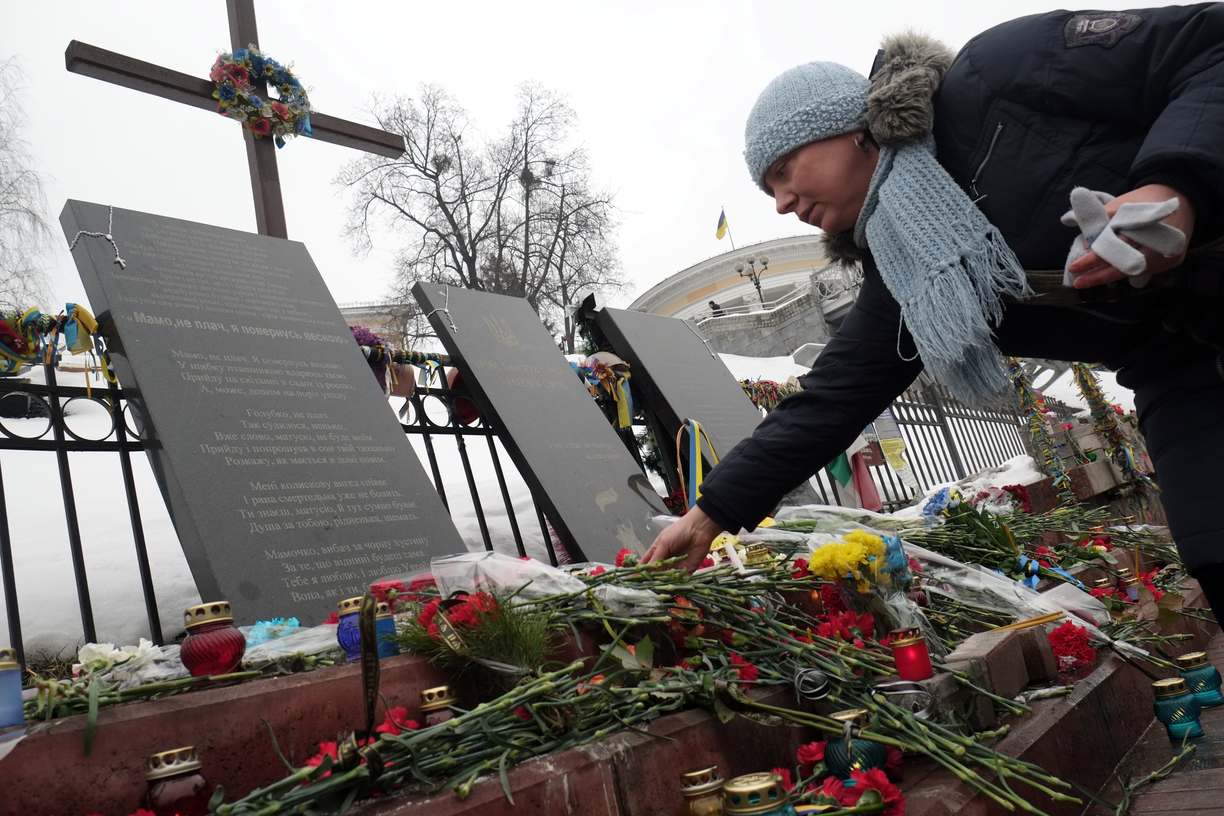 A woman brings flowers to a monument to the killed protesters at Euromaidan. Photo: Alya Shandra 
During 18-22 February 2017, Ukraine will honor the memory of the Euromaidan protesters killed three years ago in the bloodiest clashes that took the lives of over a hundred unarmed people.
Called the "Heaven's Hundred," the name containing an allusion to the Kozak XVII century army Sotnia ["Hundred"] companies who were reinstated as divisions of task forces at the Maidan protests, the list of killed activists actually numbers 107 people. 73 of them, as well as 11 law enforcers, were killed in the clashes in Kyiv on 18-20 February 2014.
The protesters killed on Euromaidan were awarded as Heroes of Ukraine post-mortem.
For the commemorative events, police and rescue services were put on combat alert due to a higher level of terrorist threat in Kyiv. Head of the State Emergency Service of Ukraine Mykola Chechetkin says that about 7,000 personnel and 2,000 units of equipment have been involved to ensure security in case of emergencies, UNIAN reported.
In Kyiv, people have been bringing flowers to makeshift memorials to the Heroes of the Heaven's Hundred on vul. Institutska. Posters of Ukrainian servicemen on Maidan Nezalezhnosti remind about the more than 2,000 servicemen and 10,000 total casualties from the Russian-inspired conflict in Donbas, which started after Euromaidan's victory in 2014 (all photos by Alya Shandra).
Read more: How it all happened: Euromaidan, occupation of Crimea, Russia's hybrid war in Donbas
Here is a timeline of the events three ears ago, in 2014.
February 18 – activists march on the Verkhovna Rada; initial clashes in Mariyinsky Park and Shovkovychna and Lypska Streets; Berkut troops advance towards Maidan Nezalezhnosti; opposition leaders meeting with Yanukovych.
February 19 – Yanukovych government readies for power struggle; SBU launches an "anti-terrorist" operation; protestors and activists arrive from all corners of Ukraine; Yanukovych meets again with opposition leaders.
February 20 – Euromaidan protesters march on riot police with shields and Molotov cocktails and force them to retreat, thus regaining control of Maidan Nezalezhnosti; Radosław Sikorski of Poland, Laurent Fabius of France, and Frank-Walter Steinmeier of Germany meet with Yanukovych; Verkhovna Rada convenes for an emergency sitting, but the Party of Regions does not take part; bloodiest day of the clashes with at least 21 protesters killed.
February 21 – Many members of the Party of Regions and their families flee Kyiv; compromise deal called 21 February Agreement reached with opposition parties after hours of negotiations ; Euromaidan activists, Pravy Sektor and Automaidan refuse the agreement and call for Yanukovych's resignation; hundreds of riot police officers guarding the presidential compound and nearby government buildings vanish; Euromaidan self-defence units peacefully gain control over central Kyiv and its government buildings; military stands with the people; Maidan participants wish last farewell to the perished Heroes (Heavenly Hundred).
Read more: A timeline of the Euromaidan revolution
RFERL has made this overlap of historical footage with modern-day Kyiv:

Watch videos about Euromaidan: "The winter that changed us." Remembering why Ukraine is having early parliamentary elections
Tags: EuroMaidan, Kyiv, Maidan, News