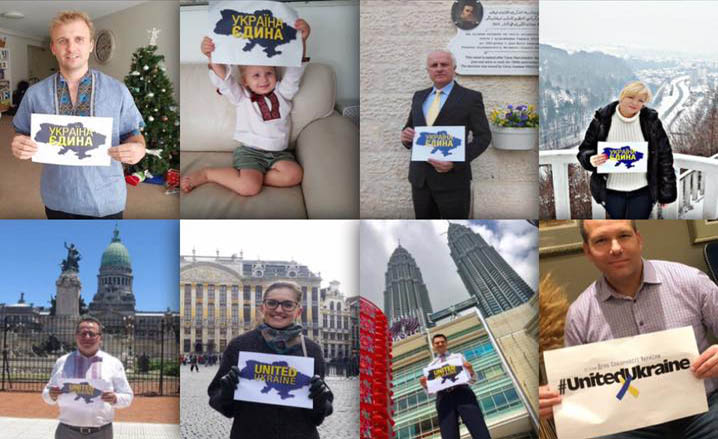 12,000 people from 2014 cities in 63 countries took part in the third global flashmob celebrating Ukraine's unity on 22 January 2017, the anniversary of the Unification act of the Western Ukrainian People's Republic and Ukrainian People's Republic in 1919.
The event was organized by the youth branch of the Batkivshchyna party, Batkivshchyna Moloda, and the NGO Ukrainians. People took photos with signs with posters saying "United Ukraine" and posted them to social media during 1o-22 January 2017. Selected photos were displayed in the Taras Shevchenko park in central Kyiv.
"The participants were united by two things: first, they support the idea of the unity, independence, and sovereignty of Ukraine. Second, they condemn Russia's aggression in Crimea and Donbas," told Oleksiy Zakharchenko, the flashmob's coordinator and leader of the Kyiv branch of Batkivshchyna Moloda.
Find more photos at the fb event.
There were participants from occupied Crimea and Donbas, but the flashmob wasn't only about Ukrainian unity. The many participants worldwide showed Ukrainians that they are not alone in their fight against Russian aggression. They included the Governor of Ohio John Kasich, MEPs Corazza Bildt and Valentinas Mazuronis, USA Congresswoman Marcy Kaptur, President of the World Congress of Ukrainians Yevhen Czolij, deputy of the National Assembly of Hungary Jaroszlava Hartyanyi, the chief Mufti of Ukrainian Muslims Sheikh Said Ismagilov, Ukrainian MPs, mayors, and ambassadors worldwide.
Unity Day was creatively commemorated in 1990. Around three million people in Ukraine took each others hands and connected Kyiv and Lviv via a real human chain. It was 22 January 1990 when Ukrainians, still being a part of the Soviet Union, marked the 71st anniversary of the Unification act of the Western Ukrainian People's Republic and Ukrainian People's Republic, the fledgling independent states that appeared after the fall of the Russian and Austro-Hungarian empires. Read more about the history of the event here.
Symbolically, this year the flashmob was joined by Dmytro Bachynskyi, a surgeon of the Mykolayiv Regional Hospital, whose great-grandfather Lev Bachynskyi signed the Act of Unity on 22 January 1919 as Vice President of the West Ukrainian People's Republic.
Unity was a dream of many generations of Ukrainians who throughout centuries were engulfed by different empires on their borders. The Ukrainian independence efforts after WWI were shortlived, and after a brief period of wars against external enemies and internal quarrels, Ukraine was once again divided, engulfed by Poland, Czechoslovakia, and bolshevik Russia.
Today the dream of independence is fulfilled, but Ukraine's independence and unity are once again under attack. Today, the unity of Ukrainians is of ultimate importance, if the country is to withstand Russian aggression and imperial ambitions.
Tags: Act of Unity, Archive, flashmob, International, Protests, Support