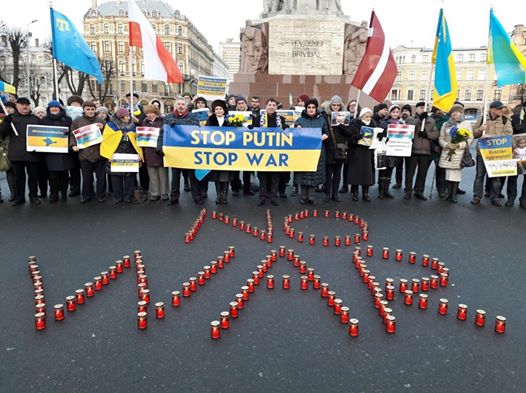 Protests in Riga, Latvia. January 2017. Photo: Latvian Congress of Ukrainians  
On 21 January 2017, the third global #StopPutinsWarInUkraine rally took place in over 56 cities and 20 countries, according to the organizers. The first such protest took place in June 2016. The organizers of the event shared links to the events in facebook:
According to the organizers, the main purpose of the action is to draw public attention to the Russian aggression in Ukraine, to show the importance of unity and solidarity with Ukraine, as well as to urge the world to increase pressure on Russia to restore territorial integrity and peace in our country.
The protesters demanded to fully withdraw all foreign occupation armed groups, military equipment, and mercenaries from the territory of Ukraine including Crimea, increase the OSCE observation mission to 24 hours a day, seven days a week, release all hostages and illegally detained persons.
Radio Svoboda made this video compilation, which we translated:
We gathered some photos from the protests worldwide.
There were many protests in Ukraine. They were organized by the State initiative of Yarosh, an initiative of the former Right Sector leader Dmytro Yarosh.
Mariupol:
Ivano-Frankivsk:
Kyiv:
Как акция #StopPutinsWarInUkraine проходила в Киеве: pic.twitter.com/ONKaDs4scb

— Крым. Реалии (@krymrealii) January 21, 2017
Kharkiv:
Харків долучився до всесвітньої акції проти російської агресії "Stop Putin! Stop War"https://t.co/kl5Pf1lara #StopPutinsWarInUkraine pic.twitter.com/f806vXiDsh

— IT Sector Харьков (@itsector) January 21, 2017
Odesa:
Traditionally, protesters were detained in Russia.
St.Petersburg:
Так сегодня проходила акция #StopPutinsWarInUkraine в Санкт-Петербурге

фото – fb Вадим Ф. Лурье pic.twitter.com/RMHno065Zp

— Крым. Реалии (@krymrealii) January 21, 2017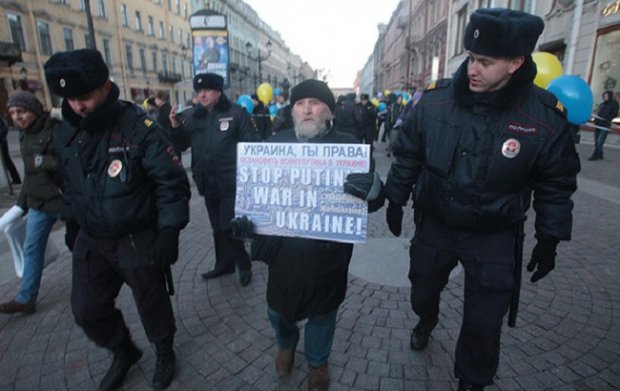 Protester detained in St.Petersburb. Photo: fontanka.ru/2017/01/21/061/
Solitary protests in Moscow:

Riga, Latvia:

Milan, Italy

Paris, France:
Lyon, France:
« Stop à la guerre de #Poutine! » #Lyon s'est joint au troisième flashmob international #StopPutinsWarInUkraine pic.twitter.com/bj5u1Qfb5o

— Lyon-Ukraine (@Lyon_Ukraine) January 21, 2017
Prague, Czech Republic:
Акция #StopPutinsWarInUkraine проходит и в Праге (Чехия)

фото – @dr_vasyl pic.twitter.com/wVTQmFgLig

— Крым. Реалии (@krymrealii) January 21, 2017
Warsaw, Poland:
Акція #StopPutinsWarInUkraine у Варшаві біля посольства Росії pic.twitter.com/Kxj4BrwO6A

— Радіо Свобода (@radiosvoboda) January 21, 2017
Sydney, Australia:
#StopPutinsWarInUkraine at #WomensMarch in Sydney, Australia pic.twitter.com/T2hXuWzK5Y https://t.co/TyDNsR4Wla

— Alexandru Cociorvei (@AlexandruC4) January 21, 2017
Philadelphia, USA:
#StopPutinsWarInUkraine в Филадельфии, США

*фото @CWynnykWilson pic.twitter.com/WypAWyFimJ

— Крым. Реалии (@krymrealii) January 21, 2017
Tags: Help Ukraine, Protests, solidarity, Ukraine