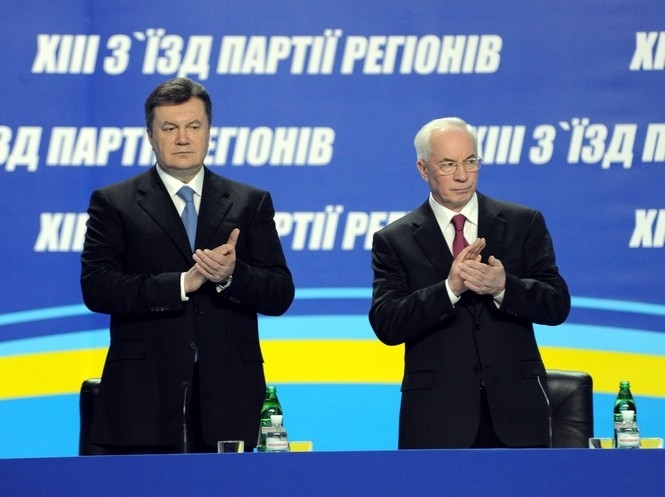 Disgraced Ukrainian president Yanukovych (left) stands next to Mykola Azarov (right) at the 13th congress of their Kremlin-allied Party of Regions 
Ruslan Bortnik, the head of the Ukrainian Institute for Analysis and Management, says today that the idea now being floated by former Ukrainian prime minister Mykola Azarov to create a pro-Russian Ukrainian "government in exile" comes too late to have any chance of having an impact.
"This initiative could have had a certain effect in 2014 when the political emigration had weight and influence in the information and economic sectors of Ukraine. Thus, the idea about forming a government in exile now is, at a minimum, late and, at a maximum, simply a publicity stunt."
Former Ukrainian officials and politicians like Azarov who was prime minister between 2010 and 2014 have lost all legitimacy in Ukraine, Bortnik says. Indeed, there are "several parallel shadow governments" in Ukraine and Azarov failed in 2015 to create a government in exile. (See this.)
Azarov raised the possibility of creating such a government now in an interview with Moscow's Izvestiya newspaper, encouraged he said by a Moscow court's decision on December 27 declaring the Euromaidan revolution a coup d'etat and, thus, fundamentally illegitimate.
The former Ukrainian official said that conditions for such a government were emerging given what he said was the inability of the ruling elite in Kyiv to "carry out their functions" and the demands of "the people for an alternative power." Such an organization could then raise issues about Ukraine international courts and other organizations.
This last point is why Azarov's otherwise preposterous suggestion must be noted. Clearly, he and his Moscow sponsors plan to try to use international institutions in that way to discredit the current Ukrainian government, a tactic that unfortunately will attract some support to their cause.
---
Related:
Tags: Azarov, EuroMaidan, government in exile, International, Russia, Russia's hybrid war, Russian agents of influence, Russian special services, Russo-Ukrainian War (2014-present)