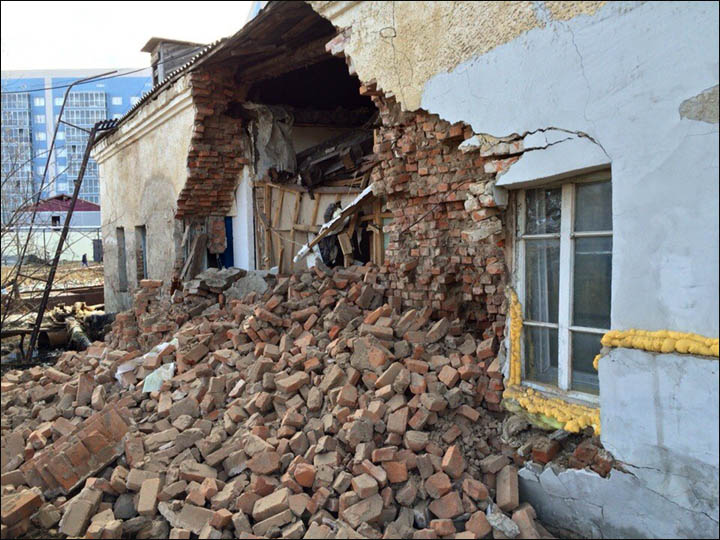 A building in the center of Yakutsk, Russia (Image: The Siberian Times) 
The Siberian Times newspaper has called attention to a study showing that the melting of permafrost zone in the northern two-thirds of Russia is already beginning to undermine infrastructure in the northern portions of the country and will lead to "the collapse" of many buildings and pipelines over the next several decades.
The study, prepared by a group of Russian and American scholars, appears in the current issue of The Geographical Review (Vol. 107, no. 1 (January 2017), pp. 125-144, available online). The Russian paper has summarized it and provided pictures of the collapse so far.
According to the study which examined four Siberian cities in detail, the paper says, several of them are at risk of collapsing infrastructure within the next decade and that under "a worst-case scenario" there could be "a 75 to 95 percent reduction in bearing capacity throughout the permafrost region by 2050."
That would have a "devastating" impact not only on the ability of people to live and work in the Russian North but also on efforts to extract oil, gas, and other natural resources from the region or to maintain control over the region and the adjoining Northern Sea Route in which Moscow has placed so much hope.
The scholars examined the situation in Salekhard, Norilsk, Yakutsk, and Anadyr, but argues that their findings in these locations can be extrapolated to others and that they underscore the need to adopt new construction methods, some of them extraordinarily expensive, to prevent infrastructure collapse.
---
Related:
Tags: environmental catastrophe, global climate change, International, permafrost melting, Putin regime, Russia