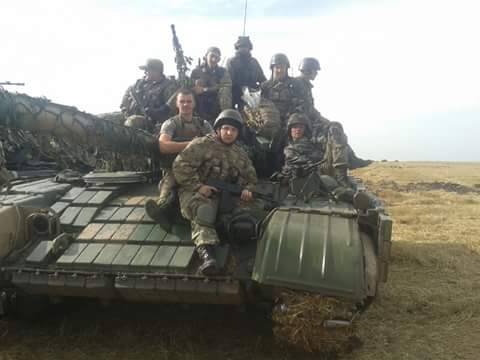 Photo: Ivan Myrnyi 
Ukraine is experiencing its harshest battles since summer in Svitlodarsk. Here is an account by Ivan Myrnyi from the 54th brigade from the battle on December 18-19, 2016
Dawn…
The radio instantly erupts: "Myrnyi, take your group and move forward; we're being attacked." We have three men, plus a transport of six, and I am in the reserve group. I sit and wait, listening to the radio communications on the progress of our counterattack. "Shaitan has advanced, even beyond their positions…" I verify the route there and back. Those with me are as impatient as I am as we wait for our orders…
Just before noon, we are told: "Reserves meet up with the battalion as reinforcements for mop up operations of the enemy trenches. "Copy that!!!" I yell. We arrived without incident and are told in a report that "they aren't there currently and we must capture their forward positions and dig in." We're safe in our armored vehicle, our ten plus five from the battalion… We cover the 800 meters as if on wings, and with their dugouts ten meters away, we stop… and that's when all hell breaks loose!!! The enemy appears from the trenches and opens up with a burst of gunfire against our armor! Ten meters!!! Ten lousy meters!!! But we were safe. No damage is done!
I jump off the vehicle, and hit the ground, falling on my tailbone, but hang on to my weapon. It doesn't hurt because I am too full of adrenaline. Everyone hits the ground and opens fire, filling the target with lead. Shouting is heard from the right. The vehicle drove over a soldier. We rush over to him and get him unpinned. "It just drove over me. Don't leave me behind!!!" I clear away the mud… he is turning blue… Someone throws a grenade into the trench to the left. I notice three forms moving, so I unleash a volley of ten bullets. They hit the target. Two fall, one after the other, while a third gets out… he crawls on his knees, a member of Kiriukh's company. I can tell from his eyes that he is stunned… I grab him by the scruff of his neck and call for help… Vanka is yelling… He is turning now from blue to purple… our transport has left. I notice that there is a radio on the ground nearby. I grab it and call out, "Kupol Topoliu, Kupol Topoliu, I need immediate evacuation, copy!", "Copy, Topol, in three minutes."
I pull Ivan along with me… "Vania, don't leave me, Myrnyi don't leave me." "Don't worry, I won't; hang in there, don't give up, don't give up, brother…" The armored vehicle speeds toward us, firing its weapons at the open field ahead of us… twenty meters between us and them…. We pull our weights toward it… "Van, this is going to really hurt, but hold on, brother, hang on Vaniukh, Kiriukh pull. PULL!!!" We grab him; Vania yells in pain… A rain of steel can be heard above our heads, bullets ricocheting off the armored vehicle, a counter-attack. I call out, "put the Kiriukh in the middle", I hand him over to Pirannia, he looks at me from inside the vehicle. I close the hatch and shout at the driver, "Go! Get going!" Meanwhile, I go over to the enemy trench, and jump in; there is a dead separatist, his skull broken, but no one pays attention to him as they walk along; such is war. I give the orders, "We will fire to our left at their positions; our men are on our right and they have taken the objective Krest.
Then I hear on the radio: "Topol, Topol, this is Shaitan. I am coming back from the enemy positions. Don't shoot." "Copy, Shaitan", I say and hurry over to the left flank. Under my feet, there is another enemy body. He also died from an obvious head wound. I step over him and shout to my men: "Our guys will be coming from that direction. Hold your fire!" Then I use the radio: "Shaitan, Shaitan, it is safe for you, our men are waiting!" "Copy, Topol, I have three hundred meters to go"… I turn to the middle of our position. Maks is there with another infantryman. I notice all the blood on Maks' hand… "Men, get me out of here." I reassure them that they will be evacuated, and when I see the infantryman's broken right hand and missing finger, I call on the radio, "Send transport, I have two 300s". Then I add, "Shaitan, Shaitan, where are you?" There is no reply. I call again… "This is Honta. This is Honta. Shaitan is 200. He is dead. I alone remain alive. I am coming to your position." I yell out my frustration. Kinder, Honta, and Dranyk get to safety. Kinder has a broken foot. The vehicle arrives, and we prepare the wounded for evacuation. It's hot as hell in the trench… I get on the radio and call out adjustments for the artillery to make in their shooting coordinates. They are firing into the forest. We have ten men in the dugout, and I call again on the radio for them to help us. All we can do it wait, while around us the artillery barrage from our side continues, and offers us some safety. Half of our number have been wounded. I've had enough and call again on the radio to be evacuated. "We can't hold out much longer!"
"Minus, minus, we'll be there soon!" Anton has a broken hand, so Koliasik opens fire from a machine gun towards the field in front of us that is our battlefield. There is another wounded soldier, but nearly all are dazed, as we enter the third hour of battle…
I call out on the radio again, and soon they are here. They take away Monhol and a second wounded fighter. I join then and shout back, "Koliasik, I will return on the very next trip." When we arrive I find an officer, a Lieutenant, and demand why there wasn't better covering fire??? I explain what weapons we need, and equipment like night vision goggles and thermal imagers, otherwise we'll never return in the dark. I am told there are no such supplies. "Without supporting fire I'll have to go and get my men out. Tell that to headquarters!" I get on the radio, ask the colonel for assistance, an officer by the name of Chornyi, because the counterattack will be upon you in 15 minutes, they are bringing big artillery. We are driven back to our positions at the front lines. Kolka and the other sentries are happy to see us. "What's the matter? Thought I'd never return?" They laugh and deny worrying, and say that the thought never even crossed their minds. They're probably lying…
Nightfall…
The artillery continues to cover us, the six of us who have secured ourselves in the dugout. Kolian operates the Kalashnikov, and we tell him we'll bring someone to take over from him. Chornyi comes over quickly and says that our men are needed at the slit trenches, but I reply that "You have other men; let mine get some rest." He says something about his authority, but I stand by my decision… my body begins to hurt, my ribs and my tailbone, it is unbearable, I have a splitting headache, pain everywhere you can imagine – the adrenaline has worn off. We go in turns to the slit trenches, fire our weapons at the separatists as required. When I return, I lie down, but then have trouble getting back up. At midnight an armored carrier arrives and I am told that I should leave. I express my objections. They find some enemy dead, 200s, there are four of them. Honta is sitting motionless, almost in tears. We cannot reach Shaitan's body. Just before dawn, small arms fire erupts, and we can hear the enemy approaching 250-300 meters away. They open up with artillery 122mm… these can only be heard when the shells are really close. Kolia's pain medicine, Nalbuphine, is wearing off, and he is experiencing sharp pains, even with the help of such narcotics seven hours is a long time, and all we have is ibuprofen. I call the reinforcement unit – they have no plans to bring forward our replacements anytime soon.
The morning of the second day… The Ibuprofen helps, and my bones don't hurt so much. We are walking around… I have an overwhelming desire to collapse, but I don't show my weakness. Andriukh is sitting down, trembling. We don't have it so bad, there's nothing to be scared of… "This is what my first battle is like," he says… there is a look of fright in his eyes, but he is hiding everything else pretty well, just as I, too, am so scared it's crazy… But I am the commander and it is my job to maintain control, and I just keep praying… Don't worry, we'll be replaced in no time, they've been delayed that's all. I try to lighten the mood with a joke. Then I go over to the trenches and fire two or three magazines into the air, then re-load… Romka, from the battalion, comes and sits down… He informs me that he called his base about being replaced. No, I reply. I need to wait for my own replacements.
The hellfire begins again at noon… They fire at us with everything they've got… I can tell that they are wandering very close… then we return fire. Bullet casings fall like snow under the machine gun… I look for help, all my men are wounded. WHERE ARE OUR REINFORCEMENTS!!! Wait… I really do not want to be taken prisoner, and I do not want to die. To stop thinking such thoughts I focus on reloading the magazines… My bones and my head hurt terribly… Three of our fighters arrive in the afternoon. I can't believe how happy I am to see Zubra…
Others are on their way, but I will wait until the whole group is in position… Some men have to restrain me so that I won't be tempted to hit Chornyi in the face. It is already dark by six pm. They arrive for us, and we jump into the cabin of the vehicle… our replacements have taken over from us. All the way back I keep thanking God… The vehicle breaks down when we are nearly back at the forward operating camp. I help the wounded, and our group of 5, and we walk the rest of the way. Our side can be heard opening fire two more times while we are walking. We are back… it's enough to want to kiss the ground… I maintain an outer composure, or as the Americans say, be cool. My car is just where I left it. I throw my rifle onto the seat. Koliasik gets into the front passenger seat… We drive back to our base… 10 km distance. I phone my wife. She starts to cry. She hasn't heard from me in two days. Everything is fine, I tell her… I am alive… Today is St. Nicholas Day, and so I thank him for this gift…
By Ivan Myrnyi, from the 54th brigade
Tags: Donbas, Donbas war (2014-present), Stories from the Front, Svitlodarsk