Lina Kostenko (1930- )
Prominent writer, poet, professor emeritus of the Kyiv-Mohyla Academy, Honourary Doctor of Lviv and Chernivtsi Universities. Lina Kostenko has been awarded the highest literary prizes in Ukraine, such as the Shevchenko Prize, Antonovych Prize, Petrarch Prize, the Olena Teliha International Literary and Artistic Prize, and has inspired many young writers and composers. She has also received the Honourable Medal of the President of Ukraine and the Order of Prince Yaroslav the Wise V degree. 
The multifaceted activities of these prominent Ukrainian women have had an immense influence on the creation and development of the Ukrainian state. They have made significant contributions to Ukrainian art, culture, education, sports, science, literature and many other spheres. Throughout Ukraine's long history, such women have truly worked for the social and economic development of their country. Ukrainian woman belong to a special class that is unparalleled in the world! Of course, this list is not exhaustive…
Ada Rohovtseva (1937- )
Famous theatre and cinema actress, People's Artist of Ukraine, professor at the National University of Arts, and Hero of Ukraine. Rohovtseva has won numerous awards, many titles, merits and prizes. She has also interpreted numerous outstanding roles in theatre and film. Even today, she continues to surprise us with her talent for drama, appearing frequently on television in modern films and different cinema projects.
Alla Horska (1929-1970)
Renowned dissident, monumentalist painter, and member of the Shistdesyatnyky (Sixties generation). Horska was one of the organizers of the Creative Contemporary Youth Club (1959-1964). Alla Horska, Vasyl Symonenko and Les Tanyuk revealed the unmarked mass grave sites where the NKVD (Soviet secret police) disposed of thousands of executed "enemies of the Soviet state" in Lukianivka and Vasylkivska Cemeteries in Bykivnya (1962 – 1963). She was murdered in 1970. Although the crime remains officially unsolved, circumstantial evidence points to the KGB's involvement.
Anna Yaroslavna or Anna of Kyiv (1030-1075)
Anna was the daughter of Grand Prince Yaroslav I the Wise of Kyiv and his second wife Ingegerd, the daughter of the King of Sweden. Anna became Queen of France when she married King Henry I Capet of France, the mother of future king Philip I and great-grandmother of 30 French kings!
Jamala (Susana Jamaladinova) (1983- )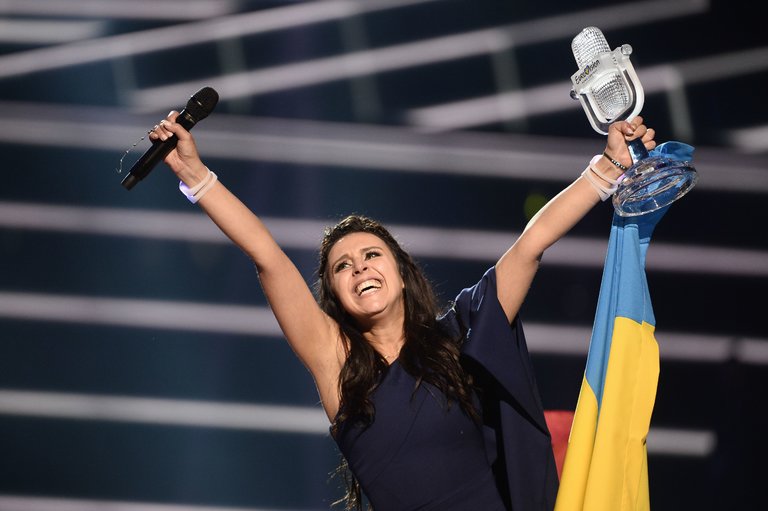 Singer, actress and songwriter. Jamala represented Ukraine and won the Eurovision Song Contest 2016 with her song "1994", which recounts the deportation of the Crimean Tatars in 1944 and particularly her great-grandmother's suffering. Jamala's song was considered by Russian media and lawmakers to be critical of the Russian annexation of Crimea in 2014 and the ongoing war between Russia and Ukraine in Donbas. After her win, she was awarded the title People's Artist of Ukraine by the President of Ukraine.
Kateryna Bilokur (1900-1961)
Artist, master of decorative folk painting and primitive art. Bilokur was a dedicated and gifted artist who transferred the extraordinary beauty and vivid colours of her native land onto canvas. At the 1954 art exhibition in Paris, Pablo Picasso praised her work, as well as her exceptional talent and skills: "If there were such a woman in France, we'd make sure the whole world knew about her!"
Kvitka (Kvitoslava-Orysia) Cisyk (1953-1998)
Popular American singer of Ukrainian origin, who achieved success in commercial jingles on American radio and TV, popular music and blues, classical opera, and Ukrainian folk music. The ballad "You Light up My Life", which she originally recorded for the 1977 movie of the same name, earned an Oscar and Golden Globe in the category "Best Original Song" and the Grammy Award for "Song of the Year". In 1980, she recorded her first album, "Kvitka, Songs of Ukraine", which won top honors in the 1988 Ukrainian Music Awards. Her second album, "Kvitka, Two Colours", was released in 1989. It was dedicated to "the spirit of the Ukrainian soul, whose wings can never be broken". Today, her songs continue to be broadcast on radio in Ukraine.
Lesya Ukrayinka (1871-1913)
Prominent writer, poet, translator and civil, political and cultural activist. Many of Lesya's works are recognized masterpieces of world literature. She wrote her first poem when she was nine years old, and the last, when she was 40. During her short life, Lesya Ukraiyinka wrote about 270 poems and dramatic works, such as the unforgettable "Lisova Pisnya" (Forest Song) – a mythological tale inspired by Ukrainian folklore.
Mariya Prymachenko (1908-1997)
Renowned village folk art painter, master of primitive art. Mariya Prymachenko was also interested in drawing, embroidery and ceramics decoration. She was a peasant woman, who was born and spent all her life in a village in Kyiv Oblast. Іn her childhood, Maria was taken ill with polio,  turning her into а thoughtful and considerate person with great compassion for nature and living things. "Once, as a young girl, I was tending a gaggle of geese. We crossed a field dotted with wild flowers, and arrived at a sandy beach on the bank of a river. I began drawing imaginary flowers with a stick on the sand… Later, I decided to paint the walls of my house using natural pigments. After that, I never stopped drawing and painting."
Mariya Zankovetska (1854-1934)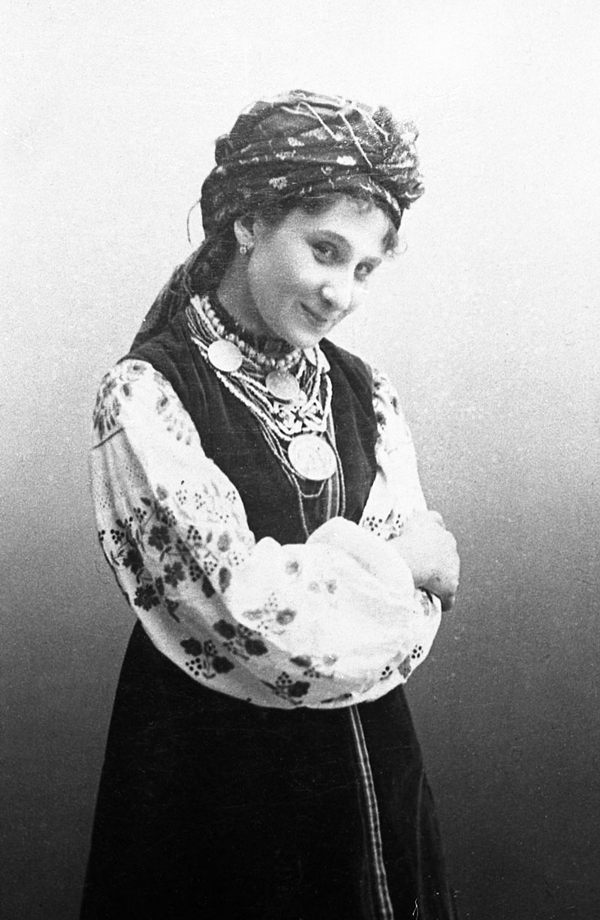 Actress and theatre personality, leading star of Ukrainian theatre in the late 19th and early 20th century. Zankovetska's repertoire included 30 roles. She played dramatic heroines and strong Ukrainian women. She had a charming mezzo-soprano voice that she used to interpret folk songs in her plays, such as "Natalka Poltavka", "Nazar Stodolya" and many others.
Marusia Churai (1625-1653)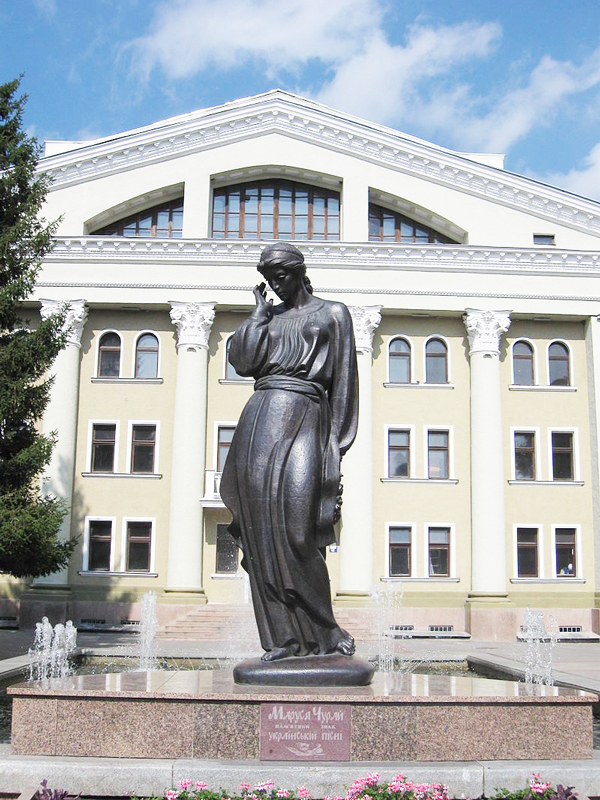 Semi-mythical baroque composer, poet, and singer. She has become a recurrent motif in Ukrainian literature and the songs ascribed to her are widely performed in Ukraine. She is regarded as the author of the well-known Ukrainian folk song "Hryts, don't go to the evening dances". According to the mythology surrounding Churai, she was in love with a Kozak named Hryts. Her love was not returned, so she prepared a poison potion for herself, which Hryts drank by accident. She was accused of murder and stood trial. The exact verdict was unknown, but she is believed to have spent some time in incarceration, before being released or amnestied, commonly believed due to her reputation as a singer-songwriter.
Nataliya Polonska-Vasylenko (1884-1973) 
One of the leading representatives of the statehood school in Ukrainian historiography, author of nearly 200 academic articles about the history of Zaporizhzhia and Southern Ukraine. Her archeographical studies became a major source for Ukrainian historical research. Polonska-Vasylenko was an active member of the Shevchenko Scientific Society, academician of the Ukrainian Free Academy of Sciences and the International Academy of Sciences in Paris, and professor at the Ukrainian Free University in Prague and Munich.
Nina Matviyenko (1947- )
Originally a soloist with the renowned Veryovka State Choir, folk singer, winner of the Taras Shevchenko Prize in Performing Arts. Matviyenko's repertoire includes numerous Ukrainian folk songs and innovative interpretations by composers Yevhen Stankovych, Myroslav Skoryk, Iryna Kyrylina, and Hanna Havrylets. She has performed in Mexico, Canada, the US, Czechoslovakia, Poland, Finland, Korea, France, and Latin America.
Oksana Zabuzhko (1960- )
Leading novelist, poet, essayist, philosopher and public intellectual, winner of the Antonovych Prize in 2009. Her works, which focus mainly on national identity and gender, have been translated into multiple languages. In 1992 she taught at Penn State University as a visiting writer. Zabuzhko won a Fulbright scholarship in 1994 and taught Ukrainian literature at Harvard and the University of Pittsburgh.
Olena Teliha (1906-1942)
Famous poet, political and cultural activist, member of OUN, head of the Ukrainian Writers' Guild. Olena Teliha also edited a weekly cultural and arts newspaper "Litavry". A lot of her activities were in open defiance of the Nazi authorities. She watched her closest colleagues from the parent-newspaper "Ukrainian Word" get arrested and yet chose to ignore the dangers. She refused to flee, and was arrested by the Gestapo and executed, aged 35, in Babyi Yar in Kyiv along with her husband.
Princess Olha of Kyiv (890-969)
An outstanding historical figure, one of the golden pages of our long history. Olha was the wife of Prince Ihor and mother of Svyatoslav. For 17 years, this wise, strong, and charismatic woman ruled the far-reaching empire of Kyivan Rus – one of the most powerful states of that period. Olha was the first ruler of Rus to adopt the Christian faith in Constantinople in 945 or 957.
Roksolana or Hurrem Sultan (1502-1558)
Chief consort and legal wife of Ottoman Sultan Suleiman the Magnificent. This legendary woman became the great Roksolana, which in Turkish means "woman from Rus". She is remembered as one of the most powerful and influential women in Ottoman history, achieving great power and influencing the politics of the Ottoman Empire through her husband, and playing an active role in state affairs.
Anastasiya Lisovska, Rushen, Roksolana or Roksoliana, Haseki Sultan, Hurrem Sultan are all names that she was called during her life. In Türkiye, she is known as Hurrem Sultan, which means "Joyful Sultana". In Ukraine, she is known as Roksolana, a name that European ambassadors in Türkiye used in their reports and memoirs.
Ruslana Lyzhychko (1973- )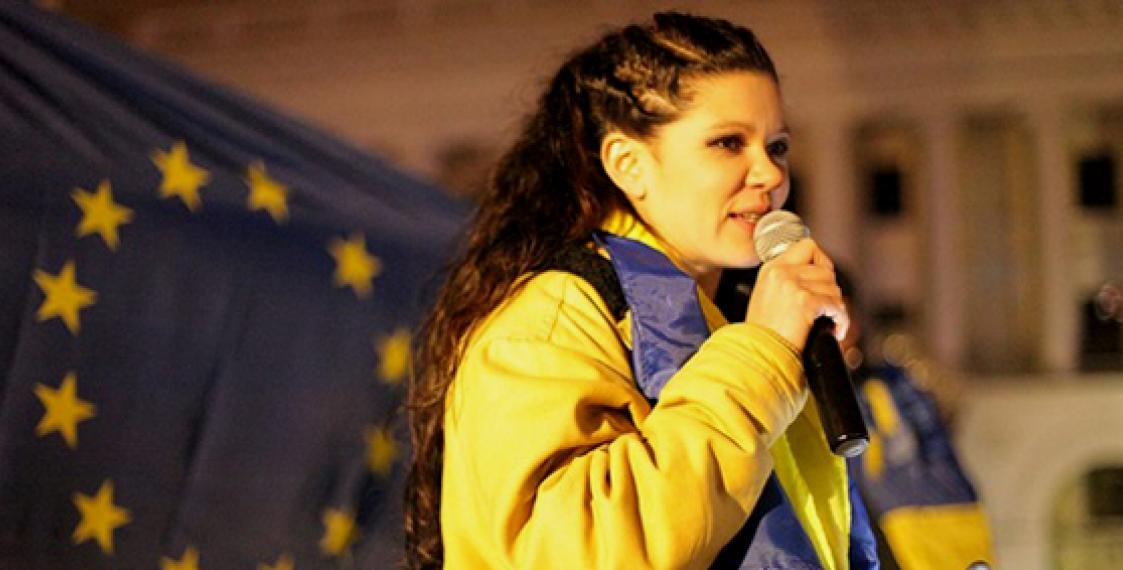 Singer, songwriter, producer, conductor, pianist, and civil activist. Ruslana is the winner of the Eurovision Song Contest 2004, the World Music Award and MTV Europe Music Award nominated artist. She writes, composes and produces her own songs and music videos. Ruslana was a major driving force during the Revolution of Dignity, appearing regularly on the Maidan stage during the cold winter, inspiring the crowds, giving speeches and singing the Ukrainian national anthem every hour day after day and night after and night.
Solomiya Krushelnytska (1872-1952)
One of the brightest soprano opera stars of the first half of the 20th century, and an active promoter of the works of Richard Wagner and other contemporaries. Her repertoire totalled 63 parts. She triumphantly performed on the stages of many opera houses in the world, including Cremona, Trieste, Odesa, Lviv, Buenos Aires, Warsaw, St. Petersburg, Paris, Naples, Rome, Genoa, Milan and many others. In 1904, she was invited by Puccini to interpret the role of Butterfly in his new opera "Cio-Cio-San" in the Teatro Grande in Northern Italy. After her brilliant performance, this opera gained worldwide recognition, and Puccini was so moved and grateful that he sent her his portrait with the inscription: "To the most beautiful and charming Butterfly". She sang with Enrico Caruso, Titta Ruffo, and Feodor Chaliapin.
Yevheniya Miroshnychenko (1931-2009)
Well-known opera singer, teacher, and professor. She had a lyric coloratura soprano voice, sang in the Kyiv Opera and Ballet, and performed on many world stages. She gained worldwide recognition and received many awards, including the title of Hero of Ukraine, Commander of the Order of Yaroslav the Wise, the Order "For Development of Ukraine", the Taras Shevchenko State Prize of Ukraine, etc. She was also acclaimed abroad, winning the Order of St. Stanislaus, and the International Vocal Competition in Toulouse, France.
Tags: History, Ukraine, Ukrainian art and culture, Ukrainian history, Ukrainian women