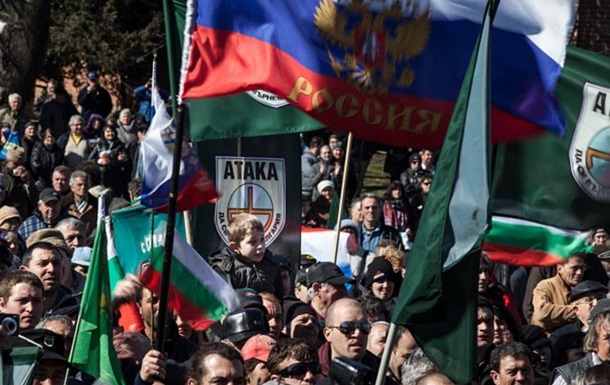 A demonstration of the pro-Russian party Ataka in Bulgaria. Photo: Korrespondent.net 
As the final votes from the second rounds of the presidential elections in Bulgaria and Moldova are being counted, pro-Russian candidates are claiming victory. In both countries, the vote was largely about choosing between the geopolitical directions of East and West, held among growing voters' skepticism about the ruling political classes.
In Moldova, Socialist Party leader Igor Dodon has claimed victory over pro-European leader Maia Sandu: early November 14, with 99.9% of the ballots counted, Dodon was leading 52.29% to 47.71% for Sandu, according to RFE/RL. According to officials, 53.3% of registered voters cast ballots on November 13.
Igor Dodon, called a pro-Moscow candidate, won the first round of the elections. In his campaign, he used the electorate's irritation with corruption scandals that accompanied the reign of the pro-EU government that came to power in 2009. He promises to renew Moldova's friendship with Moscow, and to meet the desire for good relations with Romania and Ukraine. Previously, Dodon called the Crimean peninsula, illegally annexed by Russia, "Russian territory" and that this will be legally recognized eventually.
His rival, former World Bank economist Maya Sandu, also put forward anti-corruption theses. In 2012-2015, she served as education Minister and gained popularity through her reforms. Her electorate was mainly young voters and Moldovans who work in western Europe and seek accession of the Republic to the EU. Orthodox clergy criticized the 44-year Sandu for the absence of husband and children.
Sandu complained that many Moldovans living abroad, most of whom supported her, were unable to vote at embassies, and that abnormally high numbers of people voted in the breakaway region of Transnistria, who usually don't take part in Moldovan elections. Despite the controversy, the margin of voters who voted for Dodon appears to be larger than those who couldn't vote abroad.
Dodon has been called "the Moldovan copy of Vladimir Putin in miniature." In an interview with RFE/RL, he said that he approved of the comparison, noting that Vladimir Putin has done much to strengthen Russia's statehood and patriotism. He also called for a referendum to federalize the country, thus uniting Moldova with the breakaway region of Russian-speaking Transnistria, where Russia also has thousands of troops stationed in a disputed military presence.
In Bulgaria, Socialist Party leader Rumen Radev also won the first round of elections over Tsetska Tsacheva, parliamentary speaker, and candidate from the ruling center-right GERB party: with 99.33% of the bulletins counted, Radev received 59.35% votes, while Tsacheva received 36.17%.
Radev is considered to be a pro-Russian candidate. He unexpectedly won the first round of elections with 25 percents of the vote, three percent points more than the result Tsachevoyi. Prime Minister Boyko Borisov has already announced his resignation, and Tsacheva, while accepting her defeat, said that she intends to resign also.
For the first time, participation in the presidential elections was obligatory for the 6.8 mn voters of Bulgaria, one of the poorest countries in the EU, which is largely dependent on gas supplies from Russia.
In his first post-elections press conference, Radev stressed that "a deeper dialogue with Russia gives us a chance to decrease the level of conflict and escalation of tensions, normalization of the situation in Syria and Ukraine."
Radev, an ace pilot, entered the presidential race only some months prior to the elections and immediately emphasized that Bulgaria had made a strategic mistake by joining NATO and distancing itself from Russia. He also considers Crimea as "de-facto Russian, de-jure Ukrainian." The leader of a Bulgarian left-wing party has already called him "puppet" of the pro-Russian military lobby, day.kyiv.ua reported.
Radev also declared that he will aim to cancel EU sanctions against Russia: "For me, dialogue and consensus are important. Many countries have already spoken in favor of lifting sanctions against Russia. The President must be an active figure and I intend to be this figure. I will work closely with the government to cancel the anti-Russian sanctions," he announced after the voting results were in, according to UKRINFORM.
He also noted that during his presidential mandate he would like to engage in dialogue with the presidents of Russia and the USA, adding that "president-elect of the USA Donald Trump announced his readiness to hold a dialogue with Russia."
His opponent employed the opposite rhetoric, clearly stating that the annexation of Crimea was a violation of international agreements and that nationwide Bulgarian position on sanctions against Russia must be elaborated. However, according to media reports, she conducted a balanced electoral campaign, toying with the idea that EU countries which suffered from sanctions the most must receive compensations.
Observers note that Bulgaria was "Russia's most dutiful client state" in the Soviet era, and only the former President Rosen Plevneliev, who came to power in 2012, changed the country's course.
In a BBC interview on November 4, Plevneliev accused Russia of funding "populist parties and movements," spreading "extensive propaganda," and cyber-attacking. For example, Bulgaria "was heavily attacked during the referendum and the local elections" and the attack "was linked to Russia," the former president claimed. He also told that Russia is "trying to divide and weaken Europe."
Tags: Bulgaria, Elections in Ukraine, EU, Moldova, News, Politics