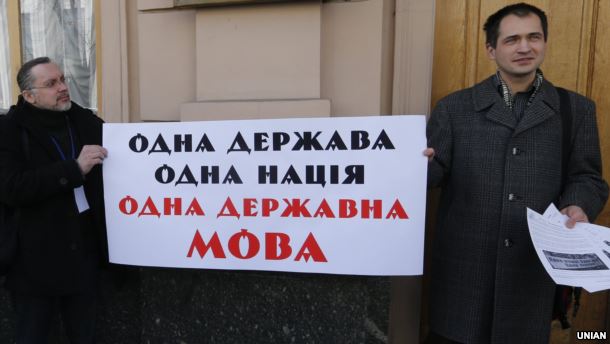 Protest in support of Ukrainian language, Kyiv, March 18, 2014: One country, one nation, one official langauge  
It's been almost five years since the law "On principles of state language policy" has been in force in Ukraine – a law that is the Kremlin's Trojan horse in our country, attacking the status of Ukrainian as the official state language, blocking implementation of Article 10 of the Constitution of Ukraine, serving as a tool for Russification, and threatening Ukraine's national security.
This law, passed with flagrant violations of Verkhovna Rada regulations, should be differently named, namely "On principles of granting the Russian language the status of official language" because that is, in fact its essence and practical implementation. It continues to promote colonial language legislation and is, therefore, a cancer that erodes Ukrainian national identity.
This has come to pass because the native language of most Ukrainians is different from the native tongue of most members of the ruling political elite. Just recall which language was used at NSDC meetings by Petro Poroshenko, Arsen Avakov, and Mikhail Saakashvili… or the foul verbal exchange in Russian at a plenary session of Parliament between Volodymyr Hroisman and Hennadiy Zubko, not to speak of the "classic" voiced by the Minister of the Interior!
Most top politicians who managed to come to power after the Revolution of Dignity were the "Kremlin's Trojan horses". They show solidarity with the pre-Maidan government, sabotaging efforts of civil society activists and lawmakers who want to change the language policy in Ukraine.
The first "Trojan horses" were the authors of the anti-state law "On principles of state language policy" – Vadym Kolesnichenko and Serhiy Kivalov.
One "Trojan horse" (Kolesnichenko) fled to Crimea, but even back then the police suspected him of violating two articles of the Criminal Code of Ukraine – encroachment on Ukraine's territorial integrity and inviolability, and violation of equality between Ukrainian citizens in terms of race, nationality and religion.
The other one (Kivalov) is a deputy and academician, but should be assigned a different status.
One of the main co-authors of this law is Kolesnichenko's former assistant, Ruslan Bortnik, who quietly waited until his employer fled the country, became a political scientist and now heads the Ukrainian Institute of Analysis and Management Policy.
Oleksandr Turchynov, the first speaker of the Verkhovna Rada after the Revolution of Dignity, refused to sign the law approved on February 23, 2014 "On recognition that the Law of Ukraine "On principles of state language policy" is null and void", thus flagrantly violating Verkhovna Rada legislation (and moral law). The "motive" was straight out of the Kremlin, and his decision provoked Russian military aggression in Ukraine. A question arises: Why, after Turchynov had given the Kolesnichenko-Kivalov Law the "green light" in such a treacherous way, did Russia's armed aggression not stop?
Another important "Trojan horse" is Yuriy Baulin, president of the Constitutional Court of Ukraine, who has blocked the examination of a constitutional appeal submitted by 57 deputies on the constitutionality of the Law of Ukraine "On principles of state language policy". This appeal is over two years old, although the verdict should have been announced by the Constitutional Court in early 2015. After NGOs picketed the Constitutional Court of Ukraine in June 2015, Yuriy Baulin confidently announced in an interview that he "would not examine the appeal on the Kolesnichenko-Kivalov "language law" submitted by the deputies before the President and Verkhovna Rada clarified their position".  This was in clear violation of Article 6 of the Constitution of Ukraine, which defines clear division of power of legislative, executive and judicial sectors.
Another "Trojan horse", Petro Poroshenko has not complied with the Parliamentary resolution "On response to violations by Constitutional Court judges of their oath" of February 24, 2014, under which he should have dismissed two of the twelve judges, among them Yuriy Baulin.
It's also significant that the Head of the Security Service of Ukraine, Valentyn Nalyvaychenko, who in June 2015 dispatched evidence to the Prosecutor General's Office concerning Judge Yuriy Baulin's crime under paragraph 2 of Article 364 of the Criminal Code of Ukraine (abuse of power), which led to grave consequences – usurpation of power, by Viktor Yanukovych – was dismissed from office, while Yuriy Baulin is still in charge of constitutional justice. Just recently, it was reported on the Constitutional Court of Ukraine's website that the constitutional appeal submitted by the 57 deputies will be examined on November 17, 2016. Seeing that we have little confidence in the "Kremlin's Trojan horses", we don't expect the Constitutional Court to repeal the Law "On principles of state language policy". I hope I am mistaken.
Today, Petro Poroshenko, Oleksandr Turchynov, and ex-Prime Minister Arseniy Yatsenyuk are in different parties (they've changed parties many times to ensure political survival), but they think alike when it comes to language policy. There's the example of the April 2014 joint statement announced by Turchynov and Yatsenyuk "On securing special status for the Russian language and the protection of the Russian language" and their proposal to give the Russian language "official" status in the new Constitution of Ukraine. In addition to planning amendments to the Constitution of Ukraine – Article 143 provides for special status for the Russian language – Poroshenko made a treacherous and manipulative, and therefore very dangerous announcement that Ukraine is loved not less in Russian than in Ukrainian and that Russian aggression has closed the language issue in Ukraine. Poroshenko has been developing this thesis over a period of two years, and has now started fabulating about the overwhelming majority of Russian speakers on the Eastern front, repeatedly claiming that half of the fighters are Russian speakers, maybe even more than half.
Research studies, carried out by the Razumkov Centre – "Identity of Ukrainians in a new environment", published in June 2016 – strongly negates our President's thesis: "Ukrainian is the native language for 73% of the soldiers serving in the war zone and their families, Russian – for 6% … Ukrainian is the native language for 55% of the people not directly involved in the war, and Russian – 19% …". According to the same source, 60% of the soldiers speak Ukrainian at home (55% outside their home). 27-29% of persons not directly involved in the war communicate in Russian (25-28% in both languages).
Not only is Ukrainian the first language for most Ukrainians and the official language of our country, but it is also the language of our belonging, our citizenship. In this connection, I'd like to quote other data taken from a sociological survey conducted in autumn 2015 by GFK Ukraine "Youth of Ukraine 2015". Young people who are most proud of their Ukrainian citizenship live in where our official language predominates – Volyn, Rivne and Ivano-Frankivsk Oblasts (97%). The lowest indicators can be found in Luhansk (52%), Donetsk (59%) and Odesa (62%) Oblasts… that is, the more Russian speakers there are in an area, the less young people are proud to be citizens of Ukraine.
This has undoubtedly been well understood by Pavlo Zhebrivsky, head of the Donetsk Military and Civil Administration, when he announced that as of January 1 next year, all employees under his authority must communicate in Ukrainian.
Tags: International, Kivalov & Kolesnichenko, Language, Language policy, Language politics, Russia, Russification, Ukraine, Ukrainian language