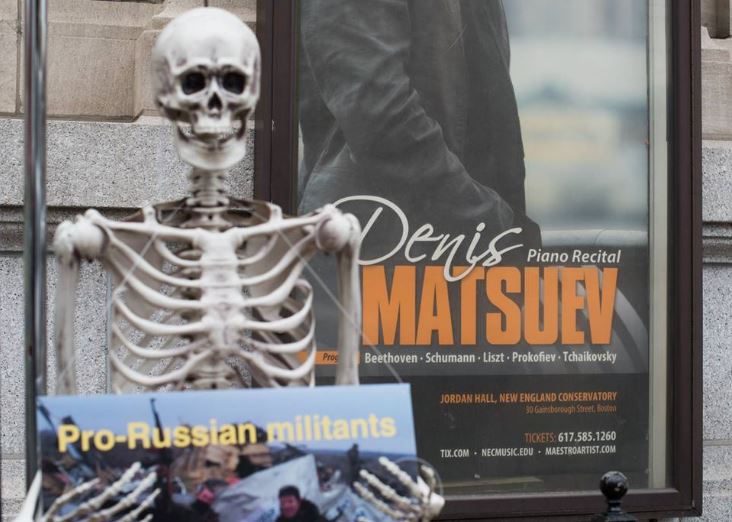 Skeletons picket the New England Conservatory. Photo: Arts Against Aggression 
Concerts of Denis Matsuev, a Russian pianist giving concerts in New York and Boston, USA, were accompanied by protests. The musician is one of over 500 Russian cultural figures that signed a collective letter in support of Putin's order to use the military against Ukraine back in March 2014, just before Russia illegally annexed Crimea.
The protest group Arts Against Aggression held a protest titled "Putin and Matsuev House of Horrors" in front of the Jordan Hall of the New England Conservatory in Boston on October 27-28, where skeletons holding signs conveying the basic statistics of Russia's hybrid war in Ukraine greeted concert-goers.
Skeletons picket music hall in #Boston where Putin-supporting pianist Matsuev will perform tomorrowhttps://t.co/X9mOuqdpPA pic.twitter.com/6Ds5uQFqWB

— Euromaidan Press (@EuromaidanPress) October 28, 2016
The protest featured a protester dressed as Russian President Vladimir Putin. 
"Our Mr. Putin took a number of strolls along the block before taking up a position near the steps to Jordan Hall. As we explained to the concertgoers and passersby who stopped to chat, people in Ukraine, Georgia, Syria, and other places know all too well that when Russia comes knocking on their door, there will be no treats, and all the tricks will be horrific," the organizers said.
According to them, at least two concert-goers decided not to attend the concert after learning of Matsuev's support for Putin, and a number said that this would be their last Matsuev concert.
"Mr. Matsuev, one of Russia's most prized cultural emissaries, is a classical pianist who likes to say that he is an artist and a messenger of peace. Somehow, in the West he does not like to talk about his shameful signature on the infamous letter of the Russian cultural figures in support of the Russian President's "position on Crimea and Ukraine" or about taking an active part in the sham election of 2012 as Putin's surrogate. The activists of Arts Against Aggression think that these facts about Mr. Matsuev should be at least as well-known to the Western audiences, concert venues, and critics, as Mr. Matsuev's favorite concert pieces," Arts Against Aggression explained their decision for the protest.
The organizers of the protest said that they wanted to pose a couple of questions for the NEC and other premier concert locations across the US, namely – why Matsuev and other signatories of the list were still welcome on iconic stages, and whether these concert locations would continue inviting vocal supporters of Putin for performances in the future.
"We asked whether an artist can be considered divorced from politics while continuously supporting unprovoked aggression against sovereign foreign states, whether Mr. Matsuev should be allowed to position himself as a messenger of peace in the West while not being held to account for his support of Mr. Putin's policies, and whether Mr. Matsuev should be enabled in earning dirty American dollars while he continues to support Kremlin propaganda in promoting virulently anti-American attitudes among Russian citizens," Dmitry Smelansky, one of the organizers, told Euromaidan Press.
The financial well-being and professional reputation of Matsuev and other prominent Russian artists supporting Putin's policies depend on their ability to package their active support for Putin for domestic consumption only, the protesters assert, stating that their goal is "to closely associate his name with that of Mr. Putin and the crimes of the Putin regime in the minds of the Western audiences, critics, and concert venue administrators." 
Earlier in October, the group SIGNERBUSTERS held a protest against Matsuev's concert in New York's Carnegie Hall. In the description of the event, the protesters said they "don't protest the culture of Russia, question the cultural achievements of those who signed the letter, but want to tell New Yorkers and New York visitors about the immorality and lack of principles of these cultural figures, and about their support of war and authoritarianism" and "protest these cultural figures' dabbling in civilization."
Related:
Tags: #FormulaOfAction, Matsuev, Music in Ukraine, News, Protest, Protests, USA