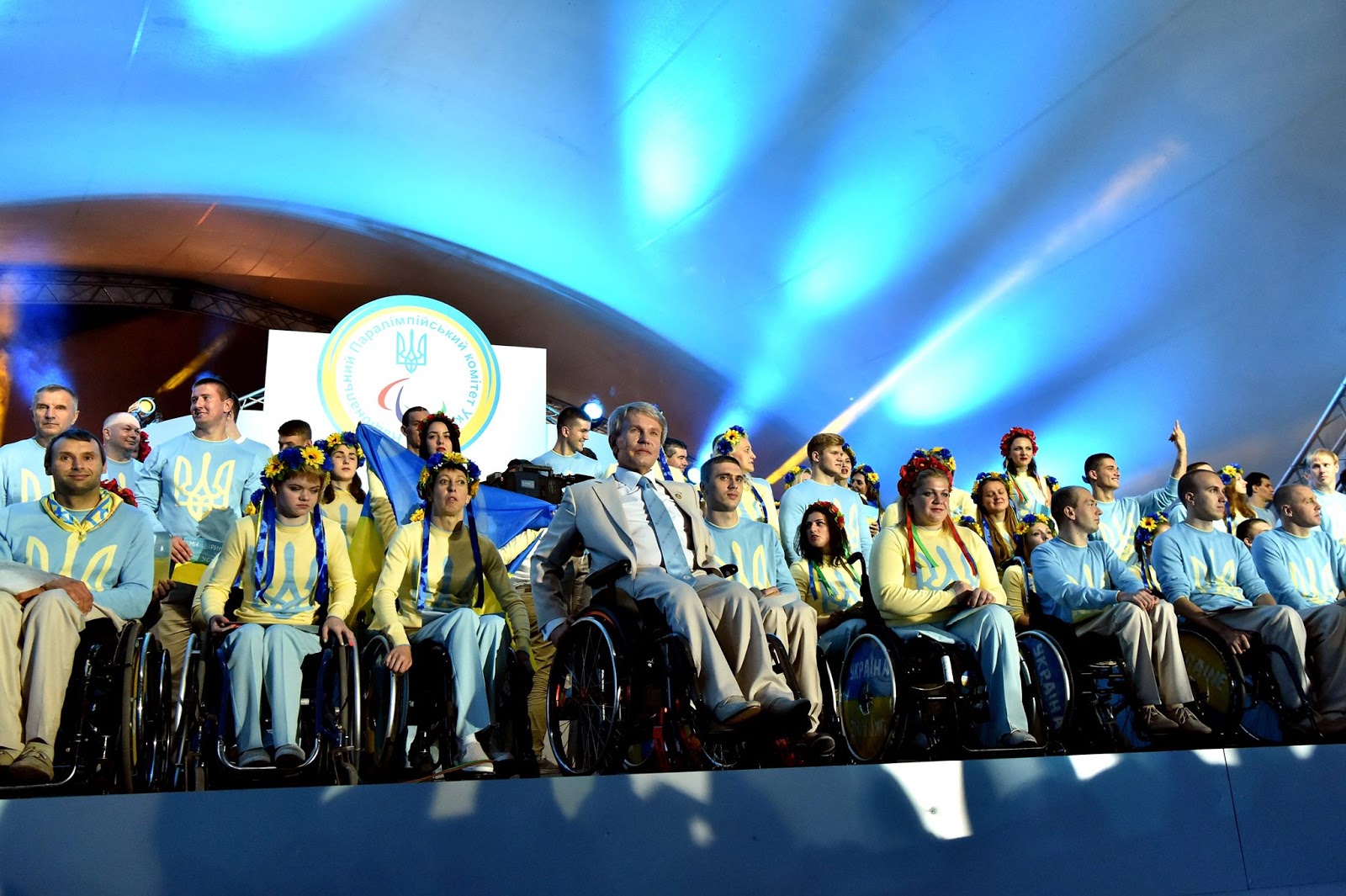 Ukraine's own Paralympic Chief Valeriy Sushkevych with Ukrainian Paralympic team. Photo: Paralympic Committee of Ukraine.  
From the beginning of 2016 Summer Paralympics in Rio de Janeiro, the world media's attention is drawn to Ukrainian team. It has steadily been holding third place in the medal table in Rio for the ninth day in a row and is likely to hold the position till the finish line, sports experts claim.
Though people around the world continue wondering why Ukrainian disabled athletes are doing so well in Rio, the success of Ukraine looks rather natural, if one does not focus on comparing it with its frankly weak Olympic performances.
Already known as the most progressive country in the history of the Paralympics, Ukraine is expected to show even greater results in the nearest future. Euromaidan Press investigates what lies behind such positive forecasts.
Celebrating a 20-year anniversary
As the Paralympic Movement in the majority of European countries started shortly after World War II, Ukraine can not boast of a prolonged Paralympic history. The first Invasport (Ukrainian Centre of Physical Culture and Sport for People with Disabilities) was founded in Kyiv in 1993. At that time the center had neither regional departments network nor a solid funding.
However, in three years, the debut team from independent Ukraine managed to take 35th place among more than a hundred countries participating in 1996 Summer Paralympics in Atlanta. The first golden medal was won by track and field athlete Vasyl Lishchynskyi precisely on August 24, the fifth Independence Day of Ukraine.
One of the victorious performances of Vasyl Lishchynskyi
This year Ukrainian Paralympic team gives another gift to its country, which celebrates the 20-year anniversary of National Paralympic movement with such a bright and convincing performance. Inter alia, it proves that the previous achievements were more tendency than coincident.  
It was the Paralympic Games in Athens (2004) when Ukraine entered the top ten teams for the first time. Since then it never fell below sixth place at both summer and winter Paralympics (see full statistics here). The former chief trainer of Lviv's Invasport department Natalia Afanasieva believes Ukraine crossed the rubicon in that particular year not by coincidence.
"Before 2003 the majority of regional sports centers for disabled people in Ukraine existed only as NGOs. Coaches used to work on a voluntary basis, athletes felt the constant lack of sporting facilities. Since 2003 all the centers began to receive a regular financial support from local authorities. I think it is the main reason for our sudden breakthrough in Athens Paralympics," Natalia says.
At the same time, coaches add that despite a little positive change, there are still too many problems need solving:
"Our monthly salary is 2060 UAH [about $70 – K. Y.], and there are not enough swimming pools which people with disabilities can access easily. We asked some commercial sport centers for help, but the only schedule they offered to us was from 6 to 7 AM."
The first Paralympics without Yevpatoria training centre
The main doubts about the success of the Ukrainian team in Rio Paralympics were associated with loss of the strategically important sports center on the Black Sea coast in Yevpatoriya (Crimea).
Opened in 2004, this Paralympic base was recognized as one of the best in Europe. But after Russia occupied Crimea in March 2014, the National Sports Committee for the Disabled of Ukraine had to find other ways how to train future champions. And it did.
A spare member of Ukrainian Paralympic team in Archery, Ukrainian Champion in Swimming and a cofounder of Dostupno.UA NGO Dmytro Schebetiuk was among candidates to take part in Rio Paralympics. He says, it is much more difficult now without Yevpatoriya base, but there are several good centers to use instead.
"This year most of the swimmers trained in Brovary, not far from Kyiv. There is an equipped pool there, so athletes with motor and physical disabilities had a chance to prepare well. Archers and fencers exercised mostly in Koncha Zaspa, which is another good base near the capital. The main problem was a need to travel from one location to another, because in Yevpatoriya we had everything in one area," Dmytro explains.
But the Committee does not wait passively for the Yevpatoriya center to return. A Western Rehabilitation and Sports Center in Yavoriv village (Lviv Oblast) is now waiting for new investments. It was originally constructed as a winter sports training base in 2010, but now it may be adapted to summer sports as well.
Nevertheless, many coaches tend to question the significance of qualitative sporting facilities when it comes about winning the highest awards.
"It sounds weird, but the worse conditions our athletes have, the better results they show. Perhaps, being accustomed to different inconveniences during training, our sportsmen feel themselves more comfortable in Paralympic facilities," Nataliya suggests.
Is third place Ukraine's limit?
Most experts agree: despite the war and the economic crisis, the Ukrainian team's performance is more than decent this year.
The absence of the Yevpatoriya base is partially offset by the disqualification of Russian Paralympic team which undoubtedly would have been a serious contender. Ukraine constantly has the US breathing down its neck, but there is nothing surprising at least because American team has 289 athletes versus 172 Ukrainians.
The question is whether Ukraine has a potential to move even higher in the world ranking of Paralympic teams in the nearest future.
Dmytro says Paralympic sport is becoming more and more competitive in Ukraine:
"Earlier, each more or less active person with disabilities could be invited to the sports section. Today we have a very severe inner competition. It was seen even in Rio when three Ukrainian swimmers occupied the whole Paralympic podium."
Such a high level of competition is among the main factors which promise Ukraine more victories soon.
Another reason for optimistic predictions is that Ukrainian Paralympic Movement is relatively young, and the majority of current champions came to professional sport at a rather mature age. It means that future generations of Paralympians are likely to show even better results, as they will be able to start targeted training from the very childhood.
Dmytro believes the most plausible explanation for Ukraine's current Paralympic success is that disabled people do not have many options in Ukraine if they want to live with dignity and not to be isolated from society.
"I know that foreigners with disabilities often take up sport, train for some time and then quit, because they can do something else: start a family or find an ordinary job, for example. Here, in Ukraine, if you succeed just a bit in some sport, you would better continue and try harder, since for people with disabilities it is the only chance not to feel abandoned," Dmytro says.
Tags: paraolympics, sports in Ukraine