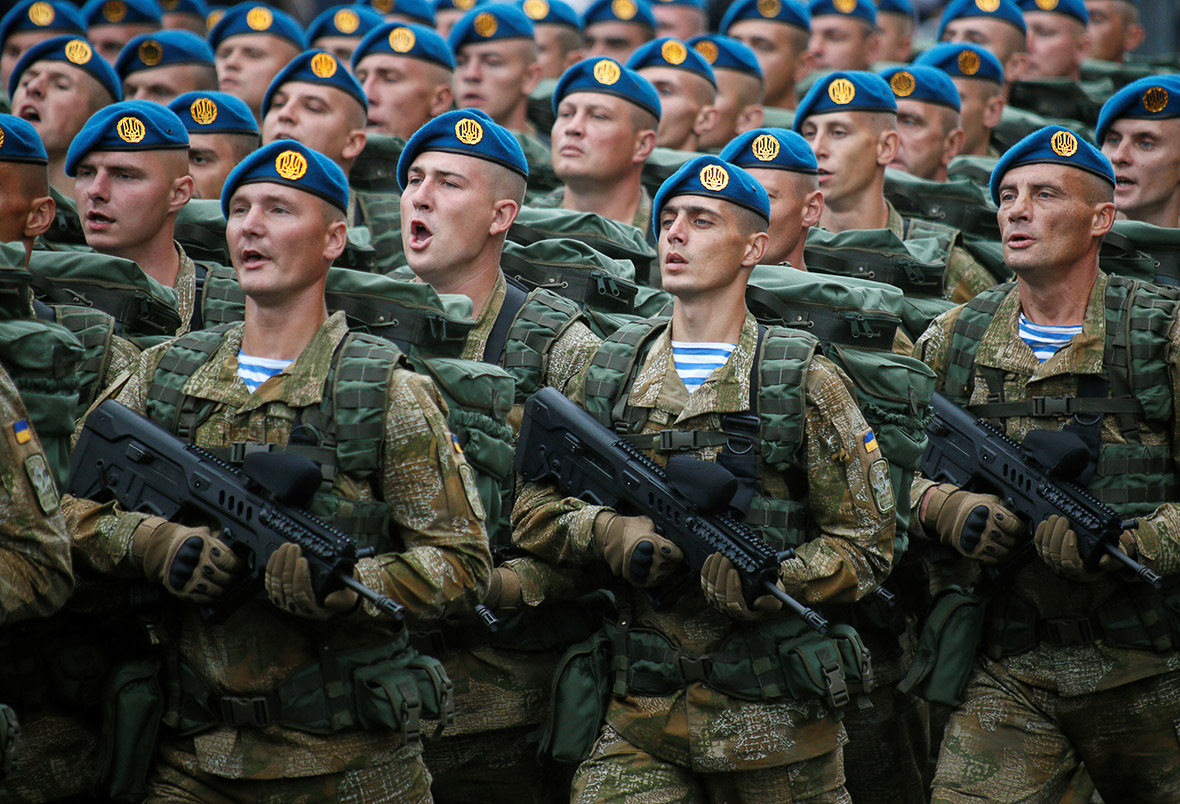 Photo: Gleb Garanich/Reuters
With each year it becomes more difficult to write about the anniversaries of Ukraine's independence.
You remember the first, emotional, almost childlike reaction on August 24, 1991. There was no country  then, and possibly there would be no country at all, and suddenly there it was already, and in the assembly hall in parliament you saw its real flag. And all this happened literally in a few minutes. And this emotional reaction naturally prevented you from thinking realistically about the future. You forgot, and in the assembly hall –and later when you went out in the street — you found yourself among people who still yesterday had not wanted any independence, who considered the Soviet Union their homeland, who laughed at you when you asked them – why not Ukraine? Isn't Ukraine your homeland? You grew up among them and would live among them.  And you should not have been surprised that with the same sincerity that they had considered the Soviet Union their homeland yesterday, the next day they would reassure you that they had always been Ukrainians through and through, and that they had never thought about anything except Ukraine. You  thought that you should not consider them opportunistic and adaptable, capable of adjusting to any state declared on this territory. No, it was better to decide that they were frightened and tired by  years of oppression, of Russification and the systematic use of the inferiority complex that poisoned the life of anyone who did not speak the imperial language correctly and who came to the big city from some place where the Ukrainian language and all things Ukrainian had not yet been stamped out. But still you could not avoid asking yourself how people who treated any state as a meal ticket would be able to build a new state?
And then you were overcome by disappointment every year. Because time went by and nothing changed. Moreover, the country that had declared independence and had seemed to move decisively toward the future began to sink rapidly into its Soviet past. As if afraid of itself. Afraid of Ukraine.  And you could see that the people around you were concerned only with survival and who, at the same time, viewed this survival as the state's responsibility. And when this state — well not the state itself but its second president — declared that the main condition of this survival was friendship with Russia and cheap Russian gas, they applauded both this president and these usual "freebies." And you, with your thoughts that all this was just another trap, were categorized an urban lunatic.
Thanks to this faith in "freebies" a model of success was created — the gangster's robbery of the country. Everyone grabbing as much as he could. The thief who shared with others was considered ideal. And this was not simply the secret attitude of society; it was the proclaimed appeal: you must share! The only thing needed was Yanukovych at the top of this pyramid of thieves.
But before this excessive star could shine on the tree of our independence, the Orange Revolution took place. And we had to confront yet another illness that had affected Ukrainian society during the first ten-plus years– the illness of the simulated patriotism.
This illness is a natural reaction to the criminality of those who did not get their piece of the pie during the original "carving" of capital. And those who grew up during the years of independence and simply did not have the opportunity  to  participate in robbing the country. Now some imitated success in business while really remaining common thugs. And others imitated love of country and even social activism, the honest journalistic fight against corruption — that is, everything that enabled them to get as close as possible to money, domestic or Western. The best example of this imitation is the Panamanian fugitive (Vladyslav) Kaskiv, the main radical of the Orange Revolution and the conspicuous embezzler of the regional "counter-revolution." He is notable only because he is already in Panama. And how many of these radical Kaskivs are still in Ukraine and still generating endless enthusiasm among the public? (The head of the State Investment Agency under Yanukovych was detained in Panama on August 18 at Ukraine's request — Ed.)
And this imitation, reduced to the level of state policy, undermined the country's first attempt to break away from the dark years. Even when President Yushchenko spoke the truth, he was no longer believed. Even when he took the right steps, as during the Russian attack on Georgia, he no longer had any support. He had now become another urban lunatic just like you. Only you had a bit more respect. There was only one step to Yanukovych and his tree. (The first forceful dispersal of protesters during the 2013-14 Euromaidan protests in Kyiv took place under the pretext of installing the New Year's tree –"yolka"– on Maidan [Independence Square] — Ed.)
And here again there was distance between you and your countrymen. Because the vast majority of them believed that this stupid dictatorship of the underclass would last forever and who tried with all their might to adapt to it. The boldest ones criticized Tabachnyk (notorious Minister of Education under Yanukovych — Ed.). The most farsighted ones visited Mezhyhiria (Yanukovych's opulent property near Kyiv — Ed.). The rest did what their Soviet grandparents had done — they survived. But you understood they would not survive. The state was being destroyed whether they wanted it or not. And you did not understand what would happen when it collapsed, eaten up by termites and abandoned to its fate by its citizens.
And when Ukraine was already falling backwards like a beautiful tree eaten from inside the miracle of Maidan took place. A miracle that had always saved the Ukrainian people at the last minute — the miracle of rebellion. A special thanks to Yanukovych and his gang — their greed and stupidity forced all those who still yesterday could not imagine such a union to unite. Yes, the first ones to come out to the square were the imitators, among others. Then the provocateurs quickly approached. But when the People appeared – the imitators and the provocateurs were no longer visible.
And when you lived in this almost religious haze of rebellion you could not avoid wondering about what would happen then this miracle ends? When the people leave Maidan and understand that simply changing the state will not be enough. They will need to revive it because, while they were gathering strength, it had died.
The resuscitation coincided with the war. As CPR was being performed in one ward, there was killing, maiming, raping in the other. I cannot say this was the first time in history when the same building was a maternity hospital and a crematorium. After successful uprisings this was always the case. But never in our lifetime. This is why it is so difficult to get used to it. This is why life has become so difficult after the miracle.
And of course the field is open again for imitators and provocateurs. And collaborators are usually waiting in the wings for the right time to lead us East. But this is all useless now.
Because for many of us our country is no longer a meal ticket. It is now destiny. Yes, there is still not enough responsibility — not only in one's attitude to the country but even in the attitude to one's own destiny. Yes, there is still a lack of a realistic assessment of reality. There is still this desire to create idols from any nonentity who happens by, or who has appeared on the TV screen.
But, on the other hand, what can you expect from people who have never built their own state, and who, when they had the chance to build it, wasted more than two decades. Now my compatriots will grow up with a country they managed to lose, to find again, to protect, and to love.
Growing up will be difficult this time — with human sacrifices, economic problems, emigration and returns, disillusionment and hopes. Much time was wasted during the 25 years of our statehood, practically for nothing. And now comes the most important part — how to make sure the next 25 years will not be wasted.
Then we will be able to celebrate the 50th anniversary of independence in a country that has found itself and has become valuable for its citizens. A country than no longer will need to be revived. Where the corrupt, the opportunists, the  imitators, and the provocateurs will no longer find success.
Because the model for success will the different — hard and honest work that we will all need to perform over the coming decades. Work for Ukraine . Work for every Ukrainian.
Tags: Portnikov, Ukrainian independence