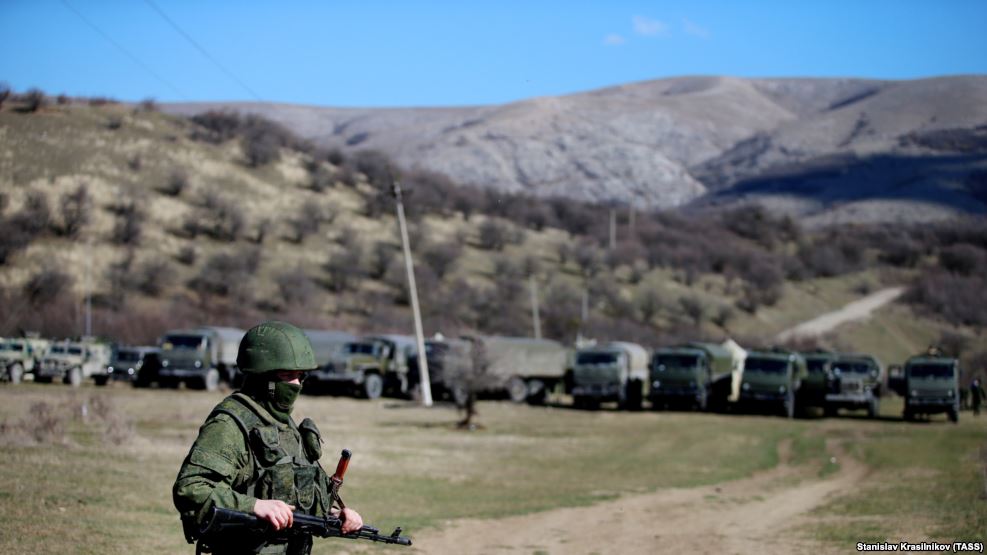 Photo for illustration purposes. Source: krymr.com 
Tensions in occupied Crimea are escalating as Russia accused Ukraine of plotting "terror attacks" after an alleged shootout that broke out in Armiansk on August 7 and dropped out of Minsk negotiations. As more and more evidence appears that the accusations are fabricated, serving as a reason to intensify repressions in Crimea, a peculiar post in Russian social media suggests that the shootout was an internal one between the Russian army contractors in occupied Crimea – a finding with which the Ukrainian military intelligence
concurs
. 
The gunfire at the border administration of occupied Crimea [on August 7] was staged by drunken military contractors rather than "Ukrainian saboteurs" – so says Eduard Zhuravlev, the former advisor to "Governor" of occupied Sevastopol Sergey Menyaylo, on his Facebook page.
"With regards what really happened at yesterday's border skirmish. The game continues. Somehow at the intuitive level I more and more agree with the version that the military contractors, overheated in the sun and with too much liquor, fired on their comrades and went out with weapons illegally," he wrote.
Zhuravlev offers a curious document – a photocopy of an orientation which was circulated to the heads of regional departments of the Ministry of Interior in occupied Crimea on 7 August.  The document refers to a search for five people accused of a serious crime in the city of Armiansk "dressed in camouflage uniforms bearing chevrons with the Russian Federation flag."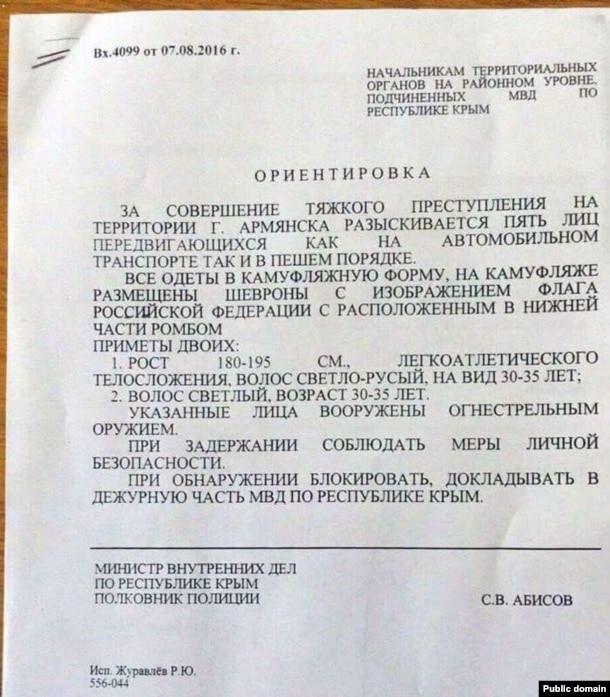 Eduard Zhuravlev and his colleague Oleg Mateychev, the political advisor of Sergey Menyaylo, are noteworthy for declaring to the residents of Sevastopol that they should forget "the traditions of direct democracy" and demonstrations similar to the Maidan protests in Kyiv. Matveychev in January 2016 stated directly that "Sergey Menyaylo should make administrative decisions unilaterally, and not a bunch of deputies, taxi drivers, and hairdressers."
"This is because we now see that Sevastopol is the most ungrateful city in Russia and spreads the same disease that infects Kyiv.  A terrible spiritual sickness worse than physical ill health," was Matveychev's diagnosis.
This same Eduard Zhuravlev had already earned a bad reputation among the opposition in his native Russian city of Yekaterinburg.  Zhuravlev's party ally Feliks Rivkin, member of the regional council of the Russian opposition party RPR-PARNAS, accused his former party colleague of accepting a bribe to help Putin's Yedinaya Rossiya Party against the Yabloko Party.
"Zhuravlev is a failed Yedinaya Rossiya member, although he has a Yedinaya Rossiya mentality… I think that if I were stood against the wall and he were in the firing squad, he would pull the trigger with no hesitation," noted Rivkin at the time.
Related: A timeline of Russia's Crimean "terror" games | Infographics

Why Russia manufactured Crimean "terrorism". Five versions