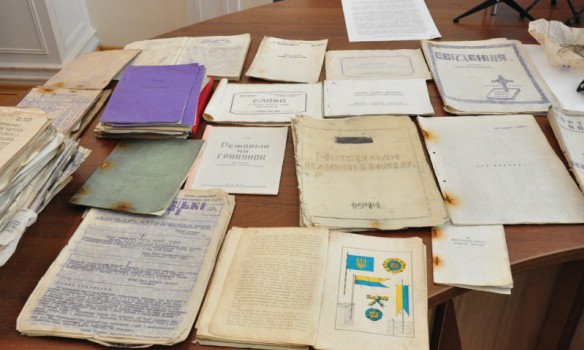 The Security Service of Ukraine (SBU) in Chernivtsi Oblast (Western Ukraine) recently seized about 4,000 UPA (Ukrainian Insurgent Army) documents that were found on the territory of Ternopil Oblast by fake "archaeologists".
SBU chief in Chernivtsi Oblast Ruslan Storozhuk reported that two amateur "archeologists" had dug up an old milk canister that was filled with historical UPA documents. They then transported these materials to Chernivtsi to sell them to the highest bidder. However, the SBU intercepted the amateurs and demanded that they give up the materials.
According to the head of the SBU, the approximate value of these documents is well over $20,000, but the historical value is even greater.
 "There are more than 4,000 printed and handwritten documents. One of the most important finds is a cliche of a UPA banknote – bofon – used in the 1930s-1950s."
(Bofony (Ukrainian: бофони (скорочення від "бойовий фонд") were one-sided banknotes (receipts) with national symbols and OUN and UPA symbols and slogans with a fixed face value or no face value. Authorized OUN or UPA members distributed such bofony to the population in exchange for their voluntarily contributions, food, clothing, etc. Bofony were also used as propaganda leaflets that were distributed to locals-Ed.)
The SBU has handed the documents over to historians of the Yuriy Fedkovych University in Chernivtsi.
According to Oleh Surovtsev, Candidate of Historical Sciences, the canister contained UPA documents dating back to 1945-1947.
 "These documents don't talk of combat, fighting, or military raids against the Soviet army, but illustrate the social, political, and educational work that the UPA conducted with the population. There is also a lot of propaganda material about how to raise children, and separate appeals to teachers, doctors, and students."

"We've identified several statistics reports that describe the mood of the population. There are detailed descriptions of the 1946-1947 famine instigated out in Ternopil Oblast. There are statistics on the victims who died during the famine. A special document is devoted to elections in Soviet Ukraine. There's propaganda material against these elections, and explanations intended for local populations that they are mere fiction. There's also a lot of material devoted to internal issues and problems that existed within the UPA."

 
Tags: historical documents, History, News, OUN, Soviet Ukraine, Ukraine, UPA