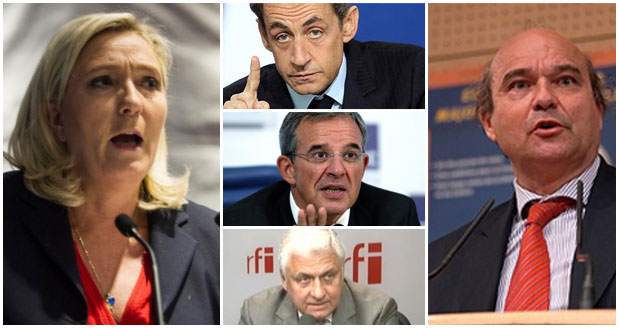 Marine Le Pen, Nicolas Sarcozy, Thierry Mariani, Alexander Orlov, and Yves Pozzo di Borgo have all done their fair share to serve Putin. But who has done the most? 
On the eve of their arrival to occupied Crimea, five French MPs from the Friends of Putin club are competing for the honorary title "Putin's Best French Friend."
They are part of a group of 11 French MPs that, after entering illegally entering Crimea from Russia on 28 July, will meet with self-proclaimed "authorities" of the Russian-occupied peninsula and on 31 July will join a celebration of the Day of the Russian Navy. It were unmarked soldiers of the Russian Navy in disguise who were instrumental in the illegal annexation of the Ukrainian peninsula in February-March 2014 and subsequent sham "referendum" at gunpoint.
Read more: Delegation of French MPs to visit occupied Crimea. Again.
The Friends of Putin Club has asked Euromaidan Press readers to help determine who among the five politicians is worthy to carry the title of Putin's Best French Friend. Cast your vote in the poll below!
[socialpoll id="2377535″]
1. "Ukrainian nationalists came to power in Kyiv [and are] terrorizing the Russian population and glorifying the Nazi collaborators." 
Alexandr Orlov, "The Сhief." He is the currently serving Ambassador of the Russian Federation to France. As on official representative of Russia, he denies the presence of Russian troops in Ukraine and considers the annexation of Crimea perfectly legal, as well as spreads the Russian false narrative that Nazis have come to power in Ukraine. A fine connaisseur of french culture and politics, his receptions organised at the embassy in Paris are known to attract many people, especially those interested in Russian affairs. To add an extra-spicy touch to these parties, he is known to smuggle wine from occupied Crimea via diplomatic post.
2. "First, anti-Russian sanctions should be lifted, second – sanctions should be imposed on Ukraine."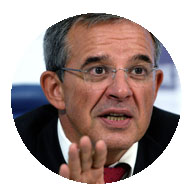 Thierry Mariani, "The Travel Agent." He is the MP representative of French citizens living abroad. His constituency is the largest and he takes advantage of it to travel around the world. He also organises "tours" for his fellow deputies, namely to meet Assad in Syria, or to Crimea, to underline the acceptance of violation of international law by certain MPs. Seems to have business ties to the sponsor of Russian terrorism in Donbas, Malofeev, via CFG Capital. He is the author of the resolution that demands the lifting of sanctions imposed on Russia and more recently has even called for sanctions on Ukraine. For him, talking of Human Rights makes no sense, and sanctions should be imposed on Ukraine.
3. "These Ukrainians pollute all meetings, highlighting their problem." 
Yves Pozzo di Borgo, "The Tourist." He is a French senator and representative in the OSCE parliamentary assembly. Co-author of the resolution voted by the French Senate demanding sanctions against Russia be lifted. Known for posting many travel photos through his twitter account, including those from occupied Crimea, he became famous after buying a t-shirt with "Obama is a d*ck-head" written on it. Recently expressed his irritation by Ukraine: "These Ukrainian pollute all meetings highlighting their problem."
4. "If I'm elected, France could recognize Crimea as Russian." 
Marine Le Pen, "The Indebted." She is a French far-right politician and a big fan of Putin. Her party was the first in France to consider the annexation of Crimea legal, after which it got a 12 million euro loan from a bank with strong connections to the Russian FSB\KGB. It has been shown that the Le Pen family is in contact with the sponsor of Russian terrorism in Donbas, Malofeev, and the fascist ideologist Dugin.
5. "We must find the means to create a peacekeeping force to protect Russian speakers in Ukraine" 
Nicolas Sarkozy, "The Godfather." He is the former president of France and probable candidate for the 2017 presidential elections. He pressured France to sign the Mistral deal with Russia, just after the military intervention in Georgia. He is well known for reproducing the Kremlin rhetoric, such as legitimising the annexation of Crimea, and asking to send in a peacekeeping force to protect Russian speakers, one of Putin's myths to legitimise an invasion of Ukraine, in his speeches. He has been notedDuring his visit to the economic forum in Saint-Petersburg, he talked about lifting the sanctions imposed on Russia, asking Putin to make the first step.
Note. Everything we publish in the section The Naked Truth is dead serious and, unlike our usual propaganda and lies, true. It should be taken literally. 
Tags: Archive, France, Russia-France relations, Russian agents of influence, Useful idiots