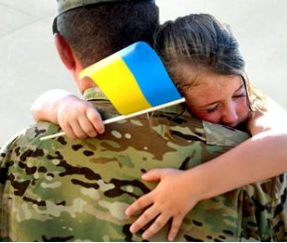 Lutsk, Volyn Oblast (Western Ukraine)
A marshrutka (public minibus) stops to pick up passengers.
A young boy in military fatigues with a heavy rucksack strapped to his back get in. His face is tired, but smiling. It's obvious he's on his way home.
He gives the driver three hryvnias.
– Young man, no, no… There's no price on what you're doing over there for us all! Take your money! By the way, do you have a gift for your Mom?
The soldier smiles:
– Yes, of course… for my mother and my sister.

– Well, look. If you need something, don't be shy. Just say the word!
The marshutka pulls away… An elderly woman is sitting right behind the driver. She starts muttering in Russian to herself, but obviously loud enough for everyone to hear:
– They just won't leave the Donbas alone, will they? Why don't they let it live… Why did they stick their nose in there? Why are they killing people?
The marshrutka stops. The driver opens the door, takes the grumbling woman gently by the arm, and gives her three hryvnias (price of fare):
– My dear, I think you got on the wrong bus. You and I aren't going the same way.
He steers her politely out of the bus. He then turns to the passengers and says sorrowfully:
– My son was killed in the Donbas, and my wife's heart just gave out…
Tags: Donbas war (2014-present), Stories, Ukraine, Ukrainian soldier