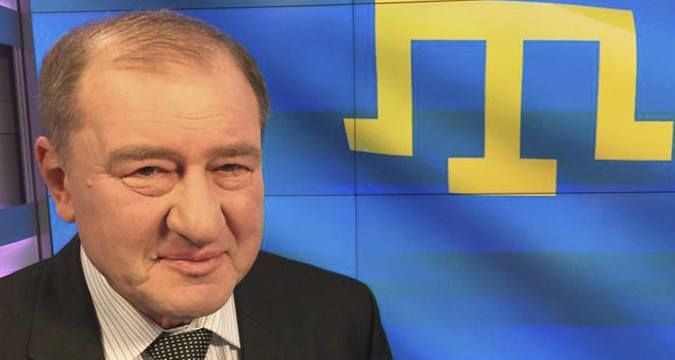 Ilmi Umerov 
FSS investigators in Crimea opened a criminal case against Mejlis Deputy Chairman Ilmi Umerov on 12 May 2016. He is being charged with "making public appeals and committing actions aimed at violating Russia's territorial integrity" after his appearance on the ATR TV channel, saying "it is necessary to force Russia to pull back from Crimea and Donbas." Journalist and former Soviet political prisoner Alexander Podrabinek responded with an open letter to Crimean "Prosecutor," Natalia Poklonskaya.
Ms. Poklonskaya,
I am a long way from considering you to be the main inspirer and organiser of the new political repression in occupied Crimea. But, without a doubt, you not only faithfully execute orders from Moscow, but with all your prosecutor's zeal attempt to cause the greatest possible damage to innocent people.
It is a well-known phenomenon for up and coming lawyers to attempt to build personal careers by fabricating criminal cases against decent people. Before you, this path was trodden by the Stalinist commissar Nikolai Yezhov, rewarded as he was for his brutal deeds with the death penalty from his more senior Bolshevik comrades.
Many criminals beat this path, and this is something for you to bear in mind. They, like you, were not overly bothered with legal questions. Following the law was a matter of secondary importance; the main thing was carrying out the government's political will.
This not only applies to our homeland. In Hitler's Germany, the entire law enforcement system, from rank and file policemen to judges and prosecutors, were subordinated to the Nazis. They too carried out state orders. Later, at one of the Nuremberg trials, they made reference to their lower positions, but this did not help them. And it won't help you either when justice prevails in Russia, and you will be obliged to answer for the political repression you have meted out in Crimea.
Your most recent abuse of justice, thinly veiled in incoherent utterances from hastily reformulated Stalinist laws, is a case against Ilmi Umerov. In your words, he "is suspected of committing public actions aimed at changing the Russian Federation's territorial integrity."
Umerov appeared on Ukrainian television and said: "I do not recognise the illegal referendum of 16 March 2014! I do not recognise Russian state jurisdiction in Crimea! I regard the current authorities in Crimea as occupiers, and the territory of Crimea annexed by Russia with the assistance of military force!"
Ilmi Umerov, a doctor, deputy-chairman of the Crimean Tatars' Mejlis, is a true patriot of his homeland and people. Everything he has said is true, and precisely describes the situation in annexed Crimea. His point of view is shared by many honest people in Russia and throughout the world.
You are now trying to drag our country back into the Soviet past where for those such as yourself, the heirs of Vyshinsky and Yezhov, the road to power was opened, while decent people were sent to prison and the Gulag. For the vile ideals you are now working so hard for. For this, you have considered the reprisals against Ilmi Umerov, to whom you, Ms Poklonskaya cannot be compared either in terms of intelligence, or moral stature, or experience in life. I understand how annoyed you are by the incommensurability of the scales of personality: yours and your victims.
Are you enraged that your lie cannot defeat the truth? And that you cannot silence all those who don't agree with you by threatening repression? So I will have to disappoint you: those people will grow in number from year to year. You will never succeed in locking all of them up, even if you deploy the machinery of repression in full Stalinist scale.
You in your dense simplicity think that the state lie can confuse the brain, and prosecutor threats will intimidate everyone? Read your history! Opposition to those such as yourself has always existed and always will.
Alexander PODRABINEK
Former Soviet political prisoner
---
Related:
Tags: Crimea, Crimean Tatars, Russia, Russia's Anschluss of Crimea, Russia's occupation of Crimea, Ukraine, Umerov