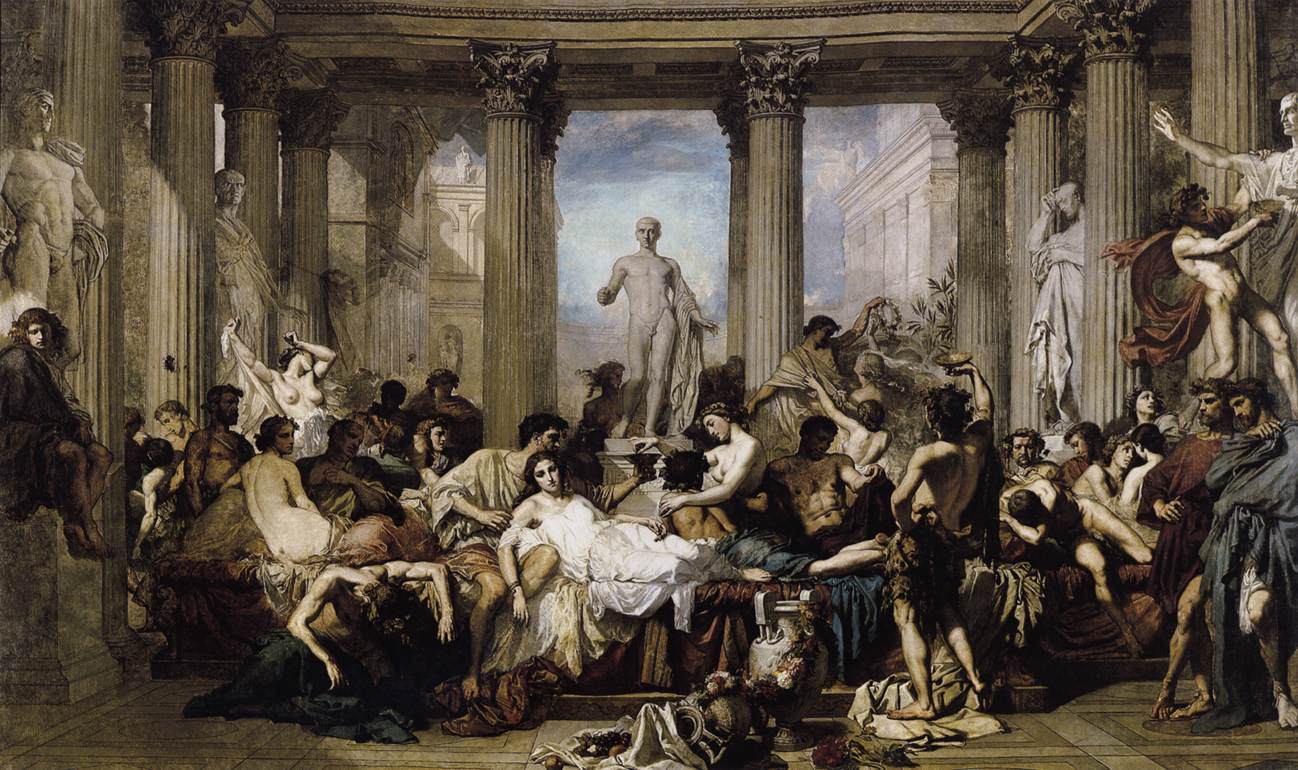 Romans during the decadence. Painting by Thomas Couture 
Russia is increasingly pushing its narrative of being forced to prepare for war against NATO and the US. Unfortunately, the narrative is well received in western liberal and anti-American circles, and used to "prove" NATO's and American "aggressive" moves.
Additionally, NATO has been struggling to counter the claims of eastern Europeans of being too reluctant to openly state the Russians have torn up the post-Cold War world order and questioned the old agreements made, notably the Budapest Memorandum 1994ensuring the territorial unity of Ukraine or the NATO Russian Founding Act of 1997concerning military bases on the territory of eastern European member states.
Recently, NATO's Stoltenberg could not answer the question of a BBC journalist asking why NATO was not more explicit in regard to Russia questioning old agreements. We can also observe a similar situation of  ignoring facts or even whitewashing when it comes to Russia's military occupation of Crimea and eastern Ukraine, Russia's bombing campaign in Syria, and general preparations for active warfare – be it large-scale military exercises in Russia, drone surveillance in Poland and the Baltic states, the possible presence of Russian special forces in those countries (see the example of Estonia) or cyber warfare against western energy, telecommunication or transport facilities (just recently Sweden, and also Finland).
The usual strategy of western elites has been ignoring or downplaying crucial problems. But it is not only Russia, and "happy-talking" is connected to more topics, such as the failure of the Schengen treaty in connection with mass migration to western EU countries, the failure of the Euro in Greece and the future of the EU in general.
There are roughly two categories:
Regarding internal EU problems such as the energy market, mass migration and political Islam the strategy has been to suppress inconvenient facts if they run counter to what has been established as a "correct" view of the issue, focusing on the positive sides which however do not turn out too positive if analyzed thoroughly, leading to many questions instead. Few of them are discussed seriously.
On the international stage "diplomacy" has been given supremacy, underlined regularly by western political leaders with the "there is no military solution" statement. However diplomacy so far has not solved a single of the big geopolitical problems. Instead, it developed to a tool in order to mask the lack of transparency and openness, and to sell political solutions the majority of citizens might not consent with (see for example the Iran-deal in the US). One effect of "diplomacy" is surely the strange "objectivity"-paradigm establishing as essential all sides can voice their opinions as long as there is no "evidence", and media or political representatives have no moral concerns to give military aggressors (especially Russia) sufficient space for their truth.
Such behavior has serious consequences as it means to give up own values and arguments – and therefore can also be termed a decadence of western elites.
The most important is surely that the West has given up on the idea and its philosophical tradition that there can be only one truth which can be established by simple reasoning. This breaks down further in giving up on other rules that have been proved crucial for European welfare and security such as being convinced borders and national identities do no longer matter.
Russia is a master when it comes to detect western weaknesses, which can be observed on a weekly, sometimes daily, basis in regard to the border-issue for example, staging provocations in regard to the state sovereignty of European countries (see for example in regard to Norway or air provocations in the Baltic Sea). This results in the strange situation that on the one hand, NATO is forced to ensure the integrity of the borders of their eastern member states – mostly verbally, but also increasingly with deeds – and on the other hand, the EU has given up on securing its external borders which prompted single member states to take action in order to ensure the security of their citizens.
How has such a situation threatening welfare and peace in Europe become possible?
Political parties have increasingly shifted from problem-solving organizations to organizations that administrate problems. Reasons are manifold, be it constraints of coalition governments (Germany, until recently also Austria) or a rigid legal environment (France). On the one hand,  main stream political parties have administered real problems of their voters, on the other hand, they have pushed "progressive" topics – but with this strategy they now have partly lost their electorate.
Additionally, political leaders who have been too long in power, namely the US president and Germany's chancellor, have tended to skip problems that do not match with their understanding of reality, and even started to impose their understandings of a "better society" on reluctant majorities.
Generally, there is also the understanding that western media democracies have to avoid scandals and unpopular decisions as those are an imminent risk to political power; see notably French elites not seriously tackling the crisis of French society.
Limiting politics to administering issues is turned ad absurdum if it is extended to warfare
The risk of being exposed leads to cautious political measures, mostly being limited to administering problems – this might function in regard to tax collecting and state regulation, but gets increasingly difficult if facing structural problems, such as the unwillingness of social groups to train or work, the unemployment of the unskilled or large-scale de-industrialization.
Limiting politics to administering issues is turned ad absurdum if it is extended to warfare – efforts focus on generating an agreement of some kind in order to lay the ground for an "administration" of the situation.
Regarding Ukraine, the Minsk agreements have sufficiently proved the failure of such a policy. If there is no agreement or agreements that are not observed, the only tool available is verbal "action" in form of calls for an immediate cease-fire.
This approach gets increasingly difficult or impossible if it involves humans who harbor different world views. Such the Russian view of negotiations as a platform to issue ultimatums or to connect them with an escalation on the ground collides with a more passive and reactive western stance, with a focus on identifying common grounds in order to enable an administration of the problem.
Despite those shortcomings, "administrative politics" is still held high. Initially, it might have helped to control problems without greater attention from the public (and for selected topics also to control for issues in using the media). However, it also masked the unwillingness of main stream political parties to deal with real social and economic reforms, and as a consequence has significantly limited the ability for action. Politics has been reduced to symbols and nice words, the German chancellor meeting with refugees or the US president having a meal with a chef.
The problem of administrative politics is not only the loss of substantive action. A more seriously outcome of an administration of issues of different complexity is the leveling of problems and to a loss of transparency. It is here were administrative politics is most dangerous. Leveling and happy-talking problems has the effect the actors lose the sense for what is really important. This ultimately leads to the loss of the ability to grasp reality correctly – and to falsely interpret threats.
Tags: Military analysis, NATO, Russia