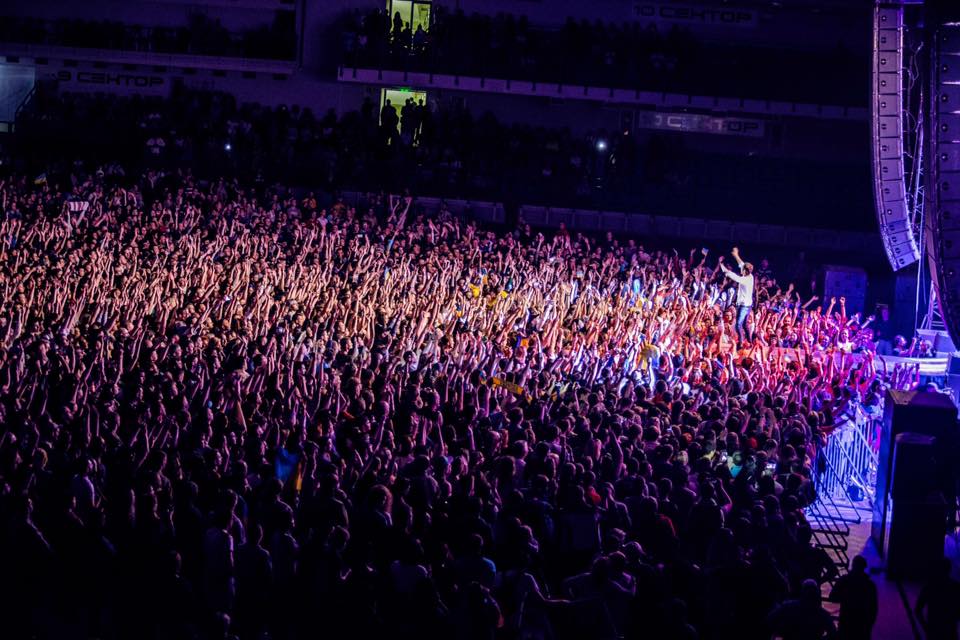 Okean Elzy performs in Mariupol May 17, 2016 
BEFORE THE CONCERT…
Legendary Okean Elzy will perform in Mariupol. Let's not be afraid to use the word "legendary" as this term really applies to Okean… because only a legendary group can organize such a great event: gather a stadium full of people and give a free concert in a city that has also become legendary.
We've been waiting and waiting for Okean to come here… The concert scheduled in Donetsk in the spring of 2014 did not take place. The city was engulfed by the frenzied folly of the "Russian Spring". The Druzhba Arena, where the concert was to be held, was set on fire.
Okean Elzy didn't come to Donetsk… and thousands of fans from Mariupol were forced to return their tickets and say goodbye to their dream.
But, not everyone gave up the tickets. Many fans in Mariupol have kept them as souvenirs of that day and the cancelled concert.
And so, fans all over eastern Ukraine have continued singing and "waiting for Okean".
Okean has heard Mariupol's call and responded.  On May 10, we learned the band had decided to stage a free concert in the city, and since then it's become a little rough and rowdy in Mariupol, as they say.
The police doesn't sleep nights and worries about security in the streets and the stadium. Like it or not, the city is near the front lines and there are a lot of weapons here.
Unprecedented security measures have been put in place. Since May 16, everyone entering Mariupol is closely searched and questioned.
An incredible atmosphere of frenzy reigns throughout the city.
Rumors run like wildfire through the streets – no one will be allowed in to see the concert, the stands will be reserved for selected guests and soldiers, etc.
"The intellectuals will get all the tickets, but what about us? Are we mere sheep or cattle?" say locals who don't consider themselves part of the elite.
Just about everyone in Mariupol wants to see Okean Elzy's concert: those who live in the heart of Ukraine, those who took part in patriotic rallies during the frightening months of 2014, those who fed and clothed our soldiers at checkpoints in the first days of the conflict… even those who went to vote at the separatist referendum on May 11, 2014 and who were already counting how much they'd get when they became "part of Russia".
There's a joke going around Mariupol: "Whoever went to to vote at the referendum won't get into Vakarchuk's concert."
But, that's only a joke… because I believe such people should be specially invited to see Okean's performance.
For the first time in  many years, frontline Mariupol has united around a mega-event. Really united – not in groups "for" or "against", not in hatred or in protest, but in love. Love of artistic creativity, love for women, love for the Homeland, love for Ukraine.
War and politics divide people and turn them into enemies. Only music can unite us all and awaken what's been hidden so deeply in our souls for the past two years. Vakarchuk has proved this to everyone.
Today, Svyatoslav Vakarchuk and his spectacular gesture of goodwill and his strong position have united Mariupol around this love.
It seems to me that Okean has done more for Ukrainization than all those much-talked about laws and state regulations, language imposition in public institutions, diktats and other government actions.
Today, Mariupol speaks Ukrainian, or should I say, it sings in Ukrainian. These songs will be about Ukraine, about life and love.
Article by Anna Murlykina for Ukrainska Pravda
DURING AND AFTER THE CONCERT…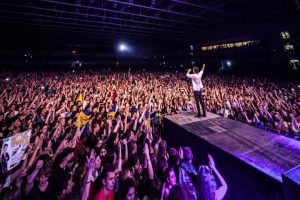 Thank you, Mariupol! You're fantastic! On May 17, thirty thousand people gathered in the square and in Illichivets Sports Stadium.
We'd like to thank each and everyone of you for your understanding and patience… and for the energy radiated by thousands of open hearts. It's all with us now!
Our thanks to activists and citizens who believe in themselves, create their own history, and to all those who organized and conducted the special flash mob invitation.
Special thanks to the Donetsk police force, the National Guard, and the Security Service of Ukraine for ensuring the health and safety of fans attending the concert. And, our deepest gratitude to the Head of the National Police Directorate in Donetsk Oblast, Vyacheslav Abroskyn.
To all who helped to organize our concert – Thank you!
Till we meet again!
Okean Elzy's Facebook page
 Related:
Tags: Mariupol, New Ukraine, News, Okean Elzy, Sviataslav Vakarchuk, Ukraine