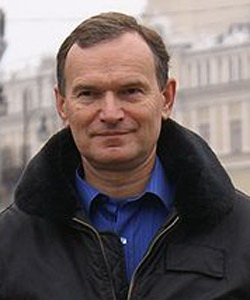 Political scientist Taras Voznyak, founder and editor-in-chief of the Ji magazine, discusses Russia's exploitation of the tragedy of World War II for its own political purposes and analyzes the presence of "two" historical memories in Ukraine — the memory of the victims and that of the executioners — in this interview with journalist Antin Borkovskyi on the Espreso TV channel.
 We have a sad anniversary. On the one hand, it was the victory of the anti-Hitler coalition. On the other hand, tens of millions perished. What would be the appropriate  Ukrainian remembrance of this most terrible war and how would it differ from the Russian one?
We should treat it with sorrow, with understanding, and with respect toward the parties that took part in this tragic history. The Second World War began in 1939 — something that is forgotten in Russia — but we need to understand that in Russia it is not so much the Russian as the Soviet idea that is operative. And this hysteria is not so much the expression of respect and veneration as it is a political instrument that continues to be exploited.
Right now I can see how the TV channels that are connected to the former Regionals (members of the Party of Regions, the party of fugitive former president Yanukovych — Ed) — Inter, (Savik) Shuster's channel, 112, News One — are beginning to distribute the same hysteria as before when they attempted to divide the Ukrainian people into those and others — the "Westerners" and the "Soviets."
Therefore it is the tool of the "historical division" in the Ukrainian mentality?
They continue to try to use this tool because there is no other tool. In Russia only one myth remains — about "the great victory" and "our grandfathers fought." But let's calculate the age of the youngest person who participated in the war in 1945. It would be 90 .
And we often see 70-year old veterans with some commemorative trinkets on their chest. And the question arises. What war are we talking about? Perhaps they fought in Prague in 1968 or repressed people in Budapest in 1956? There are very many questions here.
Precisely, and what antidote could the pro-Ukrainian Ukraine offer? Because these people associated with the Kremlin will continue to attach these labels for purposes of manipulation and historical myths.
In this case it's important simply to remain calm and honor everyone. Simply exercise restraint and calm, do not indulge in hysterics, do not succumb to this madness, do not exhibit weakness. Because the provocateurs will be quite visible and they will engage in provocations. We can remember very well what happened in Lviv in 2009, 2010 and 2011 (clashes between nationalists and pro-Soviet agitators over the use of Soviet symbols during Victory Day celebrations — Ed.), when the Party of Regions came to power.
We're talking about the artificial but no less shameful provocations-skirmishes on the Hill of Fame?
Exactly. And similar attempts will continue, possibly on a smaller scale. We saw what happened on the second anniversary of the May 2 events in Odesa, when the Party of Regions comrades immediately rushed in there, led by (Vadim) Novinsky, a former Russian citizen.
Is it within human capacity to combine the two historical memories: the memory of UPA (Ukrainian Insurgent Army) and the memory of the Soviet Army?
Of course it is within human capacity, but this will happen only with time. However, we should clearly reject all manipulators, very clearly rebuff them. Because very often we act as if we're ashamed, because this is an important subject and we think we should not become too emotional. However, at the same time, the provocateurs openly rely on hysterics or on sentiment.
Right now all these channels have become very active . This morning I watched Shuster's channel, where they unearthed some article from the American press that claims that certain people are supposedly embellishing the UPA and want to hide crimes. But why did this surface today? Why not in February, for example, why not in January? Why is all this brought up on May 9? And, in reality, it is such an enormous human tragedy.
How do they mark this day in Israel? With sorrow and simple silence, because there the war is continuing non-stop. War that began in the 1940s and 1950s is continuing until the present day. In Ukraine there is war as well, and in Ukraine to hold regular celebrations on the bones is impossible.
Moreover, I think that many will seek to gloss over the real war in Ukraine by using the memory of the Great War, the Second World War, because there was also the First World War – the first great war. And it is important to realize that this will be a tool as well. They will say there is no great war taking place, that there is something unclear, and again they will talk about ATO, about a civil war or a "riddle."
What are the limits of compromise? We understand that soldiers should be honored, especially the fallen soldiers, but we understand that in addition to the dead soldiers there were those who shot them in the back. We're talking about the NKVD units and so on.
Certainly there were soldiers, officers and generals who were at the front, but there also was the repressive apparatus of Stalin's NKVD and the NKVD armies. These were not even individual NKVD agents, but entire NKVD armies who performed an absolutely criminal function — first by repressing the entire Soviet Union and then by shooting the soldiers in the back.
Let's remember the  penal battalions. That is why it is important to figure out who was in the NKVD, if they are veterans and if Ukraine should be paying them their pensions for repressing our people or executing the Ukrainian intelligentsia somewhere in Sandarmokh (execution and burial site of the victims of Stalin's Great Purge — Ed).
 It seems the government does not dare raise this issue, but the presence of these NKVD agents in the so-called "Pantheons" insults the memory of the people they killed. 
Undoubtedly, even after the defeat of Nazi Germany there was a clear distinction between those who fought in the Wehrmacht (which was not recognized as a criminal organization, even though there are many questions about the actions of the Wehrmacht) and those who were in the Gestapo, the SS, the repressive Nazi structures. They clearly were criminals and had to be punished. They had to be punished and not be recognized as veterans. Who punished the NKVD agents? For all these millions of victims…
Ukraine should have at least deprived them of military titles?
Both titles and pensions, without a doubt. But the other issue is that everyone is afraid, everyone is such a coward. I don't know any president of Ukraine who would dare do that. But they are afraid not only to stir this viper's nest but there is something else — courts and prosecutors. We don't even have enough courage for such simple things. Because there are children, and it turns out that very many influential families have this miserable background.
Often the representatives of hereditary NKVD or MGB (Soviet Ministry of State Security — Ed.) families remain in Ukrainian politics. They will not permit for their grandfather or great grandfather who served in the NKVD to be stripped of his general's rank, even posthumously.
And not only that. Because there will be subsequent elections and what happens when it turns out that someone's grandfather was in the NKVD in the execution units? Would he be elected? Even though our people are capable of electing even those. But still this is a serious argument. And this purification should take place.
Why did the Federal Republic of Germany become a democratic country? Because under the pressure of Americans, the British and the French, a denazification process took place there. Therefore, all these matters were reviewed and every person was identified. Mass trials took place and mass punishment after the Nazi history. In our country, "desovietisation" did not take place. Can you remember a trial of a single NKVD thug?
There was none.
Therefore, this sin of fratricide continues to drag behind us. Therefore, we cannot manage to climb out of it. Yes, it is true the main perpetrators have died, but we nonetheless need to tell the historical truth. Until the truth is told, Accthis sin will weigh on us and will not give us peace. We will always live in this half-truth and half-falsehood. And we will always have the taste of mud in our mouth.
Tags: Featured, Ukraine, World War II / WW2 / Second World War (1939-1945)