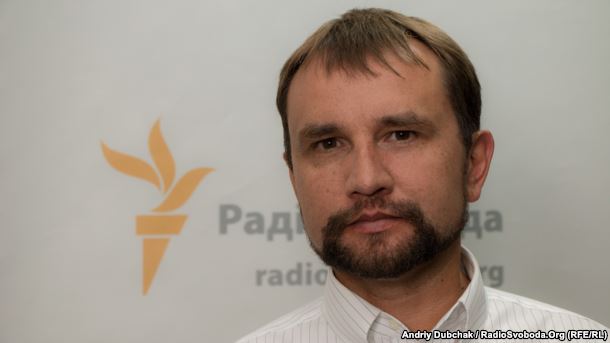 Volodymyr Vyatrovych, Director of the Institute of National Memory 
"Instead of problemitizing/demythicizing Ukrainian history, Mr. Cohen and a number of prominent Western historians are engaged in demonizing it." David Svoboda, Czech historian.
A year has passed since the validation of the "anti-totalitarian laws" in Ukraine, but some Western media have not yet calmed down with regard to Volodymyr Vyatrovych's "revisionist version of national history", "whitewashing of Nazi collaborators" and "introduction of censorship". In the latest issue of Foreign Policy, Josh Cohen to discredit what the historians of the Institute of National Memory consider to be their undisputed success – opening the secret archives to the public and other scholars in Ukraine and abroad.
Josh Cohen's publication in Foreign Policy is called "The historian whitewashing Ukraine's past." Referring to several well-known historians, Cohen argues that a one-sided view of national history during World War II is being pushed in Ukraine, notably emphasizing Soviet crimes and  valorizing  Ukrainian nationalist fighters, while simultaneously rejecting the role they played in the ethnic cleansing of Poles and Jews between 1941 and 1945 after the Nazi invasion of the Soviet Union.
In other words, Josh Cohen claims that Ukrainian historians working at the Institute of National Memory are falsifying historical archival documents.
Quoting Professor Jeffrey Burds, an expert in Russian and Soviet history at Northeastern University [in Boston, USA], Cohen writes that a 898-page book of archival documents prepared by one of Vyatrovych's colleagues was falsified.
"Scholars on his [Vyatrovych's – Ed.] staff publish document collections that are falsified. I know this because I have seen the originals, made copies, and have compared their transcriptions to the originals."says the professor, accusing the Ukrainian scholars of removing "anything criticizing Ukrainian nationalism, expressions of dislike and conflict within the OUN/UPA leadership, sections where the respondents cooperated and gave evidence against other nationalists, records of atrocities". However, Professor Jeffrey Burds fails to name this book.
Such accusations have surprised Volodymyr Vyatrovych who states that the Foreign Policy article is full of falsehood, so much so that "I would have to comment on each sentence in order to give a good response." As for the mysterious unnamed book, Vyatrovych cannot even guess what Cohen is referring to.
"Frankly, I don't know what he's talking about. I've published a number of collections, among which is a book of documents on Polish-Ukrainian relations (published in 2011). I've never been accused of falsifying historical facts, even by Polish historians – who are my toughest opponents. After all, all the documents were published with clear references to recently opened archival documents, and anyone interested in this can check." says Vyatrovych.
David Svoboda, Vyatrovych's colleague from the Czech Institute for the Study of Totalitarian Regimes, a historian who specializes in modern Ukrainian history says that the World War II period of history divides and polarizes many historians. He believes that both sides are making incorrect interpretations.
"Instead of problematizing the UPA – and by this I don't mean making everything look negative, as historians should always problematize – some notable talented Ukrainian historians tend to glorify this movement. On the other hand, their critics, like Mr. Cohen and a number of prominent Western historians are engaged in demonizing it." says the Czech historian.
Many historians have pointed out that it would be very problematic to produce historic work done by a research institution and a public memory institution. However, David Svoboda maintains that Volodymyr Vyatrovych is a respectable professional, whose research he quotes in his own publications.
"I believe Volodymyt Vyatrovych is a respected and respectable historian, but, in my opinion, he is a historian that believes history should provide some kind of psychotherapeutic relief for the nation. Personally, I think a historian should have no homeland. His only homeland must be the truth… however emotional that may sound." says David Svoboda.
He himself acknowledges that such an approach is very idealistic as "not one country in the world" follows it. History textbooks of every country contain so-called "national narratives", so why can't Ukrainians have their own heroes?
 "The fact that someone underlines the heroic deeds of the UPA doesn't mean that he is an anti-Semite or a defender of ethnic cleansing. Our Czech textbooks also have quite a one-sided view of modern history, which loses the morally problematic halftones." adds the Czech historian.
As for the accusations challenging him and the institute, Volodymyr Vyatrovych says he is not surprised when criticism of the "anti-totalitarian laws" comes from Eastern sources, but finds it hard to understand Western scholars who now "sound the alarm about alleged threats related to these laws, but remained silent in the past when the archives were closed and when historians were persecuted."
"It's unfortunate, but I didn't see such publications in Foreign Policy or other journals when the threat was very real." says Volodymyr Vyatrovych.
Related:
Tags: Cohen, Featured, History, Institute of National Memory, News, Ukraine, Ukrainian history