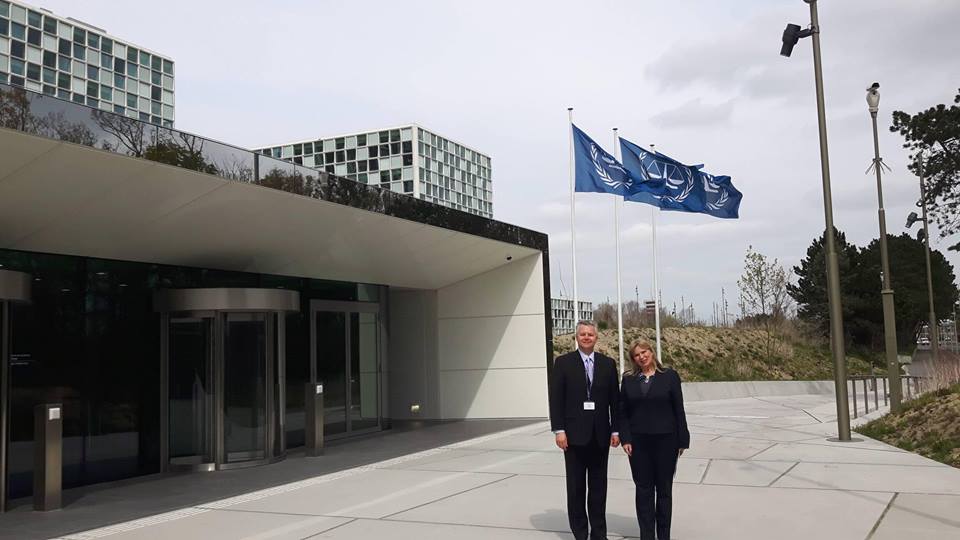 Malgorzata Gosiewska at the International Criminal Court in the Hague, April 2016. Photo from: facebook.com/m.gosiewska 
On 22 April the report "Russian War Crimes in Eastern Ukraine" was conveyed to the International Criminal Court in the Hague.
Malgorzata Gosiewska, Polish MP and deputy chief of parliamentary Foreign Affairs Commission, informed about it on her Facebook. She was the initiator of creating the report which she has now conveyed to the ICC.
"The proof of Russian war crimes in Ukraine has been conveyed," she wrote.
The 156-page document is based on 60 interviews with former detainees who managed to escape captivity of soldiers and officials of the Russian Federation as well as Russian-backed militants in southern and eastern Ukraine.
The report contains a short overview and references to the description of the venues where the crimes were being committed. Each action described in the report is a confirmed by a direct quote from victims' testimonies.
Among the war crimes mentioned in the report are deprivation of freedom, physical and psychological tortures, robbery and killings. Some detainees were packed wall-to-wall, sometimes 100 prisoners to a room, with holes dug into the ground for toilets.
Małgorzata Gosiewska presented the report about the Russian war crimes in the Donbas region in March. On 5 April it was presented in the European Parliament and later in Ukrainian Verkhovna Rada.
"War crimes have no expiration period, and we'd like that the people involved remember about it. We would like them to remember that punishment will be inevitable. I hope that realizing this will help to stop the potential criminals and murderers… Hopefully this will relieve the suffering of those who are still in captivity, or prevent from more harm," Gosiewska explained while presenting the report in Ukraine's Verkhovna Rada on 19 April.
The Polish politician emphasizes that these materials must prove Russia's accountability for the war in Ukraine and crimes committed in Donbas and Crimea. In her opinion, European politicians should reconsider how they deal with Russia after familiarizing themselves with the contents of the report.
Earlier last year another report about crimes against humanity committed by Russian-backed militants was published by the Coalition For Peace and Justice in the Donbas. Titled "Those that lived through hell," it was based on interviews with witnesses and victims of kidnappings and torture. According to this report, 16% of the imprisoned by the Russian-backed militants in Donbas were forced to witness executions.
Tags: International, International Court of Justice, International Criminal Court, News, Russia, The Hague, Ukraine