Oleksandr Kolchenko from Crimea, who was illegally convicted in the Russian Federation, does not intend to ask for clemency, says his lawyer Svetlana Sidorkina
Sidorkina was allowed to meet Kolchenko for the first time after his transfer to a penal colony in Chelyabinsk Region. She reported that authorities kept her waiting for two hours, arguing that they had to check her identity. She added that prison guards had imposed unreasonable disciplinary measures on Kolchenko.
"Immediately after his arrival at the colony, two disciplinary sanctions were imposed on Kolchenko. He was placed in solitary confinement for seven days; in total, he spent 15 days in isolation. The grounds for these disciplinary measures were absolutely incommensurate with the disciplinary offense – Kolchenko allegedly used slang in conversations with others and did not greet prison personnel. Such an attitude towards political prisoners seems to have become traditional." said Sidorkina.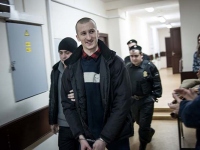 On August 25, 2015, the North Caucasus District Military Court sentenced Oleh Sentsov and Oleksandr Kolchenko, both residents of Crimea, for conspiring to commit terrorist attacks in the annexed peninsula. Ukrainian film director Oleh Sentsov was sentenced to 20 years in a maximum security penal colony; Oleksandr Kolchenko was sentenced to 10 years imprisonment.
Your letters of support can be addressed to Kolchenko through RosUznyk. Address of penal colony: 456612, Челябинская обл., Копейск, ул. Кемеровская, 20 (456612, Chelyabinsk Region, Kopeysk, ul. Kemerovskaya 20).
Tags: #LetMyPeopleGo, International, News, penal colony, Political prisoners, Politics, Russia, solitary, Ukraine