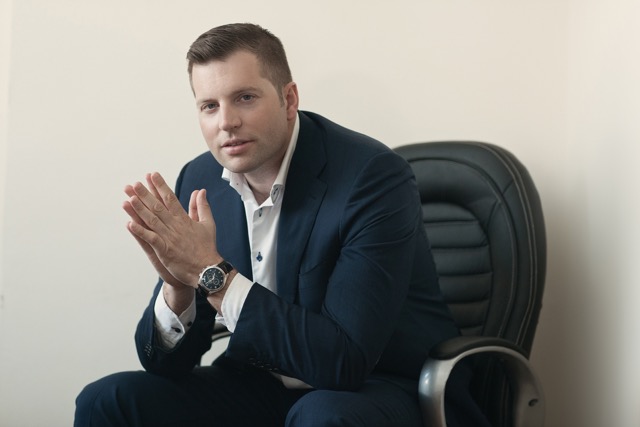 Pieter Kinds, Director Director Business Development at Control Pay 
Pieter Kinds started his business in Ukraine almost 12 years ago. Today Control Pay has around 150 people of which 140 are located in Kyiv. The company controls and audits freight costs for large multinationals. 
For that, a unique system was set Ukraine. Thanks to the previous experiences with Ukraine, Kinds knew the country, its opportunities for business and for IT development. This is an abridged version of his interview given to Ukraine Today.
How did you deal with corruption in Ukraine?
To be honest, we did not see so much of it. We focus on the business and we worked with people, with companies. We found out that if you really do your own thing, corruption may be around, but can be overcome and becomes actually quite limited. We have not experienced much difficulties because of that.
One of the reasons why people went out on the streets in November 2013 was that people were fed up with very systemic and massive corruption. The businesses were affected by it as well.
We operate a bit different than the other companies, we do not work directly with Ukrainian companies or the Ukrainian producers or suppliers for that matter. We work for foreign customers, big multinational. They trust us with their business processes in Ukraine.
We feel comfortable in Ukraine because we did not experience corruption ourselves. However, maybe it has to do with the nature of our business. Generally, of course, we know that there has been a lot of corruption around, but it has not really affected us.
What were the main challenges which you had to face when you started your business in Ukraine?
I would say it is bringing the right set of people together. It really comes down to people and finding a balance in having a western culture in your company and to have the right local culture and to find the right mix which makes for a very interesting atmosphere in your company. You do not want to have completely local view on your business if you are a foreign business, but you want to have international atmosphere in the company, so it can be the main challenge in the beginning.
Watch the whole interview on Ukraine Today:
You have been through at least two revolutions in Ukraine. How does this political turmoil affect your business?
It did not affect us. I remember the revolution of 2004, part of our office was completely orange because many people were taking orange stickers and flags with them.
They were very enthusiastic, wanted to see change, wanted to actively participate in that. And to a certain extent we have seen it also now [in Euromaidan].
I would say, what happened two years ago was way worse than the first revolution, but it did not affect our business. However we did take a lot of measures to assure that we can continue our business if things would have turned worse.
Kinds explains that during Euromaidan he was prepared to evacuate his whole company to Poland or the Netherlands at any moment. Though, the company didn't take any stance about political views and activities of its employees. "I personally believe, that if people want to go to the streets for a case they feel very strong about, they should do it," Kinds emphasizes.
If you compare the people your employees who work in your company, Ukrainians and the people in the Netherlands, what are the qualities that Ukrainians have which differ them from work force in other countries?
I think Ukrainian people are very analytical, they are very motivated, have a strong willingness to learn and to grow. Basically you see a younger workforce in general, with a younger average age than you would see in the Netherlands, but it creates a very interesting atmosphere. Also in The Netherlands you would have more specialists in a certain area. Here people are maybe more generalistic, but at the same time the atmosphere is very different because of the age difference. But analytical skills are very strong here, mathematical skills as well.
Read also: #DUTCHINUA | The Netherlands can't refuse such a huge market as Ukraine – Dutch farmer 
Now that the Association Agreement has been signed and some of the provisions of this Association Agreement are coming from January 1, 2016. Is this a positive development for your business?
Yes. We are working with multinationals. It is very important for them to understand, where do their suppliers operate, within which legal framework. Obviously, if Ukraine joins the European framework, it will really benefit us, because people will see Kyiv as a more stable secure place.
It will give us more business and in general it will give Ukraine a lot more credibility as a partner. Ukraine will become a place where people can actually locate their business in a safe way.
In April the Netherlands are about to host a referendum, where the people will vote whether the Dutch citizens want the government of the Netherlands to ratify the Association Agreement.  What do you think about it?
I think it is unnecessary. I do not think it is contributing to a positive atmosphere about Ukraine. People who have created the referendum, who organized it, have used the power of social media to get where they are at this moment.
Most people in the Netherlands do not know Ukraine so well and they make advantage of that. They spread lies and misinformation on Ukraine just to get support to say "No" to Ukraine taking part in this treaty.
Will you vote?
Yes. Because as we have this referendum now, there is a choice, so I will definitely vote "Yes".
As the date of Dutch referendum about Association Agreement with Ukraine approaches, the question about its pros and contras becomes more and more pressing. That is why Euromaidan Press in cooperation with Ukraine Today launched the #DUTCHINUA project gathering the views and opinions of the Dutch businessmen and entrepreneurs who work in Ukraine. Read its most interesting findings: Size matters: why Dutch businessmen like Ukraine
Read also: Ukraine is like a dream for the Dutch farmers, says director of DIFCO International | #DUTCHINUA
Tags: Association Agreement, Dutch, Economy, Referendum, Ukraine