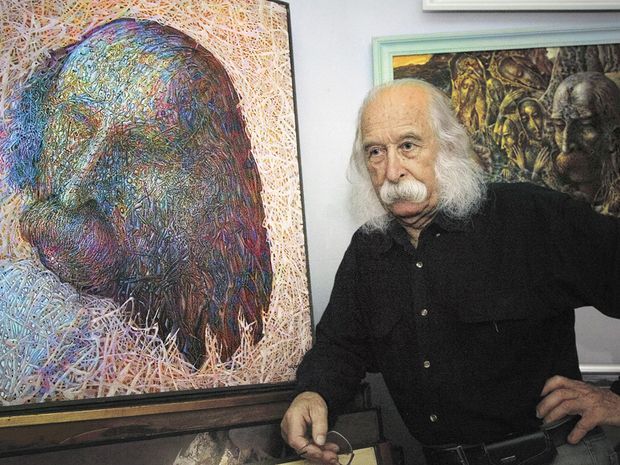 Ivan Marchuk was born in Moskalivka, a village in Ternopil Oblast in the family of a renowned weaver. In Soviet times, his paintings were under constant scrutiny by the KGB. In 1988, the National Union of Artists refused to officially recognize his work, but by then he had more than 15 exhibitions in different cities of the former USSR. In the late 1980s he emigrated to Australia, then travelled to Canada and the USA. But, he was always drawn back to his native land. Viktor Yushchenko, third President of Ukraine promised to build an eponymous museum on the Andriyivsky Uzviz in Kyiv, and even laid the foundation stone at the site of the future building. Unfortunately, it was just an empty promise… Ivan Marchuk, a renowned and brilliant Ukrainian artist, founder of a new art style "Pliontanism" (from the Ukrainian "pliontaty" – to weave, knit).
"Give me a thousand more years and I'll paint heaven."
Ivan Marchuk and his works are etched into the history of Ukrainian art. However, long bouts of depression and banned exhibits came before international recognition. Only his strong desire to dream and create saved Marchuk.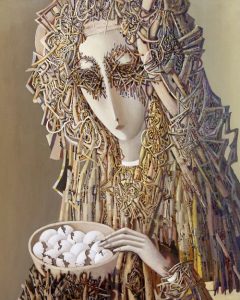 Ivan Marchuk recalls that he started drawing as a child. Adults in the family talked about him becoming a surgeon or a biologist, but the artist triumphed. The little boy took scraps of paper from his father's bag and crawled under the family house where he painted his first floral compositions.
 "When I was still a kid, I drew a Ukrainian flag. These long yellow peonies grew under our house. So, I rubbed the yellow colour of the flowers on the paper, got some blue somewhere… and there it was, my blue and yellow flag… and I was just a kid!"
Marchuk studied at the Faculty of Decorative Painting and Ceramics and at the Trush Institute of Applied Arts in Lviv. The artist explored world trends in fine art, basically avoiding socialist realism and fanatically searching for his own artistic way.
"I didn't want this, I didn't want that… I wanted this and that, but I didn't know how to get them."
Marchuk continued his artistic experiments despite being rejected by the Soviet system. He was never part of the official Soviet art scene. In 1988, he decided to seek peace in Australia, America and Canada. Only there did he realize that he could devote all his time to his work and stop "fighting windmills".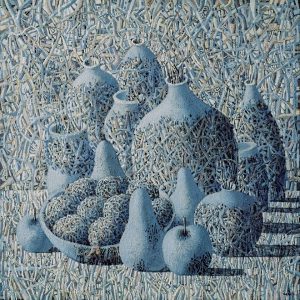 "In the Soviet times, I used to say: I want to want to work. I want to want! When I went to America and Australia, this ides vanished!"
"Heaven on earth" stretched into twelve years for the artist. However, the call of the Homeland and a thirst for sincere dialogue prompted Marchuk to return to Ukraine.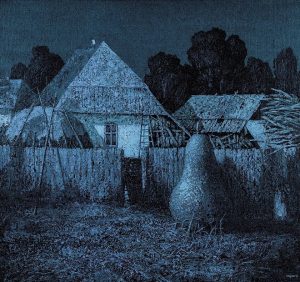 "I have to see beauty everywhere, and I want to recreate it. Nowhere in the world is there such a beautiful land as here." 
The artist works tirelessly to create his own pictorial style. He finds inspiration in the most ordinary things. He has created his own art technique, which he calls "Pliontanism". Instead of painting with the usual strokes, he traces and weaves amazing lace networks on his canvas.
"If you look at a painting from a distance, you'll see an ordinary landscape, but when you come a little closer, you notice that unusual threads are woven throughout the painting." says  Maksym Voloshyn, director of Mystetska Zbirka Art Gallery.
"When people ask me: "Where's this from?" "Where's that from?" I tell them I flew up into the air, penetrated the sky, saw a fantastic image, cut it into pieces so it would fit in my studio, and began to draw."
After years of intensive work, Ivan Marchuk admits that art is both a revelation and a lot of hard work. He dreams of resting and relaxing, but returns to his studio every morning.
In October 2007, Marchuk was included in Britain's list of "top living geniuses", drawn up by the Daily Telegraph. The International Academy of Modern Art in Rome admitted Ivan Marchuk to the Golden Guild and elected him Honourary Member of the Academy's Scientific Council (the Golden Guild includes 51 artists from around the world). In his native land, however, he has only heard promises about a museum, but he has not given up hope.
"There were times when people stood in front of a painting for half an hour. It's abstract, but it's done with the hands of a skilled jeweler. We sense a 3D effect." says Maksym Voloshyn.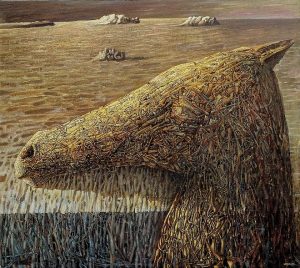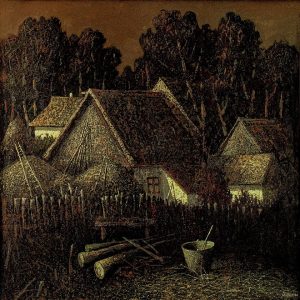 Marchuk rarely gives away his paintings as gifts and almost never sells them, which surprises art collectors who are willing to fork out hundreds of thousands. He confesses that he worries about them like a father worries over his children. However, he searches for inspiration every day, continues to paint and dream…
"Build a wall like the Wall of China, from Lviv to Kyiv. I studied there, but I'm here now and I'll paint here. I'll have to live a long time until it's finished."
Ivan Marchuk's last exhibit was held at Kyiv's Mystetsky Arsenal in January 2016.
Tags: Homeland, lacework, living genius, Ukraine