Denys Kazansky, journalist and blogger from Donetsk, believes that the recent kidnappings staged by Russian proxies were carried out in order to show the locals that the "DNR government" will not tolerate any opposition.
"The economic situation is very bad in the occupied territories. Miners and businessmen are at the end of their rope. They come out and protest. People are openly demanding their salaries. They understand they're being fooled. The recent arrests are an attempt to intimidate people. The militants want to prove that there are many Ukrainian saboteurs in the region. Anyone who disagrees with the "government" can be called a saboteur and thrown in a cellar."
Kazansky added that the attempt to blow up Lenin's statue in Donetsk could have been provoked by "DNR" groups in order to show that anyone could be labeled a saboteur.
"They began arresting people after the attempt to destroy Lenin's statue. The entire incident calls up many questions. There are many cameras on Lenin Square. The "DNR" police constantly patrol this area. It's very difficult to organize something quietly. It's hard to bring in explosives and lay them around the statue. I also don't see any reason to do this. If it were really our own subversive group, they'd prefer to lay explosives in and around the main administration building or a police car. It looks like provocation. The "DNR" proxies want to spread a rumour… that Ukrainian saboteurs are working actively in Donetsk. You know, for the first time there have been long strikes in the occupied territory. Makiyivka miners refused to go down into the mines. Their story hit the press. These Russian proxies immediately called the organizers of the strike Ukrainian provocateurs. Then, businessmen and private entrepreneurs organized mass rallies in Luhansk. Ukraine was blamed for everything… Ihor Kozlovsky's arrest is a mere terror tactic. They didn't handle Kozlovsky with kid gloves, so why should they go easy on others?"
(Ihor Kozlovsky, President of the Centre for Religious Studies and International Spiritual Relations, is well-known in Donetsk.  He remained in the city to care for his son who is paralyzed. Relatives and friends report that the militants burst into his flat and took Kozlovsky away, without giving any explanation.  They left his son without any care, and relatives were only allowed access to him the following day.  The militants also removed computer equipment, documents and a collection of antiques. They then announced Kozlovsky had been arrested for subversive messages posted on FB).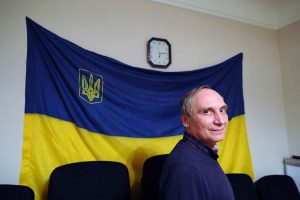 Kazansky believes the "DNR" proxies want to blackmail Ukraine's leaders to make them work more quickly to adopt changes to the constitution. They've "take hostages and now dictate their own terms and conditions".
According to Enrique Menendez, member of the volunteer group Vidpovidalni Hromadiany (Responsible Citizens), Maryna Cherenkova, leader of the organization, was arrested at home in Donetsk on January 30. She was detained by representatives of the so-called "Ministry of State Security of the self-proclaimed Donetsk people's Republic".