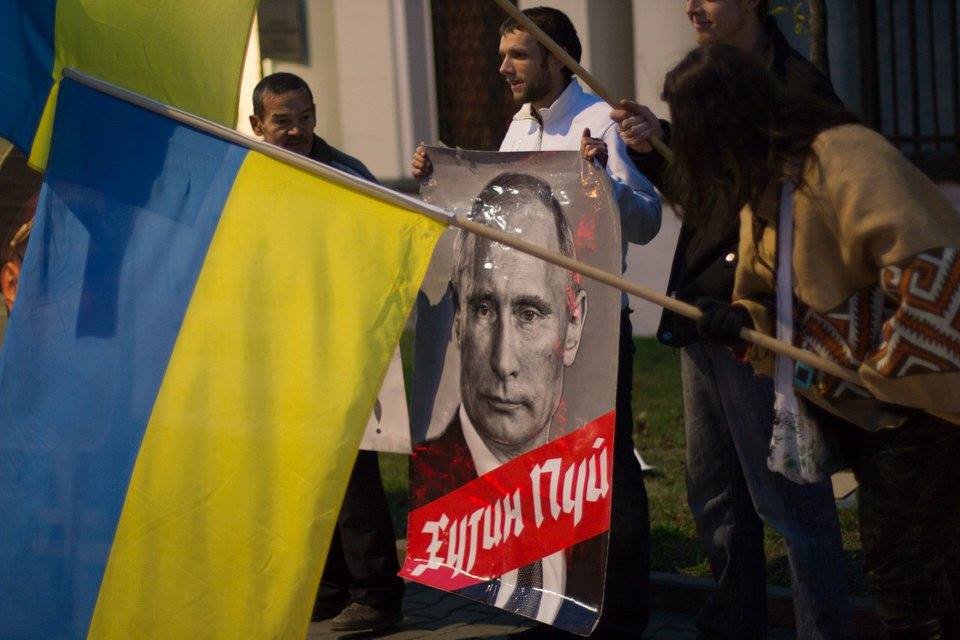 Activists of Euromaidan Warszawa hold a poster saying "Hutin Pui". October 2015 at the Embassy of Russia in Warsaw. Photo by Euromaidan Warszawa 
Ukrainian activists in Warsaw may be facing up to 3 years in jail for a public offence of Vladimir Putin. Their fate is now being decided in Russia
Posters portraying Putler – a combination of Vladimir Putin and Adolf Hitler combined, labeling Putin's portrait with barely concealed swear words, accusing the Russian president in terrorism as well as public speeches stating he was guilty in downing the Malaysian Boeing flight MH17 and persecuting political opponents – all this served as a reason for a pro-Kremlin Polish party Zmiana to submit a request to the prosecutor's office.
The Polish law allows prosecution for public demonstration of disrespect towards the head of another country (article 136 of the Criminal Codex). This article foresees even up to 3 years in jail though it does not contain a clear definition of "disrespect". Helsinki Foundation for Human rights considers this law as threatening the freedom of speech.
In spring of 2015, Zmiana submitted a similar request regarding the Open Dialog Foundation, an active Polish pro-Ukrainian organization. The request was then denied and investigation wasn't started. So almost a year later the party took up to Euromaidan Warszawa.
"Pro-Kremlin party won't stop us," – Euromaidan Warszawa
Ironically enough, the fate of Ukrainian activists is now being decided in Russia. The Polish prosecutor has requested the Russian side to check whether offense against Russian law had taken place. If not, Poland will close the investigation, but the leader of Euromaidan Warszawa is skeptical about such a scenario.
"We've been active for over two years now, and our rhetoric has been sharp, just as the events in Ukraine demanded. We've had performances such as putting Mistrals onto bloody waters, bringing a coffin and a bloody cake to the Russian Embassy on Putin's birthday, even sending him his last presents by post," Natalia Panchenko, the Head of Euromaidan Warszawa explains.
Along with fellow activists she's been a target of troll attacks, threats, and even a homemade bomb explosion hidden in the trashcan of the Ukrainian diaspora center in Warsaw. Now, Natalia is sure, Russia won't lose the chance to spite Ukrainians. The activists are ready to defend themselves in court and say they won't stop campaigning against Putin's crimes.
"They want to intimidate us, but it won't work. Each of us knows the risks of such protests. We will keep calling Putin "terrorist" until he gets out of our country. Even if some of us is convicted, more people will go on the streets," says Panchenko.
"We stand for improvement of Polish-Russian relations" – Zmiana party
Zmiana party assures that it is defending the interests of Poland. According to them, activities of Euromaidan Warszawa cause a  deterioration of relations between Warsaw and Moscow.
"… we stand for a significant improvement of Polish-Russian relations, but actions of neo-Banderovite organizations financed by foreign oligarchs cause very bad influence upon realization of that postulate," the party wrote on its public profile in Facebook of 15 January after receiving a notice from the prosecutor's office regarding beginning of investigation.
Zmiana claims that the position of Ukrainians does not represent the views of the Polish society. "We do not agree that part of Ukrainians that identifies itself with post-Maidan authorities can commit such excesses on our territory making a false impression as if they were representing opinion of the Poles."
Since the beginning of the conflict in Ukraine, Zmiana leaders have been often commenting at the pro-Kremlin media that the protests on Kyiv Maidan were steered and financed from outside the country, and the power was taken by the neofascists.
Party leader Mateusz Piskorski went to the fake elections on the Donbas in November of 2014 and met the "DNR" chief Oleksandr Zakharchenko. During the Crimean "referendum" in March of 2014 was an "international observer" reporting to the Russian TASS that the voting was "calm and without issues."
Bartosz Beker, the party vice president, is the ex-leader of a nationalist radical brigade Oboz Narodowo-Radykalny which is now called Falanga and is known as the brightest neo-fascist groups in Poland. Beker openly approves of Russian-backed separatists in Donbas separatists and the Syrian regime.
One of the "DNR" leaders Oleksandr Kofman was invited to Zmiana's founding congress last February, but he was denied entrance to Poland.
Tags: Activists, International, Maidan, News, prison, Putin, Russia