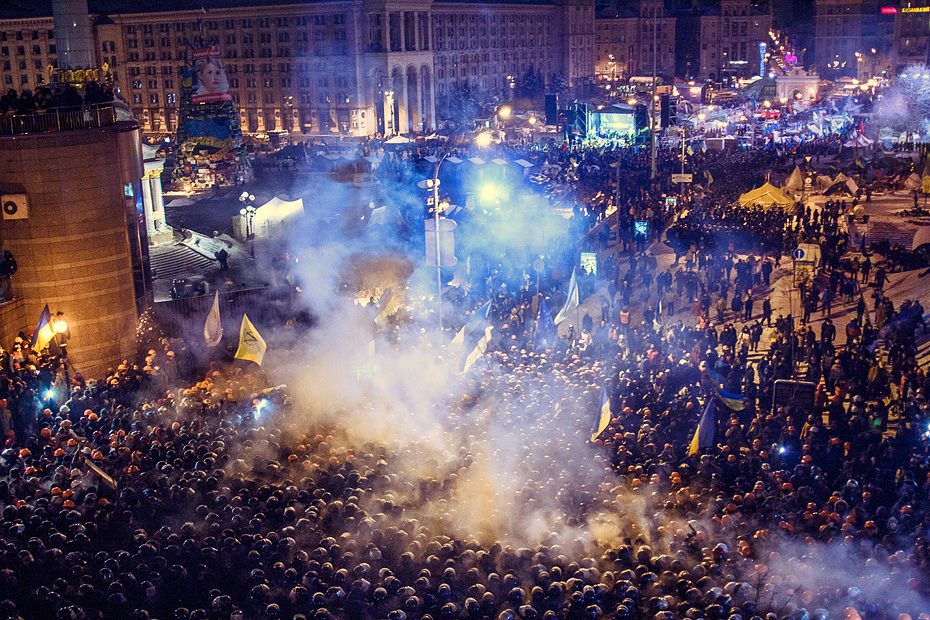 The attempted clearing of Maidan on November 11, 2013. Photo: Yevgen Nikiforov 
Tonight, December 10-11, marks the second anniversary of the attempted nighttime clearing of Maidan by Yanukovych's Berkut forces. Two years ago tonight the bells of St. Michael's Monastery called Kyiv's residents to the city center to defend their Maidan. That night, the call to arms didn't come from political leaders. It came from the people. And thousands responded.
A group of activists commemorated that event on the square in front of St. Michael's tonight – the night Kyivans proved that they were Citizens, not merely residents of their city.
But after the solemn commemoration, attention shifted back to Ukraine's political theatre; to the personalized circus seemingly designed to distract attention away from fundamental issues. Will Yatseniuk survive as PM? Who should replace him? Which oligarch's interests are served by such decisions? Will the corrupt MP O. Martynenko actually resign? Who will boisterous MP V. Parasyuk punch or kick next? Should Prosecutor General Shokin be fired?… Sadly, these are the questions that fill political discourse – both on TV and in social media. Clearly, a receptive electorate prefers discussing individual celebrities over actually thinking about the issues of the day. This is a sad fact, and it means as a society, we've regressed back to the pre-Maidan condition when commentators would discuss "interests" rather than ideas, "leaders" rather than policies.
Maidan had no leaders. The crowds were led by a charismatic idea, not a charismatic leader. When any one individual tried to grab the reigns (e.g. Yatseniuk, Tyahnybok, Klitschko, Lutsenko, Poroshenko) his level of success was comparable to that of a shepherd herding cats. The crowd (the cats) had a collective voice, and the multiple squares across the country (with their virtual extensions in Facebook) were places where that voice formed, consolidated, and was expressed. The resultant chorus was not only effective, it was electrifying, and intellectually stimulating. Without leaders/celebrities to talk about, the people discussed ideas: "Yanukovych has to go, but what then?" was a question that was not only legitimate, but popular!
I lament, that we regressed… Now (and for the past 20 months) the top story is Putin – not Russia's policies; not Ukraine's response; certainly not the vision of the country we are building. The discussion focusses on Putin's persona, his motives, his next likely moves, our and others' leaders' possible responses.
Behind the scenes however, the paradigm of the charismatic idea (in contrast to the charismatic leader) has again shown its effectiveness. Since late November, several hundred brave (and largely nameless) Crimean Tatars have amplified Crimeans' understanding of their dependency on Ukrainian electricity – a message delivered in the best traditions of Maidan: with effect, but without a "leader" gaining political capital in the process. Putin travelled to Kerch to install an "energy bridge", but it didn't work. Sevastopol remains dark.
Leaderless (and effective!) charisma is the antithesis of the (momentary) personality cult. It was the core of direct action on Maidan, but gradually, and perhaps (ironically) with western help, we have sunk back into "political normality". This week Ukrainian journalists and politicians tripped over themselves to get a photo op with visiting US Vice President Joe Biden. Granted, he gave a great speech in Parliament, but what of it? His message to Ukraine's political class was "seize the day!" Apparently, according to the US Number 2, if Ukraine's leaders "act", they will be remembered as "Founders." In case you missed the ego stroking, he added – seemingly enviously: "what an opportunity, and what a responsibility!"
What scares me, is that several of Ukraine's politicians seem willing to take the US VP's message literally. The week before Biden's visit, President Poroshenko experienced a Freudian slip when, during a speech "thanking" Ukraine's volunteers for their massive role in supplying the war effort in the Donbas, he said something to the effect of "we would have won anyway, but thank you." Poroshenko later apologized (the Administration's speed of the reaction to the uproar on Facebook was impressive), but the remark clearly demonstrates the President's state of mind: He sees himself as the leader who brought victory! The fact that "victory" (however one defines the term) is still a very distant prospect (Crimea remains 'de facto' Russian), and that the Kremlin's obvious failure to craft "Novorosiya" in Ukraine's east and south had very little to do with Pororshenko's leadership abilities, but rather was caused by grassroots defenders, is not relevant to the President's narrative.
Late last August, during the lead up to the first vote in Parliament on the amendments to Ukraine's Constitution that were mandated by the Minsk Accords, I was part of a delegation of Maidan activists invited to the Presidential Administration to explain to Poroshenko personally, why we opposed having the Constitution dictated to Ukraine from afar. I remember two clear impressions from that event:
Although we commended President Poroshenko for having invited us (he was not obliged to), he clearly was not interested in hearing any opinions other than his own. When pressed to explain his position, Poroshenko stated outright: "Someday you will all realize that I am the best President Ukraine has ever had, and the best of all possible Presidents for the present day" (my translation, but this is a direct quote). I hesitate to paraphrase the classic idiom "power corrupts", but at the time I had no doubt that "high office swells heads." Given the personal qualities one must possess to compete for the Presidency of any country, it is perhaps idealistic to expect humility from a person like Poroshenko. On the other hand, we should not be surprised that as Commander-in-Chief of an army that stopped Russia's invasion of Ukraine, he sees himself as a "victorious Generalissimo."
At the end of the 3 hour meeting, when it had become clear that our two sides were destined to agree to disagree, I suggested to Poroshenko that he initiate a referendum on the Constitutional amendments. After all, I argued, a nation's basic law is simply too important to be adopted by the political elite without the support of the electorate. But my suggestion was dismissed outright. Implicitly, the message from Poroshenko was: "I was elected to govern, and I will govern according to what I believe to be the interests of Ukraine. If others disagree, we have free speech, but decisions will be taken." Clearly, in this paradigm, the distance between governance and authoritarianism becomes short indeed.
According to rumors circulating in Kyiv, one of the fears expressed by Biden during his visit (and a concern voiced by several US-based policy advisors) involves a risk of return to authoritarianism for Ukraine under Poroshenko. These rumors have gained particular salience during the past month because discussions of who should succeed Yatseniuk as Prime Minister have gained significant traction. The current Prime Minister has been accused of corruption, and his approval rating in public opinion polls has fallen below 3%. Behind the scenes, the personal friction between Yatseniuk and Poroshenko is no longer a secret, and according to government insiders, the animosity is becoming difficult to manage. In this situation, a change of personalities may well be in order, but the question arises: replace Yatseniuk with whom? Apparently many fear an appointment from Poroshenko's faction precisely because executive power would become overly consolidated. Odesa governor and former Georgian President M. Saakashvili is often mentioned as an alternative, but his authoritarian tendencies are well documented, and so magnify the Americans' fears. Under these conditions, keeping Yatseniuk as a balance to Generalissimo Poroshenko, may not be as illogical as would seem at first glance.
But the problem is not Poroshenko. Nor is the problem Yatseniuk. Nor is it Parasyuk, Kononenko, Martyniuk, Saakashvili, Shokin, or any other persona. The problem is the system – a system that is overly dependent on the personal qualities (honesty, charisma, effectiveness, leadership) of the office holder. Today, Parliament adopted a new Law on the Civil Service – a key reform that may actually change the system. That is to be welcomed. In principle, the anti-corruption measures (Anti-Corruption Prosecutor, Anti-Corruption Bureau, etc.) are also positive signs of systemic change. But they are based on a "catch the bad guy" and "keep 'em honest" paradigm. What about building positive institutions? What about building the new Ukraine that we all froze for (and many died for) on Maidan? What about having politicians who actually listen to the people, and who govern expressly and concretely within their mandate? If this bunch can't do it, maybe it's time to adopt the model of the US Congress, and hold elections every two years? Maybe it's time to make judges accountable to the people by electing them? Maybe it's time to think and talk about alternatives, rather than relying on the politicians to build the country for us…
This kind of institution-building requires an ideal – a principle that is never attained, but striving towards its fulfilment is inherently seen by its adherents as a moral pursuit. The ideal of the protesters on Maidan was "dignity" – a concept that involves self-reliance, collective recognition of the value of the other, and most importantly, freedom. This week Mr. Biden's speechwriters captured the task facing Ukraine brilliantly: At the same time as fighting corruption, and in tandem with defending itself from Moscow's aggression, this country MUST create an environment for self-actualization, and freedom. The world is watching! If we fail, the world will have lost…
But as I listened to the US Vice President's speech, I could not help wondering, whether it was possible for the individuals in his audience on December 8th, those same people who during the past 2 years had distanced themselves (mentally in the first instance) from their own electorate, and who had convinced themselves of their own exceptionalism, whether it was possible for these people to create institutions that would ensure an environment of dignity in Ukraine. I hope and pray that I'm wrong, but I doubt it. Until such time as Ukraine's politicians begin to listen to their own people, the revolution will continue…
God help us!
Mychailo Wynnyckyj PhD
Kyiv-Mohyla Academy
Tags: Op-ed