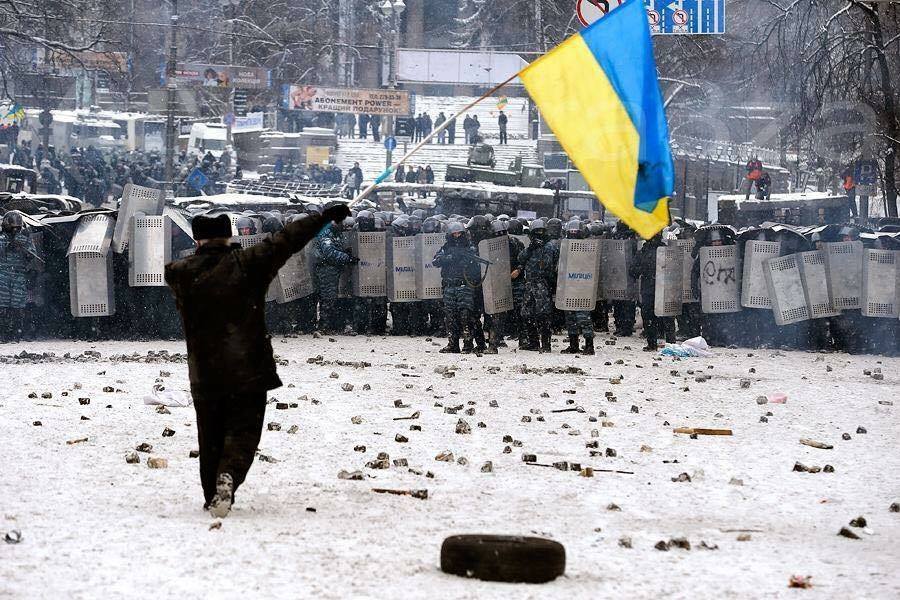 The 8th Front Line Defenders Dublin Platform gathered more than 118 human rights defenders on 4-6 November. Oleksandra Matviychuk, coordinator of the
EuromaidanSOS
initiative, told about the challenges that Ukraine's human rights defenders face to colleagues all over the world.
I represent the civil initiative Euromaidan SOS that was created in response to the brutal actions of Ukrainian authorities during the dispersal of a peaceful student protest in November of 2013. Back then we united to provide free legal aid to the injured students. We never envisioned that soon we would be dealing with hundreds and hundreds of people from all over Ukraine that were arrested, beaten, subjected to tortures, accused of trumped-up criminal cases, as well as with relatives of missing and killed protesters. Helping them all became possible thanks to thousands of ordinary people and several hundreds of lawyers who joined our initiative, working around the clock for all these months.
18-20 February 2014 was when we were forced to cardinally change our methods. During those days our hotlines were overloaded with messages about unarmed protesters that were being shot on Maidan, the central square of our capital. Our volunteers went to churches, mortuaries, and other places where dead people were brought to. We wanted to write down the names of those who were killed by Victor Yanukovych's regime, as we didn't know what would happen to ourselves tomorrow. So we reoriented ourselves to document crimes and we continue to be engaged in this activity after the victory of the Revolution of Dignity. In order to stop democratic transformations in Ukraine, Russia occupied the Crimea and unleashed a hybrid war in the Donbas after the collapse of Yanukovych's authoritarian regime. Officially, more than 8 000 people were killed, 7 000 of whom were peaceful civilians, tens of thousands got wounded, and about two million were forced to leave their homes.
Murders, abductions, tortures, sexual violence, use of the population as a "living shields," politically motivated prosecutions in occupied territories – all of this became our daily reality. In parallel to this, we have to fight to implement reforms in the sphere of police, courts and prosecutor's offices, so that no authorities in Ukraine would think about shooting unarmed protesters.
In this regard, I would like to share several lessons that we learned from those events.
In many countries of the world, human rights activists don't work in the sphere of human rights protection. Human rights activists fight every day for human rights. Often it seems almost hopeless. However, we should do our work honestly. The results of our efforts can show unexpectedly.
When people make the authorities finally recognize human rights and freedoms, often in practice it means only one thing. Only civil society needs freedom of association, the right to a fair trial, civil society oversight of police, not the authorities. Thereby, human rights activists simply won new tasks for themselves.
Destiny never sends us difficulties we can't overcome. We don't choose time when we will come into this world, the country that we are born in. But we always have a choice – to be decent people or scoundrels.
Thank you.
Oleksandra Matviychuk is the coordinator of the Euromaidan SOS initiative
Tags: EuroMaidan, Human rights, Op-ed