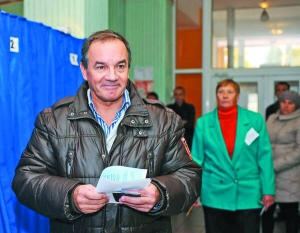 Michel Tereshchenko, 61, will become the new mayor of  Hlukhiv, Sumy Oblast, after receiving more than 65% of the votes in Ukraine's local elections on October 25. He is a descendant of the famed Tereshchenko dynasty of industrialists and philanthropists, who made their fortune in sugar production. He was born in Paris, France, and holds a graduate degree in economics and business from the ESSEC business school. He visited Ukraine for the first time in 1994. Nine years later, he moved to Ukraine, where his company, Linen of Desna, cultivates flax and non-narcotic hemp and manufactures ecologically clean insulation and other materials for global markets. Ironically, the crops are grown in the Sumy, Chernihiv and Zhytomy oblasts, where the sugar beet fields and sugar refineries of the Tereshchenko family used to be located long ago. On March 21, 2015, Michel Tereshchenko obtained Ukrainian citizenship from President Poroshenko. Several months ago he began to study Ukrainian with a tutor. 
Two ice cream vendors in Hlukhiv show the way to the Institute of Fiber Crops in the center of the city. It is housed in a yellow two-story building, one of 10 structures erected in the city by the Tereshchenko family in the middle of the 19th century. The family lived here for more than 50 years. The office rented by Michel Tereshchenko is on the first floor.
"Come in, come in!" Michel invites us into his office, after seeing us through the open door.
He asks us to sit down and offers coffee. Above his desk hangs a landscape with a field — the work of his daughter Isabel…
Michel Tereshchenko can spare half an hour for conversation before his 5 pm meeting. "Right now time is tight since I'm running for the post of mayor of Hlukhiv," he explains in accented Russian." Tomorrow I'll be able to talk with you even as early as 7:00 in the morning.
The following day we ask him to show us the tomb of his ancestors in the cathedral of the Three Anastasias.
"We'll have to ask permission of father Heorhiy. He always appeals to us not to discuss politics in the church," Michel says.
– What are the attitudes among the Hlukhiv residents?
"People in Hlukhiv are patriotic. On Independence Day they carried a 50-meter Ukrainian flag through the streets. Therefore, I don't want the city to be the last one in Ukraine to remove (the statue of) Lenin. And such a risk exists. We are 10 kilometers from the Russian border. If we carry out decommunization, if investors come here, they will know about it on the other side of the border. And this will be a big problem for Russia.
– You have spent 12 years in Ukraine. How has the country changed during that time?
"Reforms are taking place throughout Ukraine, except for Hlukhiv. The corruption that existed before has remained. Many people have been mobilized; the front is nearby. Earlier, many Hlukhiv residents used to leave to work in Russia. Now the border is closed. Many of our companies used to work with Russia, but no longer now. People have lost jobs. If there are no reforms, people will lose hope. We cannot allow this to happen as long as there is such good potential."
– What is it?
"Ukraine is located in the center of Europe. There are good markets all around. There are ideal climatic conditions here. Why is there still no economic miracle in Ukraine? It will come! A hundred percent. For a French entrepreneur it is much better to work in Ukraine than to build a plant in Morocco or Vietnam. There is no big cultural difference. But right now foreigners will not come here. Partly because of the war. But even more so because of the corruption.
Hlukhiv is a small city. But it is very educated. The idea and project of the Ukrainian state was born here. But for the past 100 years the lives of the people here have been terrible."
– How did you dare to move from France to Ukraine?
"This building is the former residence of my family. The sugar industry in Ukraine began here 150 years ago. When I first came here the Institute of Fiber Crops was housed here: 135 scientists. But after the collapse of the Soviet Union, a flax field remained in Belarus, a hemp field in Russia, and the institute in Ukraine. For 20 years they worked on developing non-narcotic hemp and in 1995 they were successful. But nobody was interested in it any more. In 2002 I was asked to promote the results of these studies on the French markets. The following year an agreement was signed: the French purchased Ukrainian technology and paid royalties to the institute — modest ones, USD $30,000 – $40,000 a year. But this was enough to save the institute. Then we formed an enterprise here. Now it's my job."
The following day at 7:45 am we meet in the office again. We drink green tea as we examine furniture components made with 40% flax, waterproof boots manufactured with hemp and plastic, and car trunk parts.
On the table is an election newspaper published by Michel's election opponents that is opened to a page with the headline "Why does a Frenchman want to become mayor of Hlukhiv?" The unknown author tries to prove that the descendant of the sugar manufacturers and philanthropists supposedly wants to regain former estates.
"We cannot find out who is publishing this newspaper," says the secretary working at a computer by the window. "These are all false names."
Michel shows up at 8:00 am in a wide grey coat with a portfolio under his arm. He pours some coffee and sits across from us.
"How did you spend the night?" he asks. "The Europa Hotel is a little noisy. We will need to start with the hotels in order to attract tourists to Hlukhiv."
– Where do you live in Hlukhiv?
"Not far from my factory. In the evening I can hear it working. Then I can fall asleep peacefully. I bought the house three years ago at the same time as the factory. It's a small house on the lake. Five or six neighborhood cats come regularly and I feed them."
– When did you first cross the threshold of the family home, where we are now?
"On May 31, 2002. Before that time I came to Kyiv twice with my father — in 1994 and 1998. My father was supposed to come here. I had just gotten divorced and was busy selling my business in France. But my father became very ill. He convinced me to come.
During meetings (with local people) one woman near the Cathedral of Three Anastasias gave me a towel. Her grandmother had been a seamstress. In 1915 my great grandmother Elyzaveta Tereshchenko ordered 50 towels from her. When she delivered the order, it turned out that one towel had a cigarette burn. The seamstress promised to make a new one and to deliver it the next time Elyzaveta came to Hlukhiv.
Then there was the revolution and war. Elyzaveta never returned to the city. Before her death in 1960, the seamstress gave the towel to her granddaughter and asked her to give it to Tereshchenko descendants if they ever came to Hlukhiv. I keep this linen towel at home in Kyiv.
In Hlukhiv people said that after 1918 the sarcophagus of great-great-grandfather Nicolas (his parents gave him the French name because they could not legally register the Ukrainian name "Mykola" in the Russian empire — Ed.) in the Cathedral of Three Anastasias had been opened by thieves. The remains of my ancestors are still under the slabs in the lower section of the cathedral.
I felt at home here — a son who has returned from distant travels. I began to travel between France and Ukraine.
In September 2003 I was urgently summoned to Hlukhiv from Kyiv. The remains of the Tereshchenkos were being exhumed. The following day I was in the lower section of the cathedral. People had moved 6-8 slabs, so that one person could enter. They gave me special clothing, a flashlight and I descended the small wooden steps. They told me it was my job to open the sarcophagus and tell them what was inside. When I tried to open it, the handle remained in my hands. Then I pressed on the lid and the sarcophagus opened. I saw the preserved body of Nicolas Artemiyovych. At that time he had been in the sarcophagus for 100 years. Everything was intact: skin on the bones, hair, beard. It was not frightening to look at him, even strangely very pleasant. He appeared to be smiling.
Many people said this was a sign that my great-great-grandfather was a holy man. Priests say that miracles must take place by his grave to prove that. But I think that many miracles have already occurred.
People say that during the war a bomb hit the cathedral but did not explode.
In 1943 a 300 kg Russian bomb went through the central dome of the cathedral but did not explode. If it had exploded there would have been no cathedral or tomb left. During the war the entire historic center of Hlukhiv was damaged. But 10 buildings that had been erected by my ancestors survived.
I don't know if my great-great-grandfather was a holy man. But after meeting him I began a new life. I understood I had no other choice.
– Were you told of the family past as a child?
After he emigrated, grandfather Mykhailo Tereshchenko forbade the family to speak Russian. My father told me that this rule was broken only once, in 1928, when he was 9. He was walking with my grandfather on the Champs-Élysées in Paris. They met a man "as big as a bear." Grandfather spoke Russian with him. The man was Feodor Chaliapin (Russian opera singer — Ed.).
Grandfather died when I was 2. I don't remember him. Grandmother said that our family was once wealthy, owned collections of paintings, buildings and a precious gem. My father called grandmother's stories "the fantasies of an old woman."
I expected that at least 10 percent of her stories were true. When I arrived in Ukraine I understood that she had told me only 10 percent of the truth."
– Your grandmother saved your grandfather from the firing squad in Russia with the help of a precious diamond.
It's the 43-carat blue diamond, the second largest one in the world. My grandfather gave it to my grandmother after the birth of their first son, Ivan, in August 1914. When the Bolsheviks arrested grandfather, who was then a minister in the Provisional Government of Russia, and imprisoned him in the Petrograd Prison, grandmother did everything to free him. Many ministers had already been executed. My grandfather's turn was approaching. Lenin did not want to free him at any price because he had documents that Lenin was a spy and an agent of Germany. With the help of a French journalist, grandmother succeeded in arranging a personal meeting with Lenin in Petrograd. Lenin and Trotsky sat at one side of the table and on the other side were grandmother and this journalist. Grandmother offered the diamond as ransom to free her husband. Lenin refused outright, but Trotsky listened and pondered. Then, keeping it secret from Lenin, he agreed to organize grandfather's escape. The following day, two sailors came for my grandfather. He thought he was going to be shot. He was taken out of the fortress and given his suitcase with his clothes — the same minister's suit that he wore when arrested. They put him in the boxcar of a train going to Murmansk. When grandfather pulled up his jacket he was surprised to see that a gold-plated cigarette case remained with one cigarette.
This was in February 1918. From Murmansk grandfather was able to cross to Finland and then to Norway and finally to France. There he had to begin everything from scratch.
In 1931 the largest Austrian bank, the Credit-Anstalt, went bankrupt. In seven years grandfather was able to recover 99.5 percent of its wealth. When Hitler began to threaten Austria in 1938, grandfather succeeded in transferring all the bank's funds to an offshore bank in Monaco a few weeks before the invasion. Hitler considered him his personal enemy.
I am very proud that Lenin and Hitler wanted to kill grandfather, but they failed."
– Your grandfather has been called the first Ukrainian oligarch. Can he be compare to today's oligarchs?
There is a big difference between someone who earns a good income through his own work and is able to reinvest 80 percent of it to improve life in his country and the people who transfer all of their money to accounts in Switzerland, Luxembourg or Andorra. They come here only to collect their revenues. Secondly, the Tereshchenkos had not amassed wealth through privatization and company seizures. They had built their business from nothing."
Michel invites us to tour the building. We go out into the lobby.
"My great-great-grandfather Artemiy constructed this building in 1855. This was the first iron staircase in Ukraine."
He points to a cast iron head of a lion under the stairs.
"You will soon understand why the lion is the emblem of our family."
He goes up to the second floor. In the hallway hangs a portrait of Artemiy Tereshchenko, a man with a high forehead, fluffy hair, sideburns.
"You see he resembles a lion like two drops of water. He was 21 when he went to France in 1815 together with other Cossacks from Chernihiv. In the town of Beauvoais, some 85 kilometers from Paris, he observed how the French cultivated sugar beets. A year later he returned to Ukraine. His dream was to produce sugar. He was a chumak (salt trader — Ed.) who brought fish and salt from the Black Sea. In 1855 he was able to build this house and the first sugar factory 30 kilometers from Hlukhiv. When he was 76 he had three factories. He asked his three sons to give away 80 percent of their profits every year to charity."
On the second floor of the house was the Tereshchenko family chapel. Now the office of the Director of Fiber Crops is located here. We enter a large room with a high ceiling and arched windows.
"Great-great-grandfather Nicolas prayed daily at 4:00 am at the tomb of his parents," Michel continues. "But since he directed 30 sugar factories, a crowd of people waited for him by his house every morning, with questions or requests. To be able to get to the tomb easily he constructed a 250-meter underground tunnel from the house to the Cathedral of Three Anastasias. When the family left, the tunnel was closed. It was unearthed during the construction of the water tower in 1927."
On the wall of the office is a large map of Hlukhiv.
"The Russians always thought that Hlukhiv is practically Russia. But it is here that the project of the Ukrainian state was born. Here four hetmans of Ukraine were crowned — Apostol, Polubotok, Rozumovskyi and Skoropadsky."
Michel exits through the main entrance of the building. It was opened especially for us. Normally, he uses another entrance. We cross the vul. Tereshchenko and make our way to the church, where the ancestors of Michel Tereshchenko are buried.
– Do your children have any desire to move to Ukraine?
"They are interested in Ukraine. They understand their roots are here. If they have a calling, as did I, they will move."
We stop before the tall white church. The metallic gate has been corroded. The plaster on the church is crumbling in spots.
"The church is in disrepair," Tereshchenko says as he gets his mobile phone out of his pocket. "I need to call Father Heorhiy to ask permission to enter."
At this point Father Heorhiy, a man of about 60, in glasses and civil clothes — slacks and shirt — comes out of the building. He is carrying a portfolio. He hurriedly shakes Tereshchenko's hand and nods: it's possible to see the church.
Michel crosses himself and raises his head to the dome.
"The church is very similar to the St. Volodymyr's Cathedral, he says. "But the style is more rustic. There is much green here, whereas St. Volodymyr's is bronze and gold."
We descend to the tomb area, using the staircase in the right wing. Michel turns on the lights. It is cool here. During winter, mass is said in the lower part of the cathedral.
"Artemiy and Yefrosynia were buried in the center. Nicolas and Pelaliya on the right; Fedir on the left. In 1918 the tomb was destroyed. Thieves opened the grave. Before his death, one of them wrote a letter asking for forgiveness and described that when he opened the sarcophagus of Nicolas he thought the person there was still alive, became frightened and ran away. So far, the remains of my ancestors lie under the floor. We don't know exactly where."
Upon leaving the church we meet a parishioner.
"We have a very beautiful cathedral," she says. "But it needs repairs. Well, there is no money. Today we had prayer service. There were five people. You can't collect much from them. All the best to you," she says as she shakes Michel's hand. "We support you."
Michel Tereshchenko suggest we climb the water tower to see the Hlukhiv panorama. It is windy. The observation deck is surrounded by a wire mesh fence the height of a person.
"I live over there on the shore of the Pavlov Lake," Michel points west. "To the north are the historical streets of the city. Slightly to the east is a green strip that stretches to the horizon. That is already Russia. The border is not protected at all. It is 495 kilometers long in the Sumy Oblast. No one controls it. But there is risk of aggression and the opening of a second front here."
We go down the dark staircase. Tereshchenko turns on the phone and lights our way.
– What do you find difficult to accept in the Ukrainian mentality.
"The excessive geniality. The difference between Europe and non Europe is the knowledge of how to defend one's rights. I hope that the Ukrainian mentality has changed after Maidan. And that Ukrainians will no longer agree to any directive that comes from above. If the right to live happily is being taken away from us, it is necessary to fight.
Photos: Serhiy Starostenko
Tags: Featured, Hlukhiv, Tereshchenko, Ukrainian economy