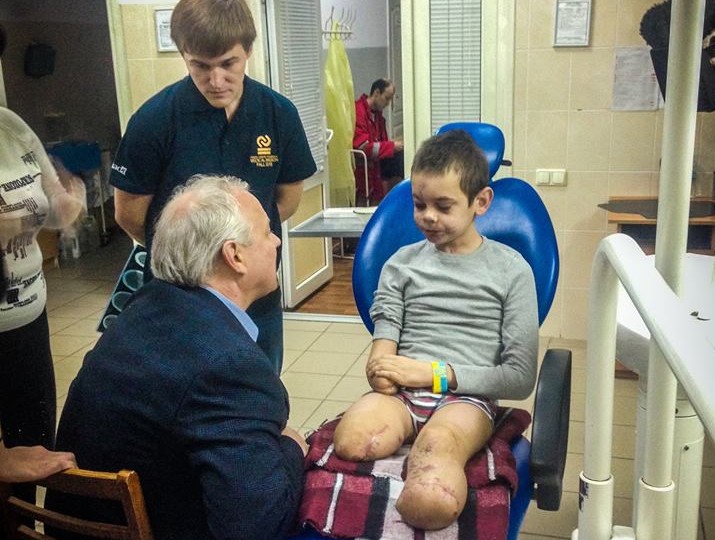 Photo: Adriana Luhovy 
On 27 October 2015, doctors from the third Canadian medical mission to Ukraine made a reconstructive operation on Mykola, a young boy that was maimed in the war in Ukraine. The Canadian team of medical professionals worked together with their Ukrainian colleagues to reconstruct his craniofacial defects. However, Mykola has many more steps to his recovery ahead of him, and the Canada Ukraine Foundation Medical Mission is looking forward to finding counterparts to try find Mykola all of the help he needs.
The 11-yea-old boy from Mariupol was playing with an undetonated radio-propelled grenade with his friends in August, not realizing what it is.
"The unthinkable happened… the RPG exploded and Mykola's 4 year old brother died on the spot. Mykola was airlifted to Zaporizhzhia for medical attention where they were able to save his life. This horrible nightmare has left him as a triple amputee. Both legs and his right arm have been amputated,"
wrote the Canada Ukraine Foundation on their facebook page.
Mariupol is a frontline city in South-Eastern Ukraine that is constantly under threat of an invasion by Russian-separatist hybrid forces.
Read more: Russia kills civilians in Mariupol, demands peace
Today the Canada Ukraine Foundation was honoured to be able to help one of the youngest, most innocent victims of war that we have encountered to date.
The Canada Ukraine Foundation Medical Mission is an ongoing project where Canadian doctors and surgeons come to do free complex reconstructive surgeries for those affected by war in Ukraine. Currently, a team of more than 20 Canadian professionals is in Ukraine, operating in the military hospital in Kyiv. The are performing reconstructive surgeries on Ukrainians injured in the war in Donbas completely free of charge.
Read more: Third Canadian medical mission will provide free plastic surgeries to injured Ukrainians
If you would like further information about how you can donate to Mykola's care please visit www.cufoundation.ca/donate.
Photos by Adriana Luhovy
Tags: Canada, Donbas war (2014-present), Mariupol, Medics