Russia is pushing its preparations to create a prerequisite for an invasion of the Baltic states.
On June 11, Russian hackers posted an announcement on the site of the Lithuanian Ministry of Defense: The ongoing NATO exercise Saber Strike is preparing the annexation of Kaliningrad. This fake was widely spread in Russian propaganda media (for example LifeNews or Sputnik) and surely is believed by the Russian public.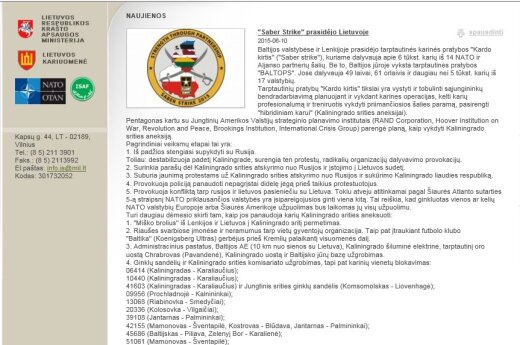 The Pew Research Center study on NATO published yesterday found that Russians are clear in their beliefs: Russians support the president, and think NATO is an existential military threat.
On the countrary, the study found European allies do not support the use of military force in the case of military aggression against an ally. The higest rates were found in Italy (51%) and Germany (58%). Recently, the Russian president visited Italy, and ensured further support. Additionally, the German parliament is paralyzed by a Russian cyberattack and the server has to be rebuild in the next months (This could be important in an Article 5 case as the German parliament would have to meet and to decide on measures. As Germany has been Russia's main negotiation partner since its aggression against Ukraine started in February last year, nothing would be decided without German backing).
And what about the recent declaration of the Russian president that only an insane person could imagine Russia attacking NATO?
The statement actually confirms Russia's interest in the Baltics. More than public statements we should stick to statements the Russian president has made in private conversations. And the Pew survey underlined that NATO countries sharing a border with Russia are not considered to be full members by older NATO members, worth the military effort. Also in the Russian logic the Baltics – countries without permanent NATO (=US)-bases – are no real members, and an attack on them is not a direct attack of NATO.