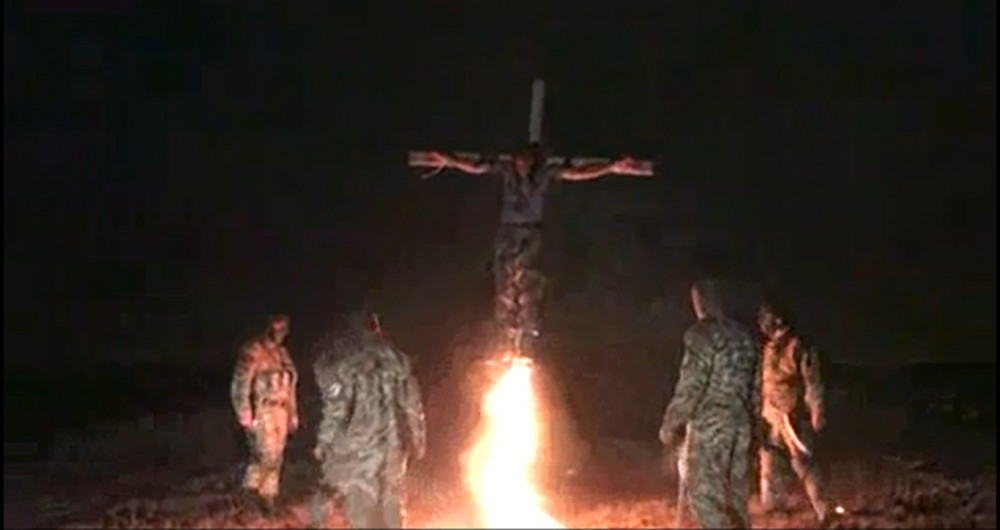 Kremlin's propaganda fake #2 (week of 4/20/2015) 
As he does each Sunday, Dmitry Bukovsky of Kyiv's "Delovaya stolitsa" chooses from among the flood of Russian coverage about Ukraine "the top 5 propagandistic myths, fakes and stupidities" the Kremlin has committed over the course of the previous week.
His selection for the past seven days includes the following:
An effort by "Novorossiya" propagandists to claim that a Ukrainian sportswoman had devoted her victory to the "Donetsk Peoples Republic" ("DNR") fell flat when Kyiv officials point out that Ukraine is not affiliated with the athletic organization involved and that the individual who the Russians claimed had gone over to their side in fact had competed on a Russian team to begin with.
Russian propagandists again accused Ukrainian soldiers of having "crucified" a pro-Moscow militant. But on the basis of the video the Russians distributed, Bukovsky says, "even Pontius Pilate would have cried 'I don't believe it!'" The whole thing was so clearly staged that the actors had to cut things off at the decisive moment lest one of their number be hurt. The link Bukovsky uses no longer works, possibly an indication that even the authors of this play decided it was too much.
Aleksandr Zakharchenko, the head of the self-proclaimed "DNR," says that in order to counter what he calls "the methodical and intentional zombification" of Ukrainians, he and his colleagues are preparing "a cycle of broadcasts about what it fact is taking place in the Donbas" – as if, Bukovsky says, "the flood of refugees from the Donbas who have lost their jobs and apartments or had their possessions stolen by local bandits had somehow run out and we had nowhere to learn the truth." The working title for these broadcasts is "Antidote," the Kyiv journalist reports. "We are impatiently waiting for it."
The "DNR" has announced plans to create "a Museum of the Achievements of the Republic" on the basis of one of the exhibition centers of Donetsk. The self-proclaimed republic's culture ministry says it wants to show all the things that the "DNR" has achieved in the last year, but there is a problem: many of the things that had been on display before the militants got there have been looted.
Russian outlets in occupied areas put out the story that Ukrainian military commanders were asking the officers of the militias to open fire on groups allied with the Ukrainians. According to pro-Moscow leaders, the reason was simple: the Ukrainians needed evidence that the militias and not Kyiv were violating the ceasefire.
Tags: Information war, International, Russia, Russian propaganda