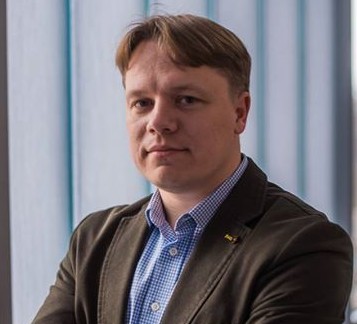 Andriy Kohut 
The four decommunization laws [
read a summary of them here
] adopted by the Ukrainian parliament on 10 April 2015 were called "20 years overdue" by many, but also raised questions and sharp criticism among others. Volodymyr Viatrovych, the Director of the Institute of National Remembrance,
mentioned
that if Ukraine was decommunized immediately after independence, there would be no need for the first and second Maidan. However, critics say that the laws may be used to promote the Institute's version of history and stifle free investigation. We addressed some questions to
Andriy Kohut
, member of the Center for Research on the Liberation Movement, and one of the developers of Bill #2540, which provides access to communist archives of repressions. Kohut also is a director of Digital Archive of KGB documents – project which made open on-line access for more than 20 000 copies of documents GPU-NKVD-KGB and Ukrainian resistance movement. This project started in 2010 when Yanukovych tried to establish censorship of history
.
EP: The bills have met both criticism and approval, abroad and in Ukraine. How do you think Ukrainian society will benefit from these new laws the most?
AK: There are many benefits. The space around us influences both our way of thinking and actions. First and foremost – we will forever close the door to a revanchism of the soviet past, as we see in the "DNR" and "LNR" "separatist" projects in the Donbas. The existence of vague hopes that a return to the USSR, romanticized by Russian propaganda, possibly fueled the pro-Russian sentiments all this time.
Ukraine is finally breaking free of the Soviet past, and it starts with the landscape of symbols that we live in.
EP: One can often hear accusations of the Institute of National Remembrances political agenda. Over what period of time were the bills developed and how did you ensure wide participation and debate?
AK: Actually, the development of the bills actually started after the fall of the USSR. Discussions around decommunization were held starting from 1991; there were multiple bills that were proposed and even adopted ever since. The four decommunization laws adopted a few days are the successors of these discussions. They are part of the transition from a closed, totalitarian or post-totalitarian society to an open, democratic one and are a part of transitional justice in legal terms.
Work on these particular four laws started in the fall of 2014 when a committee was created as part of the Reanimation Package of Reforms (RPR) [a civic initiative to facilitate needed reforms in Ukrainian society], where 20 different experts were invited to participate (directors of institutes, activists – different people). Our platform was included in RPR's roadmap of reforms. Updates on the development of this project were emailed not only to the working group, but the entire RPR mailing list. Furthermore, the intentions to hold decommunization were announced by Volodymyr Viatrovych when he became Director of the Institute of National Remembrance. So it's hard to say that the laws came as a surprise. The bill on opening access to archives of the communist regime was developed over a greater period of time, starting from 2011, with discussions going back to 2005. 
EP: The bill #2558 condemns the Communist and National-Socialist (Nazi) totalitarian regimes and prohibits using their symbols. Why not fascism?
AK: In our discussions we came to a vision that it's necessary to give an assessment to the crimes committed by the totalitarian Communist regime on Ukrainian land. Similarly as in other countries of Central and Eastern Europe. Naturally, then it's necessary to denounce the crimes committed by another totalitarian regime, the Nazi regime. We are not prohibiting ideologies, and neither is it possible for us to do so, as people are free to think as they wish, but denouncing the specific criminal and inhumane consequences that totalitarian ideologies amounted to.
EP: The laws were presented to parliament on 31 March and adopted on 9 April 2015. Why were they adopted so quickly and why was so little time given for discussion?
AK: We need to understand that there were two processes involved: the expert process and political-legal process. I can only assume that the Parliament took opportunity of the political moment.  The fast adoption of the laws came as a surprise for us too, we planned on holding more discussions after Easter [celebrated on 12 April 2015]. But decommunization and opening archives were part of the coalition agreement, it is not surprising that Parliament voted the Government's laws.
EP: Bill #2538 makes it illegal to deny Ukraine's right to have fought for independence…
AK: Every nation has the right to self-determination. The bill in the edition of Shukhevych, it has two articles, one about a respectful attitude to the fighters for independence, and about carrying responsibility for a disrespectful attitude under current law, which would be causing moral damage. And the second article is about prohibiting to deny Ukraine's right to have fought for independence. It's not about them being heroes, but about them having the right to have fought for independence.
EP: So who determines what a disrespectful attitude is and how can a free historical investigation be carried out without fear of reprisal for criticism of participants of the liberation movement?
AK: None of the four bills specifies which organ should be responsible for implementing the new laws. Therefore, any citizen that considers the law violated under this legislature should go to court, and the court should hold an expertise. It should prove in court that there was a violation of the law. The law does not specify on creating a special organ for these functions, and if somebody does come forward with this proposal, we will be the first ones to speak against it.
EP: Where will the experts come from? There are fears that the Institute of National Remembrances will monopolize the right to interpret history.
AK: In developing the law, we involved lawyers, and they stated clearly that implementation of the law must be carried out only through court. In any case, the scientific discussion should be carried out freely and the law does not apply to historical studies. In the Roadmap of reforms, we wrote that there should be a separate law that defines the Institute's status in Ukrainian society, it's a separate discussion.
Generally the laws target propaganda and justification of crimes against human rights, not determine the interpretation of history. The law about open archives will be increase access to facts and documents for historians and citizens.
EP: Publicly denying the criminal nature of the communist regime is also prohibited. What about the good things that happened in communist times? How is an objective assessment of Soviet times possible under this law?
AK: The second article of bill #2558 specifies the criminal nature of which can't be denied: abuse of human rights, mass repressions, torture etc. This can't be denied with propaganda aims. In the same law, it's specified that Soviet monuments/imagery of people or events that contributed to the development of Ukrainian culture or science will not be taken down. Many people misinterpret the bills, saying that the communist ideology has been banned. But that's just a result of people reading it wrong. I want to remind about a current law that we have with a similar prohibition: about prohibiting the public denial of the Holodomor. Basically, the law has two practical implications: renaming geographical objects named after Soviet leaders, and prohibiting the propaganda of the "Soviet" and Nazi brand.
EP: There is a bill that tells about preventing falsifications of the history of WWII. Who determines what a falsification is?
AK: In any case, any implementation of the laws will be done in court. The fairness of our courts is another topic, they need reforms also and last year this reform is started.
EP: About amendments. Who can participate in their development and how?
AK: Our group in RPR will have a meeting next week where we will analyze what has been done and further working plans. I am a manager of this group, so if anybody has proposals, they can submit them to me on facebook.
EP: Prof. Marples wrote: "Presumably now historians can be arrested for denying the heroism of a Stepan Bandera or the father of the introducer of the bill, Roman Shukheyvch." What could you answer to him?
AK: That this will never happen. The law specifies it can't be denied that these people rightfully fought for independence. Who a society considers to be heroes is a different question, the processes involved are different, and can't be regulated by laws. So there are no grounds for such fears.
EP: Where will the money to rename streets and to demolish monuments come from?
AK: Changing street signs doesn't cost that much. The process of renaming should be done by the local self-governance bodies. Of course, it will be hard to influence people that will try to sabotage the process. But our logic was that objects around us influence our actions and thoughts.
There can be no two points of view on sculptures of tyrants and murderers that stand on our streets and squares. That Lenin is a unique sculpture? Take it to the museum. You are used to the names of Kirovohrad and Dnipropetrovsk? But you surely understand that there can be no Hitlerburg and Himmlerdorf in the modern world. There is and can be no street named after Enola Gay in USA, and Torquemada square in Spain.
Establishing historical justice and paying tribute to the millions killed by hunger and executed in Gulags is not a trivial thing. One cannot place "bad roads, the currency rate and rising prices" and symbols, dignity, and a pursuit of justice on the same scale of an ideological discussion. There are acts and meanings in a person's life that can't be measured by money or food.
EP: What about T-shirts with Che Guevara, the flag of China, awards of the Second World War and Eternal Flames?
AK: Neither Che Guevara, nor Karl Marx were involved in the Communist regime crimes in Ukraine, so the law does not influence them. The flag of China is an exception as a flag of a modern country. The laws also specifies that the ban on symbolism does not concern objects related to the victory over Nazism, so it shouldn't involve the awards. As for the Eternal Flames, they are also objects commemorating the victory over Nazism, and the Soviet symbols on them should not be destroyed.
Interview by Alya Shandra
Tags: Communism, Featured, International, Nazism, Soviet, UPA