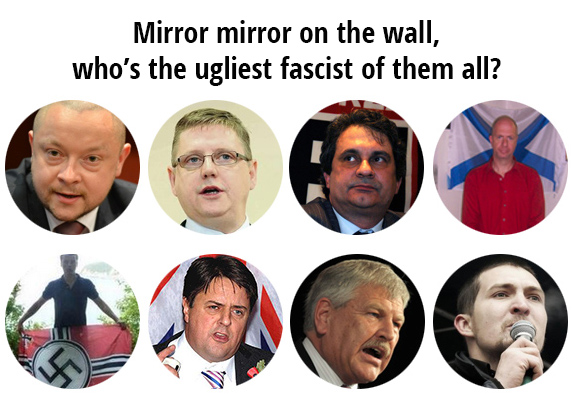 Some of the participants in the European fascist forum in St. Petersburg, Russia in March 2015 
The "International Russian Conservative" aka fascism Forum that was hosted by the Russian party 'Rodina,' a close ally of Putin's "United Russia," on 22 March 2015 in St.Petersburg gathered some of the Europe's and America's most marginal and extreme far-right, fascist, and neo-nazi figures. Cast your vote to identify who is the biggest lunatic among them (maximum three votes).
1. "Western Europe will either become an Islamist caliphate or there will be a terrible civil war or perhaps both. Which makes the survival of Christendom absolutely impossible without the rise of the Third Rome: Moscow."
Nick Griffin, Holocaust denier, the expelled former leader of the anti-immigrant British National Party and a fervent defender of Neo-Nazis (examiner.com).
2. "The Europe of fatherlands shouldn't concern itself with problems of gays and lesbians."

Udo Voigt, member of the European parliament for German neo-nazi party NPD. In 2004, Voigt was charged with incitement to hatred for calling Adolf Hitler a "great man." In 2007, he faced additional charges for suggesting the name of Hitler's deputy, Rudolf Hess, for the Nobel Peace Prize. In 2009, Voigt received a suspended prison sentence after being charged with inciting racial hatred and defamation for circulating racist pamphlets during the 2006 World Cup (examiner.com).
3. "Everything that's happening in the Donbas is anti-fascism. Everything that Ukraine does is fascism. There's no other fascism in the world."
Alexei Zhivov, representative of the movement Battle for Donbas, a coalition of nineteen far-right Russian-nationalist organisations rallying, among other things, for Russia to "liberate Russian Kyiv," and gathering funds to support the Russian-backed separatists in Donbas (workersliberty.org).
4. "Had Hitler died in 1939, and hadn't the Soviet Union lost so many people because of him, he would be one of the greatest leaders."
Alexei Milchakov, a well-known St. Petersburg Nazi, Alexey Milchakov, who was named in the EU list of sanctioned individuals for his terrorist activities in Ukraine. Milchakov rose to infamy for murdering and eating a puppy on-camera. He later joined the so-called "separatist movement" in Ukraine and was filmed torturing Ukrainian POW's (examiner.com).
5. "Boris Nemtsov, Anna Politkovskaya, Boris Berezovsky – I know, where they are living now. They are in hell."
Kris Roman, a former councillor for the Belgian Front National known for his antisemtism, who runs a "think tank" called Euro-Rus, which aims to promote a Great Europe "from Gibraltar to Vladivostok."
6. "Obama and those presiding in Europe are Nazis! They are brainwashing us to hate Putin, but it is Putin who understands that we must protect the rights of the majority, not the minority."
Jim Dowson, Ex-member of Britain First from Scotland, British anti-abortion-rights campaigner.
7. "I don't consider it denigrating to be called a fascist. (…) We are the elite of a new Europe, which will mature soon. It will be a Christian patriotic Europe, and Russia won't be only one of its parts, but its driving force."

Roberto Fiore, leader of Italy's far-right party Forza Nuova. Fiore was tried and convicted in absentia for being a member of a fascist terror group, implicated in the Bologna bombing of 1980, which killed 85 people (examiner.com).
8. "We have to create new organisations against the pro-fascist UN and OSCE ."
Fyodor Birukow, member of the political council of Rodina, the political party caucusing with Putin's 'United Russia' party and formerly led by Russia's Deputy Prime Minister Dmitry Rogozin.
9. "85 percent of people in Italy will tell you that fascism has done many good things which attracted the world's admiration. It is a historical fact that America brought the Mafia to Italy. We need Russia to liberate us from the American rule." 

Roberto Fiore, leader of Italy's far-right party Forza Nuova.
10.  "Obama and America — they're like females! They're feminized men. You have been blessed by a man who is a man! And we envy that."
Ji
m Dowson, Ex-member of Britain First from Scotland, British anti-abortion-rights campaigner.
Note. Everything we publish in the section The Naked Truth is dead serious and, unlike our usual propaganda and lies, true. It should be taken literally. Video showing comparison of two speeches on Shuster Live TV show subtitled by Voices of Ukraine.
Tags: Archive, Far right, Fascism, International, Russia