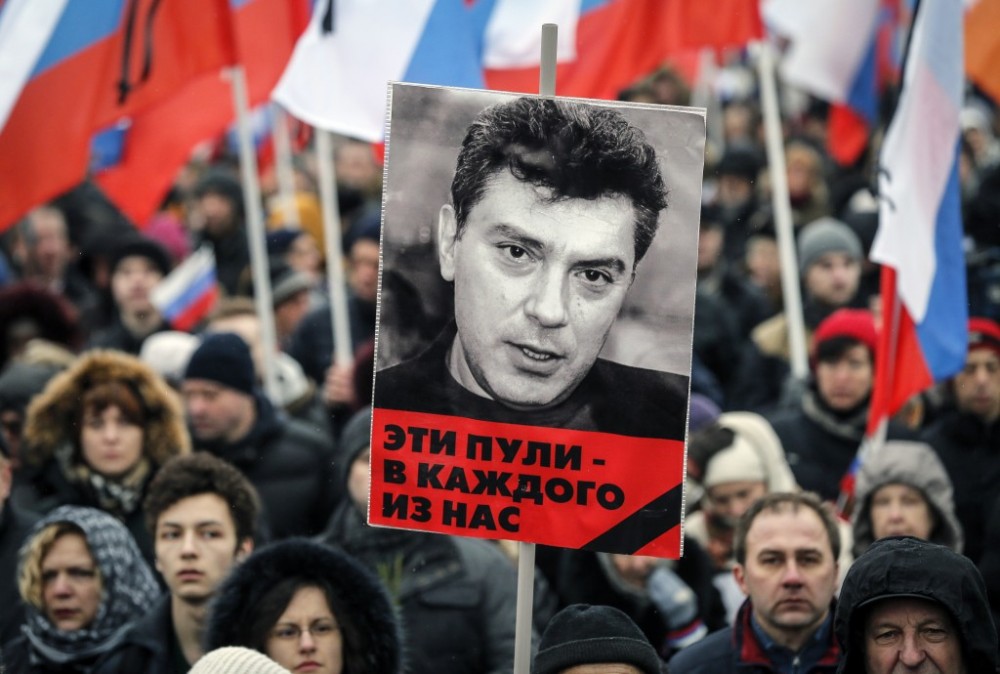 Boris Nemtsov Memorial March. The sign says in Russian: "These bullets hit all of us" 
The Kremlin had no reason to be afraid of the impact of Boris Nemtsov's conclusion that there are Russian troops fighting in Ukraine. Despite Moscow's denials, everyone knows that is the case. But it did have reason to be worried about the sources of his information: the mothers of soldiers who fought and died there.
That is because, Moscow commentator Svetlana Samoilova says, his use of the soldiers' mothers threatened to win broader sympathy for their plight and thus to create the basis for a new and broader anti-war movement in the Russian Federation, something that Vladimir Putin does not want.
Whether that risk was "a sufficient basis" for Nemtsov's murder, of course, is something that is impossible to know, she says, "for as Yekaterina Schulmann noted in 'Vedomosti' there is no sense in searching for rationality in the actions of those who order and organize political crimes – they live in a different information field."
Two days ago, Ilya Yashin, a colleague of Nemtsov's, said he would be publishing the report on Russian troops that his murdered colleague had prepared, and yesterday, the Reuters news agency, citing Olga Shorina, another Nemtsov co-worker, published several portions of that study concerning the participation of Russian troops in the fighting in Ukraine.
Both Shorina and Yashin confirmed that Nemtsov was preparing to include in his report details of his conversations with the mothers and other family members of Russian soldiers who had fought and in some cases died while fighting in Ukraine and thus demonstrate that Putin is lying when he says there are no Russian troops there.
Samoilova suggests that it is highly unlikely that the publication of yet another piece of evidence that Moscow has sent troops into Ukraine would unnerve the Kremlin given how many news outlets in the Russian Federation have already reported that fact. "However," she adds, "in this situation, there is one 'but.' And that is this:
"Nemtsov was not simply collecting information and preparing an information bomb," the commentator says. "He was trying to work directly with mothers and with the soldiers themselves and thus creating a completely real threat of the socialization of the problem," a far more serious development from Putin's point of view.
"In other words," Samoilova argues, the accusation could acquire a face, that of the soldiers' mothers, and that face "could elicit sympathy in society and a sense of injustice" because it would become obvious to all that the Putin regime was not prepared to show honor and respect to those who had died in its behalf.
For Russians, as for other nations, such a sense of injustice could prove far more powerful than establishing the facts that the Kremlin continues to deny.
Tags: International, Murder, Nemtsov, Putin, Russia, Russian aggression, Russian military, Soldiers' Mothers